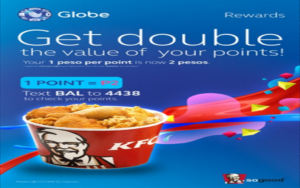 Globe rewards points can already be use to purchase at many participating partner stores — Ayala Malls Cinemas, Figaro, Wendy's, Sunglass Hut, Enchanted Kingdom, Rose Pharmacy, Bench, KFC, Petron and Memo Xpress. The conversion of Globe Rewards points to PHP is P1 to 1 point, you won't be confuse with that, right? Starting tomorrow until December 2, Globe subscribers can enjoy double the value of their rewards points at participating branches for a limited time. So what does that mean? For every 1 Globe Rewards point, it will convert to PHP 2.00. Exciting right?
Confused with the promo? Well, let me explain this to you. For example, you went to KFC and you decided to buy a meal worth P100. Instead of paying 100 Globe Rewards points, You'll just pay 50 Globe Rewards points for it. Here's the schedule and the participating branches that'll offer this promo.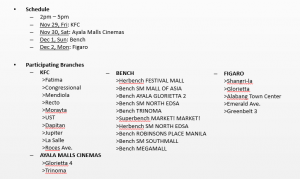 Be sure that you'll be at those participating branches at 2pm-5pm!.
There are roll up banners outside to inform you that the store offers this promo. I'm actually thinking of spending my Globe Rewards points at KFC tomorrow. Heehee.