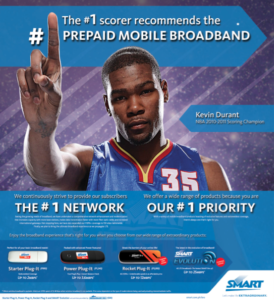 KD35 endorses SMART Bro
Last weekend the NBA All-stars went to play with our own Filipino players at Smart Araneta Coliseum. And one of those All-star that played here is the 6'9" guard/forward Kevin Durant of Oklahoma City Thunders. And during that time, SMART wasted no time getting KD35 as an endorser for Smart Bro.
Just like SMART Bro, Kevin Durant shares the same qualities that made them leaders – dedication, determination and drive.
And speaking of SMART Bro, Smart undertook a network modernization and enhancement program to improve the service this year. Alongside enhancing the current network, SMART Bro also works to upgrade the customers' Internet experience with an aggressive roll out of HSPA+. With about 150 sites up in areas nationwide, HSPA+ will be launching very soon the Bro Rocket Plug-it, which is capable of speeds up to 12 mbps under optimal conditions
SMART Bro also aims to deliver the ultimate mobile broadband experience that's why they introduce the SMART Bro Evolution on its own LTE network (Yes, it runs on the 4G Radio technology). LTE can potentially reach speeds up to 100mbps when fully upgraded.
I'm still wondering where can we find those HSPA+ sites. I also want to test Smart Bro rocket and Smart evolution personally if they really offer the speeds that we demanded. Since Kevin Durant endorses this brand, I think it can attract KD35 fanatics out there. Nice move getting Kevin Durant, SMART!