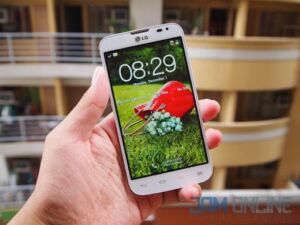 L series smartphones of LG are the affordable Android smartphones of LG. We've reviewed the LG L40 Dual before and now, we'll review its bigger brother, the LG L70 Dual. The LG L40 Dual and the LG L70 Dual have the same processor the but the latter has a better camera & bigger RAM. The LG L70 Dual also has a bigger and better display than its smaller brother.

Design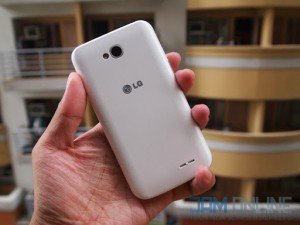 The design of the LG L70 Dual is similar to its smaller brother but this one got a more mature design and lost its cute looks because of its size. The back cover still has the same textured back which adds more grip when holding it. I would actually prefer this one compared to other smartphones that has a cheap glossy plastic feel. The smartphone is slim, but not super slim and the LG L70 Dual feels very comfortable to the hand. The weight feels just right too. Both dual sim card slots of the phone supports mini sim card size and it's very easy to switch from one sim to another thanks to the capacitive button below the display. However, if you're a new user, you might find it hard to get used to it since most dual sim smartphones doesn't have easy sim switch button.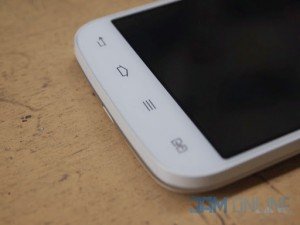 There's a 4GB of internal storage on this device so I highly recommend to use a MicroSD card for this device because I'm pretty sure, the internal storage of the device won't be enough for you. Unfortunately, this device doesn't support OTG. The audio quality of the device feels just right.
Display

There's a 4.5-inch IPS display with 800×480 resolution on this device. At today's standards, 4.5-inch might be small for some people. The WVGA resolution isn't really pleasing to the eye these days but of course, we have to remember that this phone is an entry-level smartphone and not a mid-range one.
The display has a good viewing angles and you can still see the display at direct sunlight however, I'm not satisfied with the color out put of the display. I think it still lacks lively colors. But again, this is just an entry level smartphone so don't set your expectations that high.

Software

Just like the LG L40 Dual II, the bigger brother packs the same LG G2 UI but this one has more features and it is a little bit better. The icons are cartoonish but you can download new themes at LG's SmartWorld store. It's also nice to see that this device has the features that can be seen on flagships like KnockOn and KnockCode and oh, this smartphone is already powered by Android 4.4.2 Kitkat. However, I don't expect Lollipop will arrive on this smartphone.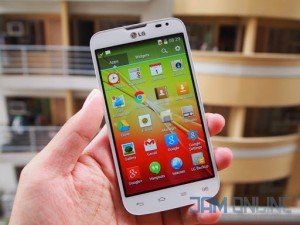 Unlike its smaller brother, the LG L70 Dual has Qslide. So what the hell is that? Well, it's a cool feature of LG that lets you open apps in window mode which helps you do multi-tasking and be more productive. But this feature only works on some built-in apps.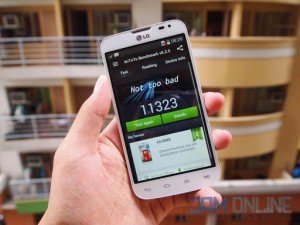 When it comes to gaming, don't expect too much on the Dual-Core Snapdragon 200 inside the device. This device could run light games like Dead Trigger 2 but heavier than that? You might have problems with it. Actually, I already experience some lags on that game. At Antutu 5, I got a score of 11323 for the LG L70 Dual.



Battery Life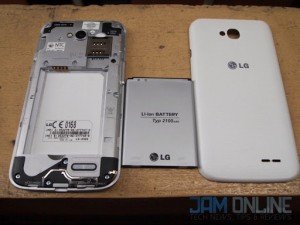 This smartphone has a 2100mAh of battery inside and I was able to use this smartphone for a day. I highly recommend to charge this smartphone everyday because the juice inside it won't be enough for 2 days of average use.


Camera
There's a 5-megapixel auto-focus camera on this device and most shots that I took were grainy but it was brighter than I expected at low-light conditions. Unlike its smaller brother, there's LED flash on this. For an entry-level Android smartphone, the camera quality of the phone isn't really bad.


Verdict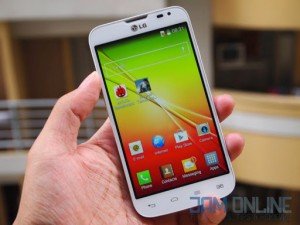 If you want a taste of Kitkat with the very user-friendly cartoonish UI of LG, you might want to consider this. It's easy to use and it feels comfortable to use however, if you're a power user, the Snapdragon 200 processor and the 5-megapixel camera might not be enough for you.