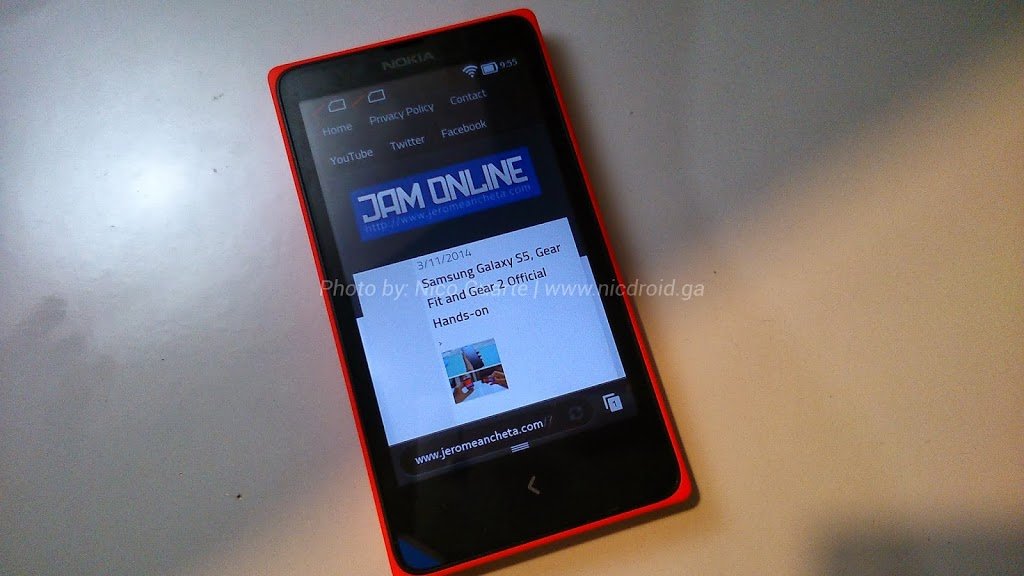 Hello! Nico here, Nokia did a great job for the Nokia Lumia and Asha series but today, they took it further as they release the Android-powered and affordable smartphone in the market. This is the Nokia X!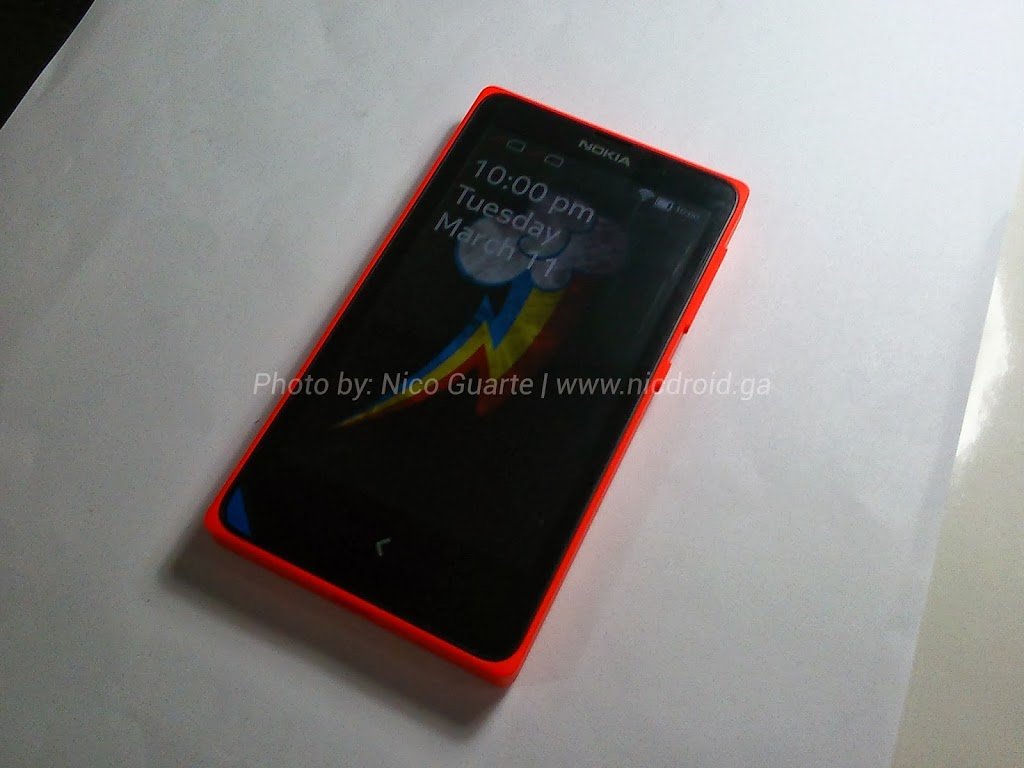 Nokia X' Lockscreen.
Last Mobile World Congress, Nokia unveiled the Android-powered smartphone family or X Series and on March 11, 2014 in Manila, Nokia announced the launch of the Nokia X family with a slogan "Your Fastlane to Android Apps". Hence the slogan, Consumers can run Android Apps through Nokia Store, third-party Stores and through installing APKs. "We believe this unique combination will resonate with consumers around the world and set a great precedent for the level of quality that can be achieved in the fast-growing, affordable smartphone segment" a word from Gary Chan, Head of Marketing Nokia Pan Asia. Alright, let's see what's in the Box!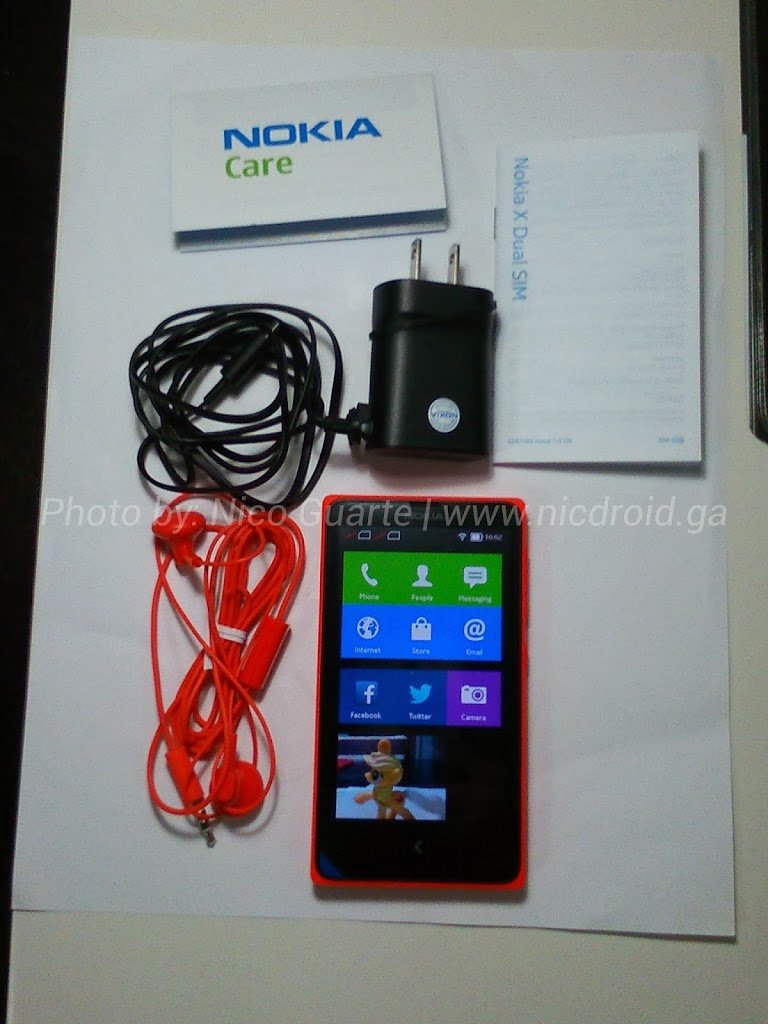 Package Contents…
Okay, "X" Marks the Spot! In the box, you'll find the Nokia X Itself, a Set of earphones that matches your preferred color, Wall charger, Manual and Nokia Care card. Sadly, there's no USB data cable provided but you can buy the cables less than 50Php.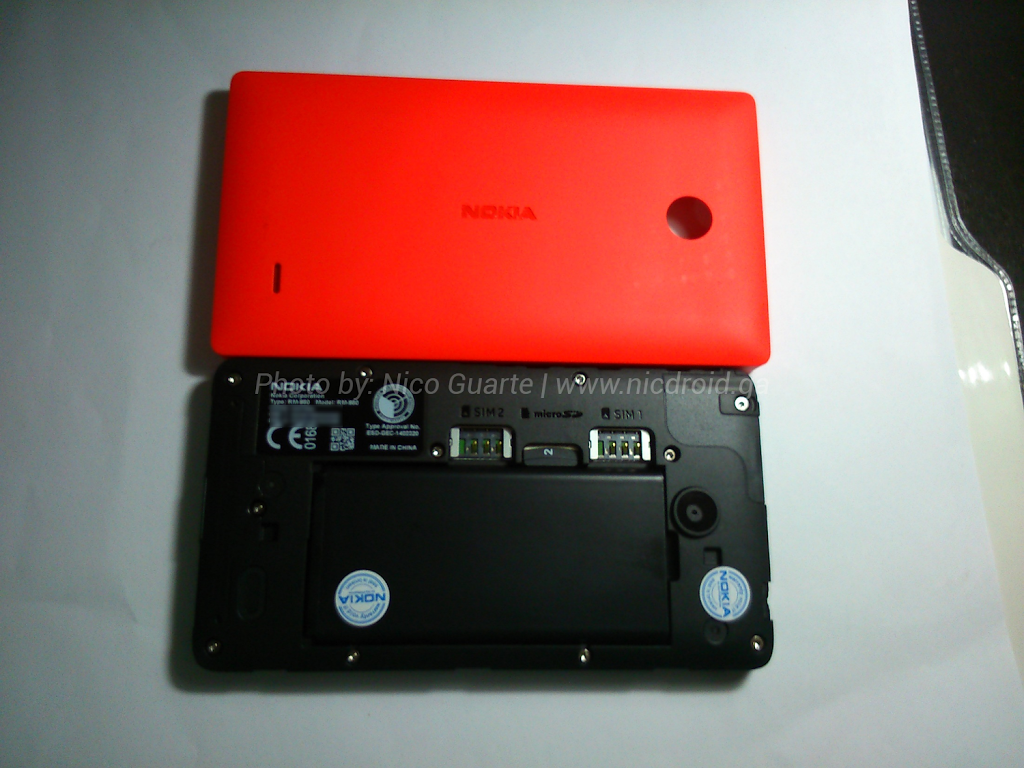 Now you're asking "How will we insert the SIM Cards and the MicroSD Cards? You can actually remove the back shell of the smartphone and remove the battery as well. The great thing about this is you can also have a another back shell with a different color to personalize it. Amazing, isn't it?
Nokia X has a 4″ capacitive touchscreen and LCD Display in WVGA (800×480) with 1GHz Qualcomm Snapdragon MSM8225 with Adreno 203 GPU, 512MB of RAM. There's 3MP fixed focus Camera with 640×480/30Fps recording and panorama, It's also a Dual SIM (Micro SIMs), It has 4GB or Internal Storage but expandable up to 32GB (MicroSD), 1,500 mAH battery, Satellite GPS, Light, Proximity and Accelerometer Sensors and It's available in Bright Red, Bright Green, White and Black.
You will love the Design of the Nokia X, the back shell is made of Matte Plastic. It's also lightweight and doesn't feel too fragile. The Volume Rocker and Power Key are placed at the Right side while on the Bottom is the Micro USB Port. At the back, you'll find the small but very loud speaker and at the top is a headphone jack.
Having a Nokia X is like having an Android-powered Asha. You can install Android Application from anywhere including the third-party apps that are not available in the Nokia store.
The Fastlane user interface from Nokia X is like combining the UI of Asha and the Lumia. You can edit and enlarge the tiles, Move it to a folder and you can also add some Android widgets there. They have also preloaded some Games, Facebook, Twitter, Skype, ASTRO File Manager and More. And when installing an APK File, it's still easy to install like a typical Android device. The music player is absolutely amazing for the people who want to share tunes with the very loud loudspeaker. And the battery lasts up to 6hrs (3G Data) & 10hrs. (Wifi). There will be no trouble when installing large Android apps because the Internal Storage is Partitioned at 1.29GB.
So, there you have it! Nokia X is now available in Metro Manila and within a week, in key provincial areas for SRP of Php 5,990. For the consumers who loves Nokia but want an affordable smartphone, this might be the phone for you!
If you want to know more about Nokia X, don't hesitate to ask me on NicDroid FB Page: fb.com/Nicdroidphofficial or on Twitter @I_Am_NicDroid. Please do visit my page NicDroid Gazette at www.nicdroid.ga . So Yeah, see Ya!