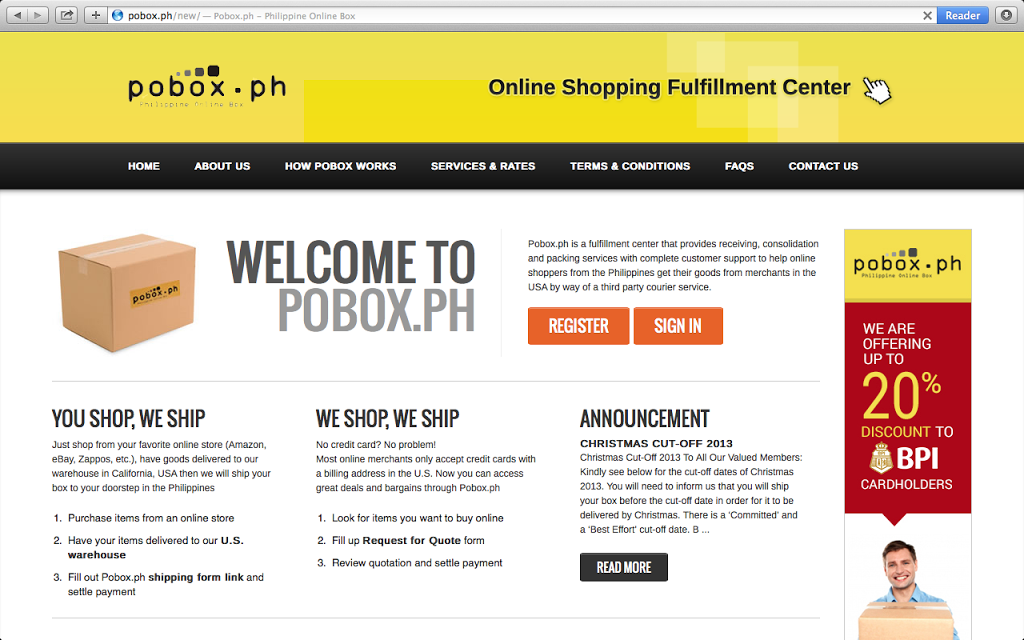 Today, it is much easier and convenient to buy items online especially our favorite gadgets and accessories but our problem mostly is that they're not available locally. Some gadgets and accessories that we want are only available at Amazon or at Ebay. That's a really big problem because we need a US address in order to purchase something at these international websites. But you don't have to worry about that anymore because POBox.ph has got you covered for that.
POBox.ph takes care of shipping the items from USA directly to the Philippines. Yes, you don't have to ask and wait for your balikbayan relatives to bring you the items you just bought online, instead you can just register an account a POBox.ph and get a US mailbox and let POBox.ph do the shipping for you.
And now, POBox.ph extends an exclusive offer for BPI Cardholders from February 5, 2014 up to April 30, 2014. All BPI Blue, BPI Gold, BPI Petron, BPI Skymiles, BPI Skymiles Platinum, BPI Amore Visa, BPI Amore Visa Platinum, BPI EDGE, BPI E-Credit, My ePrepaid MasterCard, and More Fun Visa Prepaid cardholders can enjoy up to 20% off on shipping rates when you shop from any US-based online shops and used your BPI Card to pay for the shipping rates at
www.POBox.ph
Setting up an account at POBox.ph is completely free of charge and after that, you could now order packages from international websites. But of course, there are some restrictions on the type of goods that you can shipped via POBox.ph like precious metals, precious stones, jewelry, watches, currency, firearms, ammunition, gun parts, gun and shooting accessories, toy guns, explosives, large car parts, drugs, perishables, pornographic materials, gambling paraphernalia, industrial carbons, combustible materials, hazardous materials.
Isn't that amazing? I mean, POBox.ph delivers the cargo to your house directly from the US and BPI is offering a 20% off on shipping rates. That's awesome, right? With BPI-POBox.ph partnership, customers are given a hassle-free and door-to-door delivery service when shopping at international websites.
If you want a US mailbox too, you can visit and register for an account at www,pobox.ph. Love discounts? Check out some
promos exclusive to BPI
.