One fortunate Overseas Filipino Worker (OFW) can now be with their family full-time, thanks to the PLDT Home Rewards Grand Giveaway Promo's incredible Php5 million prize.
The Path to Winning
This 36-year-old OFW, who had been away from their family for the majority of the last 12 years, found themselves winning the ultimate cash prize through the PLDT Home Rewards Grand Giveaway Promo. Their journey to this life-changing prize began with a simple desire to earn rewards and discounts from their PLDT Home subscription via the PLDT Home Rewards program.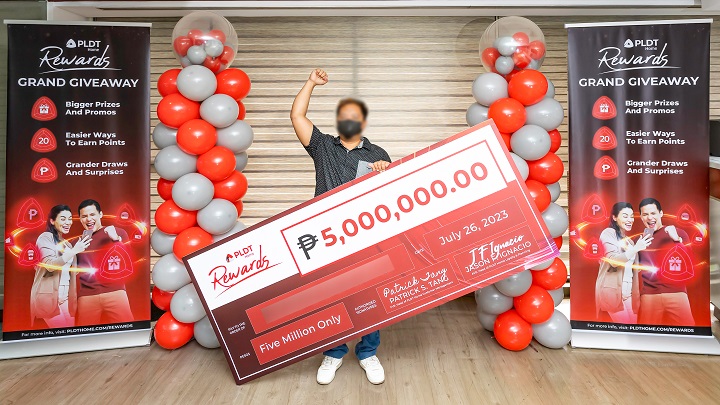 To participate in the Grand Giveaway Promo, PLDT Home subscribers need only join the PLDT Home Rewards program for free. This not only offers various perks and discounts from partner merchants but also automatically enrolls members in the Grand Giveaway Promo for a chance to win fantastic prizes.
Plans for the Prize
The lucky winner and their partner have big plans for the prize money. Part of it will go towards paying for their house. They also intend to set aside funds for their four-year-old son's education and use the remainder as seed money to start a business. This prize marks a turning point in their lives, offering them opportunities they had long dreamed of.
A Fortunate Switch to PLDT Home
The winner's partner, who works from home for a BPO company, played a crucial role in their win by signing up for the PLDT Home Rewards program while the OFW was away at sea. Their switch to PLDT Home was driven by the desire for reliable internet services, which they found to be cost-effective. During the pandemic, the BPO company required a minimum internet speed for its remote employees, prompting them to upgrade their plan to Php1,669, complete with a discount of Php200.
The couple's satisfaction with PLDT Home's internet speed and service consistency encouraged them to remain loyal subscribers. They even signed up for the FamCam promo, allowing them to monitor their child while the OFW was at sea, fostering a sense of closeness despite the distance.
From Joining to Winning
Their unexpected journey to becoming millionaires began when they joined the PLDT Home Rewards program. They were automatically entered into the PLDT Home Rewards Grand Giveaway raffle promo, unaware of the life-changing outcome awaiting them. In May, they received a notification from PLDT Home, which initially raised suspicion. However, after verifying its authenticity, they received a phone call that transformed their lives.
A Well-Deserved Rest at Home
For this 36-year-old OFW, the Php5 million prize is more than just a windfall; it's a ticket to full-time parenthood and partnership. Seafaring contracts typically last several months to a year, and Filipino seafarers often string together contracts to support their families and achieve goals like homeownership, starting a business, or providing for their children's education.
Now, they can enjoy the fruits of their labor and sacrifice by being with their family in the house they purchased several years ago. They are now full-time parents, guiding their child through their early years and watching them grow.
Loyal PLDT Home Subscribers
The couple continues to explore the benefits of being loyal PLDT Home subscribers. They appreciate PLDT Home's faster, more reliable service and the generosity extended to loyal subscribers. Their advice to others is simple: "If you're already a subscriber, sign up for the PLDT Home Rewards. As long as you pay on time, you earn points that you can exchange for rewards."
PLDT Home Rewards: Unlocking Benefits
PLDT Home Rewards offers subscribers various perks and benefits, including vouchers for a wide range of partner brands and merchants. You can claim yours simply by paying bills and earning Home Rewards Crystals. PLDT Home customers can easily sign up for the Home Rewards program by visiting the PLDT Home Rewards website.