To keep local businesses floating despite the economic impact of these challenging times, PLDT Home Biz recently launched their Asenso Fiber Plans to boost business growth of home-based entrepreneurs through superfast internet speeds.
The new Asenso Fiber Plans feature bigger, better, and faster digital solutions, designed to meet the needs of local and small businesses.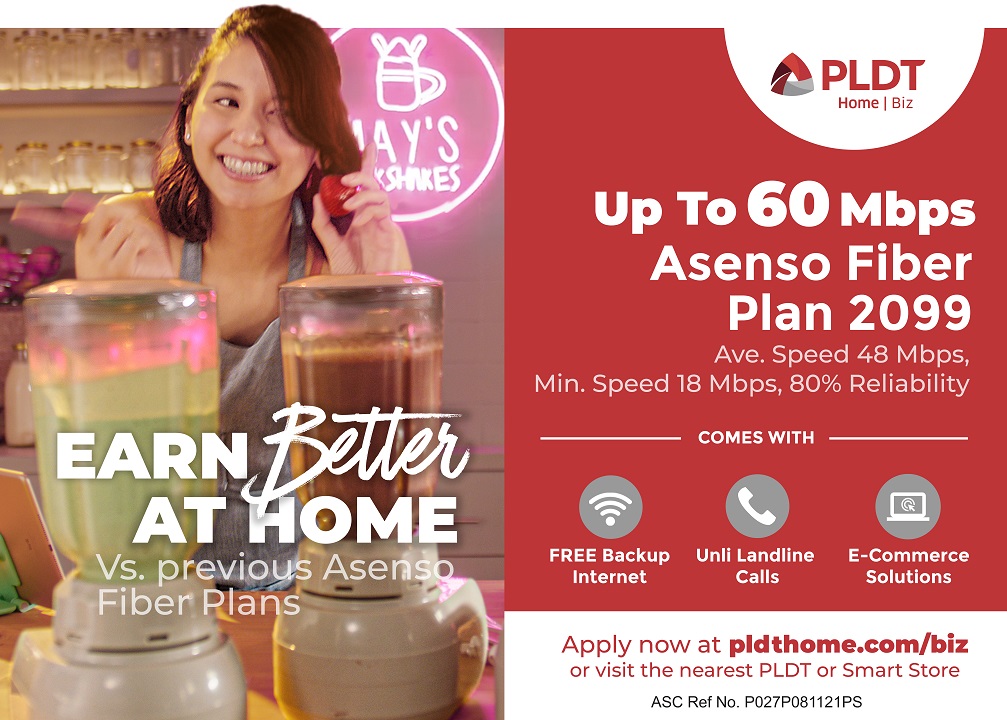 Here are the details of the most value-for-money internet plans that suit home-based entrepreneurs:
Asenso Fiber Plan 2099 – with up to 60Mbps
Asenso Fiber Plan 1599 – with up to 35Mbps
Meanwhile, business owners with existing PLDT Home and Home Biz subscriptions that want more speeds for their business may opt to upgrade to these plans:
Asenso Fiber Plan 1999 – up to 55Mbps
Asenso Fiber Plan 2699 – up to 110MbpsAsenso Fiber Plan 2999 – up to 130Mbps
Asenso Fiber Plan 3999 – up to 230Mbps
Asenso Fiber Plan 4999 – up to 350Mbps

All plans have the same inclusions and e-commerce partner solutions:
Unlimited calls to any PLDT Landline, Smart, and TNT
FREE backup internet
FREE access to the e-commerce solutions such as payment solutions with PayMaya
Build an online store with UnionBank GlobalLinker and DTI Virtual Expo
Partner with delivery solutions: SoShop! by LBC, and Grab Madiskarteng Boss Club
Set up chat commerce with Sqanly
According to PLDT, they team up with these public and private firms that support entrepreneurs to ensure that they can empower small entrepreneurs in navigating the challenging business of the new normal.
Do you know someone who runs a small business at home?
Share this news with them, and don't forget to support local!