IDC has just released their report in where realme has posted a lead in the market share versus other brands with a 24.4% market share in the country. IDC has also reported that the Philippine smartphone market grew 22.6% YoY in 2Q21 and this was the fourth consecutive quarter of year-on-year growth for the market.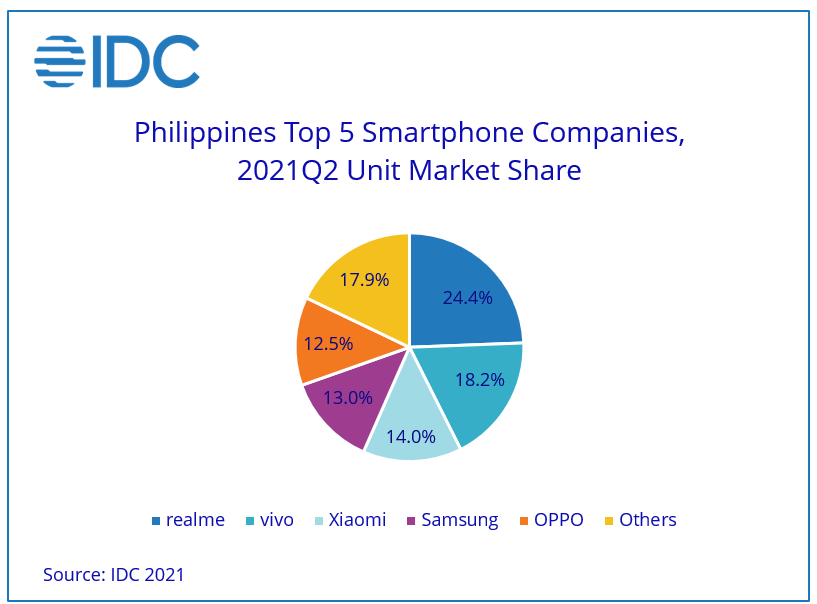 realme is still leading the market with 24.4% market share with its ultra low-end smartphones (<USD$100) segment grew by 140% QoQ with its realme C11 2021 leading the pack and making up of 28.3% of realme's total shipments.
vivo is the number 2 in the list with a market share of 18.2% with the vivo Y1s leading the pack at the low-end segment and the Y12s that was set to replace the popular Y11.
For Xiaomi, they made it to the third spot with its massive online channels and focus on their mid-range lineup. Their Redmi Note 10 5G has brought in affordable 5G smartphones in the market and it has lowered their mid-range model prices by 14.3%
Samsung made it to the fourth spot with the A series model in the ultra low-end leading the pack. It grew by almost threefold compared to the previous quarter and the series has accounted for 27.3% of their total shipments.
OPPO has made it into the 5th spot. With the OPPO A54 dropping the prices across all models.