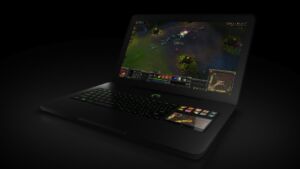 Razer Blade w/ the glowing keyboard
Most gaming laptops that we've seen in the market are thick & heavy. In short, they're not portable. But Razer just created a game changer. They just announced the Razer Blade, a gaming laptop but features a thin profile. A laptop that has a height of 0.88″. Yes, that laptop is even thinner than the Macbook Pro 13″.
The first thing that came to my mind is this laptop borrows the looks of Macbook pro but this one is even better. Why?, look at the picture closely. You can see a small LCD on the side. That's the touchpad of the laptop. You can choose whether you'll use it as a touchpad or display your in-game information. There are also 10 dynamic adaptive tactile keys for easier access of in-game commands.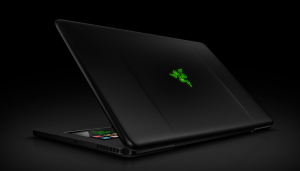 The Razer logo at the back.
Razer Blade Specifications
2.8GHz Intel® Core™ i7 2640M Processor
8GB 1333MHz DDR3 Memory
17.3″ LED Backlit Display (1920×1080)
NVIDIA GeForce® GT 555M with NVIDIA® Optimus™ Technology
2GB Dedicated GDDR5 Video Memory
Built-in HD Webcam
Integrated 60Wh Battery
320GB 7200rpm SATA HDD
Wireless Network 802.11 b/g/n Compatible
16.81″ (Width) x 10.9″ (Depth) x 0.88″ (Height); 6.97lbs (Weight)
Razer Blade Price in the Philippines
This gaming laptop will cost you $2800 and it is expected to be released this Q4 2011 at North America. Yeah, That is more expensive than the Macbook Pro 17″ that you guys have been craving for a long time. Oh and if you're in the Philippines, expect that this will be more than PHP120,000.00
---
Enter your email address:
Delivered by FeedBurner