Smart Communications, Inc. (Smart) has rebranded its 'GigaLife' App, unveiling the all-new 'Smart App.' This transformation promises Smart subscribers more value-packed offers and an array of rewarding experiences, all available at their fingertips.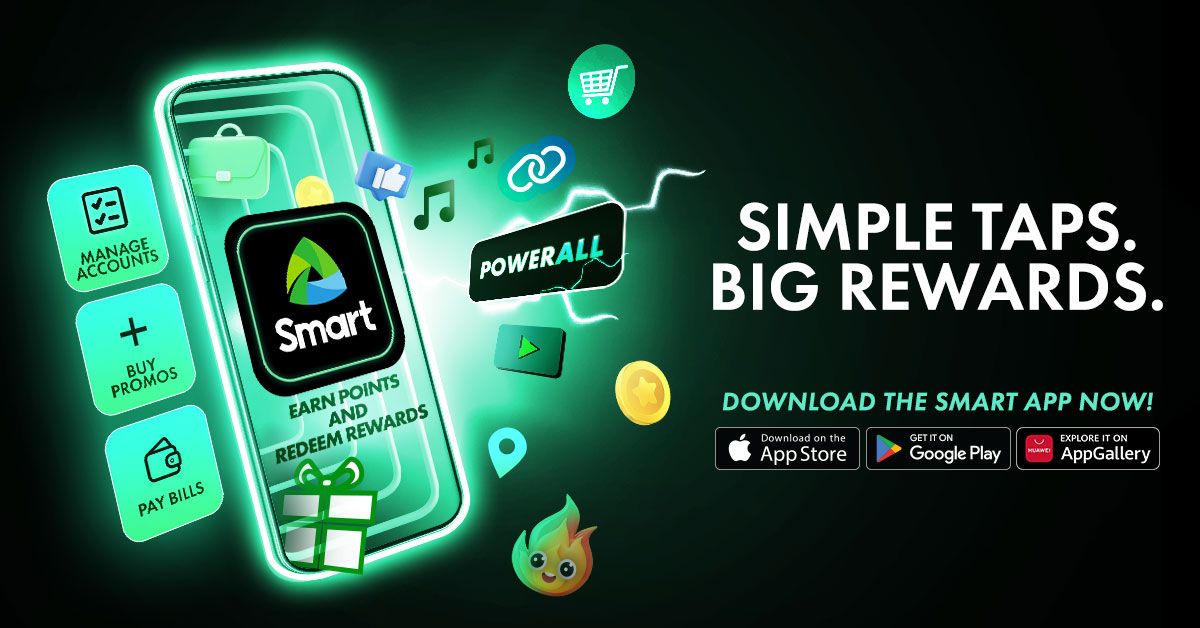 A Unified Hub for All Smart Subscribers
The 'Smart App' consolidates the features of the previous GigaLife App, becoming the go-to application for Smart Prepaid, Smart Signature, Smart Infinity, Smart Bro, TNT, and PLDT Prepaid Home WiFi subscribers. This comprehensive app facilitates account management, usage tracking, promo registration, and provides exclusive rewards, exciting promos, and more.
Seamless Transition
To access it, users can simply update their existing GigaLife App or download it from the Google Play Store or Apple App Store. The transition ensures a hassle-free shift to the enriched Smart App experience.
Empowering Subscribers
The Smart App also empowers subscribers from the moment they log in. Users can securely access the app using biometrics or an MPIN. Meanwhile, the Home Tab presents vital account information at a glance, including load balance, ongoing promo subscriptions, their expiration dates, and accumulated points.
For postpaid subscribers, the Home Tab showcases plan details such as due dates, plan balances, booster subscriptions, their expiration dates, and points, ensuring constant updates on usage and monthly bill payments.
Efficient Account Management
It also streamlines account management by allowing users to link and manage multiple accounts without switching between various apps.
Beyond Account Information
The new app goes beyond account management. It also provides users with important advisory notifications, facilitates the linkage of their Maya account, and enables quick online payments using credit or debit cards—all within the app.
Streamlined Offers and Sharing
Meanwhile, subscribers can conveniently purchase load and explore Smart Prepaid's extensive selection of value-packed offers, including data-rich Power All offers, Magic Data offers with non-expiring data, and All Data for sharing data with friends and family.
The Pasa Tab within the app also simplifies sharing, allowing users to send load, promos, rewards, or data to family and friends.
Powered by Award-Winning Network
The Smart App is backed by the Philippines' Fastest and Best Mobile Network, a recognition earned by Smart for three consecutive reporting periods by Ookla—Q1-Q2 2022, Q3-Q4 2022, and Q1-Q2 2023.
Meanwhile, subscribers can now access a world of convenience and value through the enhanced Smart App. For more details, visit this link.