Digital Walker is marking its anniversary with a bang by teaming up with Metrobank to offer exclusive deals that will thrill consumers who are looking for a tech upgrade.
15% Storewide Discount for Metrobank Credit Cardholders
From September 19 to 22, 2023, shoppers with a Metrobank credit card can enjoy a jaw-dropping offer: a 15% discount, valid across the entire store, for a single purchase of Php20,000 or more at any Digital Walker outlet.
Tech on Installments: 0% for 24 Months
In addition to the generous discount, shoppers are presented with the convenience of spreading their payments with a 0% installment option, stretching over a period of up to 24 months. This makes it easier than ever to acquire the latest and greatest tech toys without straining your budget.
Shop Now, Pay Later: Deferred Payments for Up to 90 Days
As an added treat, Metrobank credit cardholders can opt for the "Shop Now, Pay Later" scheme. This fantastic feature allows you to delay your payments for up to 90 days after making your purchase. It's the ultimate flexibility, giving you ample time to enjoy your tech gadgets before settling your bill.
A Tech Wonderland Awaits
Digital Walker boasts an extensive collection of the most cutting-edge tech gadgets, accessories, and lifestyle products. Whatever your tech desires, there's a good chance you'll find it here. From smartphones to smart home gadgets, headphones to health tech, this anniversary collaboration offers unbeatable discounts, flexible payment options, and deferred payment plans, making it an attractive proposition for tech enthusiasts and casual shoppers alike.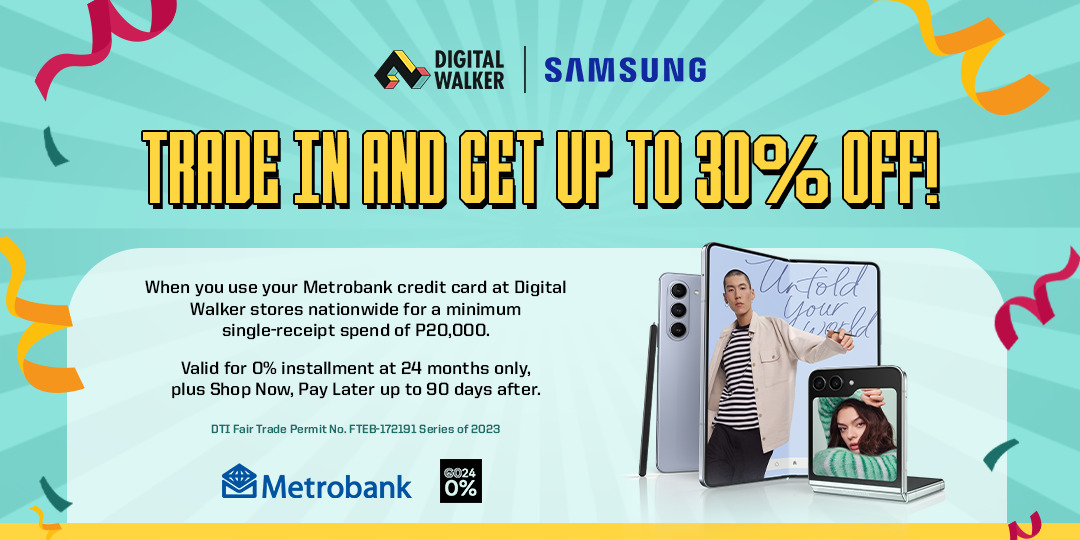 Don't Miss Out!
The Digital Walker and Metrobank partnership is creating the perfect storm of savings, convenience, and indulgence. With unbeatable discounts, flexible payment options, and the ability to defer payments, there's never been a better time to dive into the world of tech innovation.
For more details about Digital Walker's anniversary sale, please visit their official website or connect with Digital Walker on social media:
Given the limited-time nature of this promotion, we encourage everyone to seize this golden opportunity for incredible savings.
So, are you getting one? Let us know what you think in the comment section!