Smart Communications Inc. continues to lead the way in the Philippines' adoption of embedded SIM or eSIM technology. Following the successful launch of the country's first Prepaid eSIM in July 2023, Smart now offers both prepaid and postpaid eSIMs via digital delivery, making it more convenient for mobile users to experience the benefits of this innovative technology.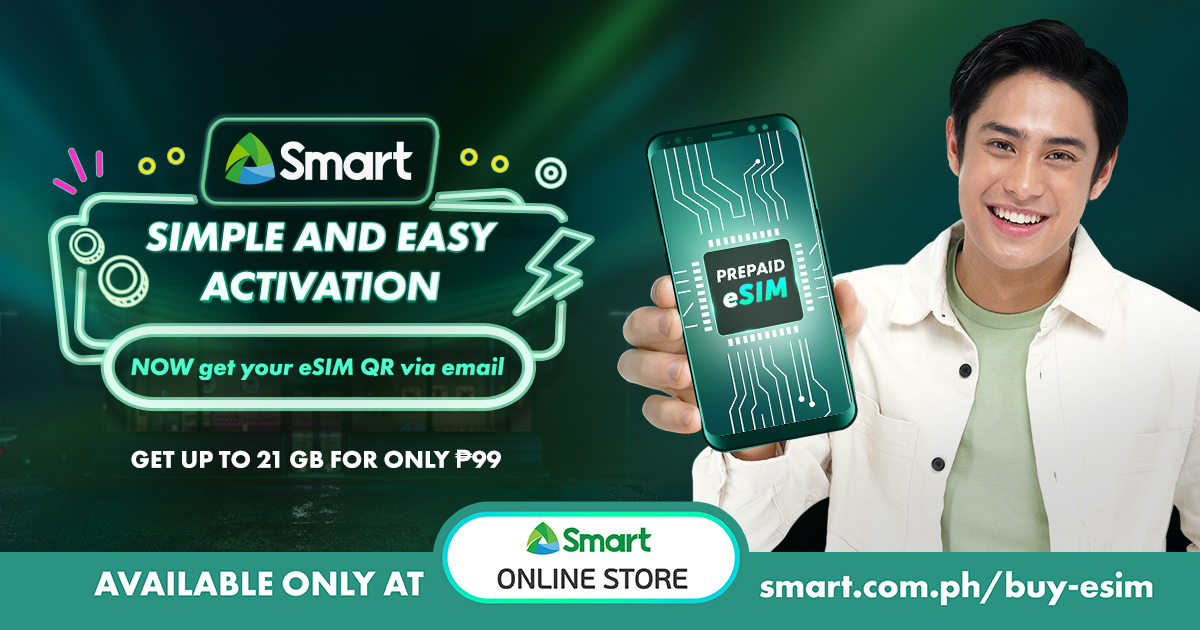 Mobile users can now easily order their Smart Prepaid eSIM or Smart Postpaid eSIM through the Smart Online Store and have it instantly delivered to their email. Upon receiving the eSIM, users only need to scan the unique QR code and register it for activation. This streamlined process allows users to quickly access data, call, and text services on Smart's renowned mobile network.
The Smart Online Store is accessible via any mobile or web browser, eliminating the need for a separate app download and login. It accepts various payment methods, including Maya, GCash, Mastercard, Visa, American Express, JCB, SPay, and DragonPay.
Complete Packages with Data, Calls, and Texts
Smart offers its Prepaid eSIM for only Php99, which includes up to 21 GB of FREE data, 30 minutes of All-Net Calls, and 100 All-Net Texts, allowing users to quickly connect and communicate with loved ones and friends.
For Smart Postpaid eSIM, users can start with the SIM-Only Plan 999, which comes with Unli 5G for 12 months, Unli All-Net Mobile Calls and Texts, Unli Landline Calls, and a Netflix Mobile Plan subscription for 12 months.
Compatible with the latest eSIM-capable handsets from Apple, Google, Huawei, Samsung, and other device brands, Smart Prepaid and Smart Postpaid eSIMs offer a hassle-free experience for mobile users. The absence of a physical SIM card means users don't have to worry about a lack of a SIM slot in their device or the risk of losing or damaging their physical SIM.
Furthermore, eSIM users can enjoy multiple lines, even with a device that has only one physical SIM slot, such as Apple devices. This flexibility allows users to conveniently switch between two or more accounts or SIM profiles on their smartphones.
Learn more about the Smart Prepaid eSIM at https://smart.com.ph/Prepaid/eSIM and Smart Postpaid Plans at https://smart.com.ph/Postpaid/signature.