Smart Prepaid is rolling out its Super Value Deals, offering data-packed offers for as low as Php99 each.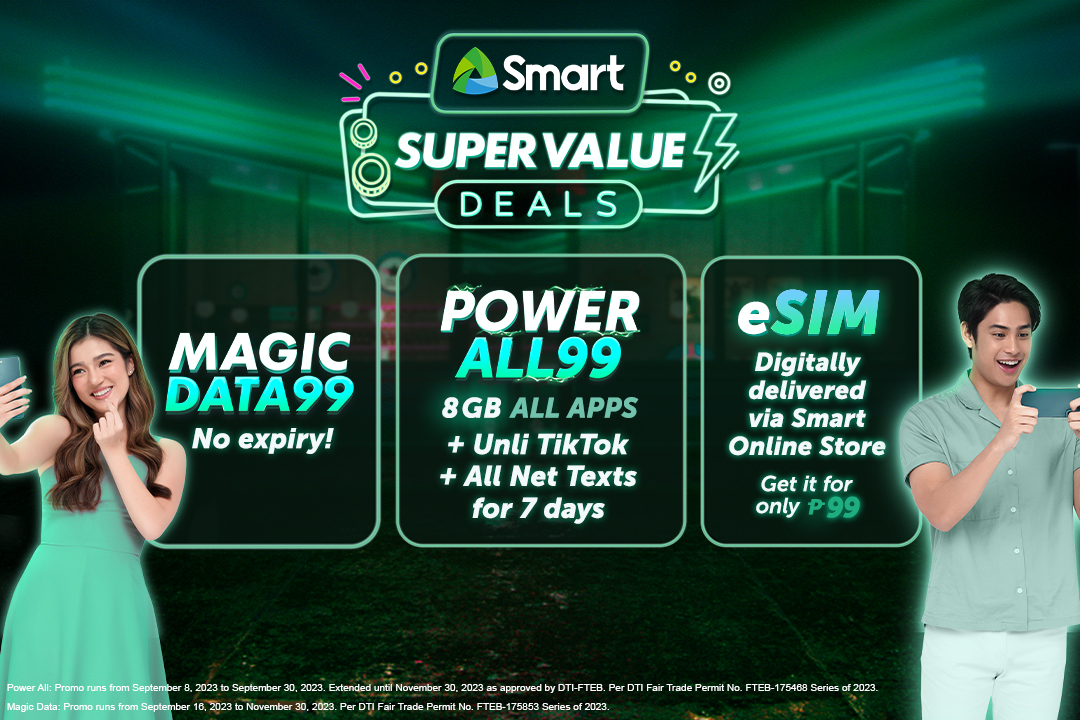 More Data and Flexibility for Subscribers
With Super Value Deals, Smart Prepaid subscribers can now enjoy data-packed offers like Power All 99 and Magic Data 99. Additionally, they can enjoy having Smart Prepaid eSIM, the Philippines' first prepaid eSIM, available for just P99 and delivered instantly via email.
Power All 99
Power All 99 is tailor-made for subscribers seeking their daily dose of entertainment alongside their online activities. This package includes Unli TikTok, 8GB of data for all apps and sites, and Unli Texts to All Networks, all valid for 7 days.
Power All 99 also provides substantial data for browsing websites, using favorite apps, staying productive at work or school, and keeping in touch with family and friends.
Magic Data 99
For subscribers who treasure the freedom of data usage without date restrictions, Magic Data 99 comes to the rescue. This package offers 2GB of data for all sites and apps, and there's no need to fret about using it all up by a specific date. Users can utilize their data as needed, enjoying multiple online sessions as their remaining data allows.
Subscribers can register for Power All 99 and Magic Data 99 conveniently via the Smart App (formerly GigaLife App) or at their nearest accredited retailers and convenience stores. Higher denominations with increased data allocations and additional features are also available for Power All and Magic Data packages.
Introducing the Smart Prepaid eSIM
Meanwhile, for those eager to experience Smart's superior mobile network and value-packed data offers, the Smart Prepaid eSIM is a groundbreaking choice. It's the Philippines' first prepaid eSIM, providing a hassle-free way to activate a new account and swiftly access Smart's data, call, and text services. All it takes is scanning a unique QR code containing the SIM profile.
Since there's no physical SIM card involved, users can enjoy multiple accounts without worrying about SIM slots or the need to swap physical SIM cards.
The Smart Prepaid eSIM is also readily available nationwide through the Smart Online Store and can be digitally delivered via email instantly. You can get it at accredited retailers located at local and international airports, malls, and Smart flagship stores on e-commerce platforms like Lazada and Shopee.
For more information about Smart Prepaid's Super Value Deals, visit Smart's Super Value Deals.