Smart Communications, Inc. (Smart) has officially launched a new handy streaming app — the GigaPlay app, bringing FREE exclusive sports and entertainment content to subscribers.
The new GigaPlay app is available to all Smart Prepaid, Smart Postpaid, TNT, and Smart Bro subscribers. With their mobile data on, they can get access to the GigaPlay app's curated live and on-demand content.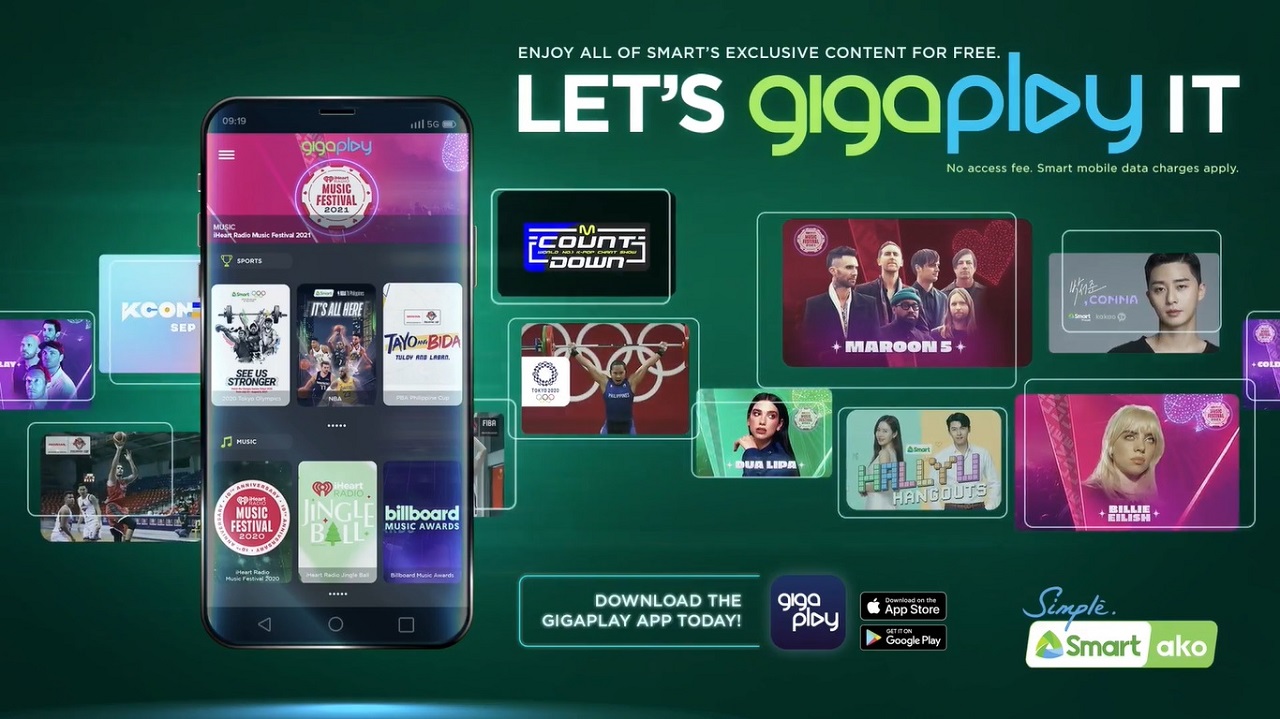 WATCH YOUR FAVORITES ON GIGAPLAY
To kick off this latest offering, Smart announced that the annual iHeartRadio Music Festival will be streamed in the Philippines via GigaPlay. Subscribers wouldn't want to miss this, as big names are set to grace the festival, including Billie Eilish, Coldplay, Dua Lipa, J Cole, Khalid, and Maroon 5.
GigaPlay also announced its exclusive stream of the upcoming KCON:TACT HI 5 virtual concert, happening on September 18 to 26. The festival will include performances by today's biggest K-Pop start, such as MAMAMOO, AB6IX, Park Jihoon, and ATEEZ.
The weekly Korean music show, M Countdown, will also be available on the app every Thursday at 5 PM.
Meanwhile, sports fans can expect that GigaPlay will also stream the ongoing 46th season of the PBA Philippine Cup, and the upcoming NBA season via NBA TV live. The upcoming season of the UAAP games and PVL will also take its spotlight on the new streaming app.
In addition, Smart subscribers may also stream on-demand content, like the Hallyu Hangouts featuring Hyun Bin and Son Ye Jin. GigaPlay will also include reruns of key events from the recent Tokyo Olympics, FIBA Asia Cup Qualifiers, Olympic Qualifying Tournament, and the recently concluded PVL Open Conference.
Moreover, NBA content will be available 24/7 as GigaPlay has access to NBA TV Philippines.
Smart's new GigaPlay app is now available for download on the Apple App Store and Google Play Store.
Excited to watch your favorite content? Let us know what you think in the comment section below!