Sony's IFA 2019 keynote is scheduled tomorrow with the supposed launch of the "rumored" Xperia 2. Unfortunately, Sony's upcoming flagship is now officially confirmed as the Xperia 5 thanks to an oopsie made by the Japanese electronics giant.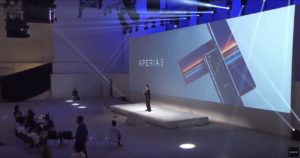 The Xperia 5 was shown in a presentation rehearsal popped up on its Sony Europe Youtube channel. Unfortunately for Sony, some fans were able to get a screenshot of the Xperia 5 presentation just before it was taken down.
The Xperia 5 (the rumoured "Xperia 2") will be available in Europe in October. Pre-orders start next week.
Still oversized.
Has full wireless DualShock 4 support, exclusive for Xperias 1 and 5.
Comes in black, blue, white and magenta.

cc. @XperiaBlog pic.twitter.com/ebuUJ3awUa

— David Baptista da Silva (@DBaptistaSilva) September 4, 2019
David Baptista da Silve's(@DbaptistaSilva) tweet confirmed that the Xperia 5 will retain the same 21:9 display ratio and Dolby Atmos, found on the previous Xperia 1. The upcoming Xperia 5 will also have full wireless DualShock 4 support. Lastly, the phone will be available in four colors: black, blue, white, and magenta. Pre-orders in Europe are expected to start next week with shipments coming in around October.
Sony usually accompanies its flagships with mid-range releases of its Xperia lineup.
Hints of the Xperia 5, rumored as Xperia 2, started to appear last week with renders making it look like it's nearly identical to the Xperia 1 except for the camera design.