Sony launched the new Alpha 7 IV interchangeable lens camera and two new flashes, the HVL-F60RM2 and HVL-F46RM.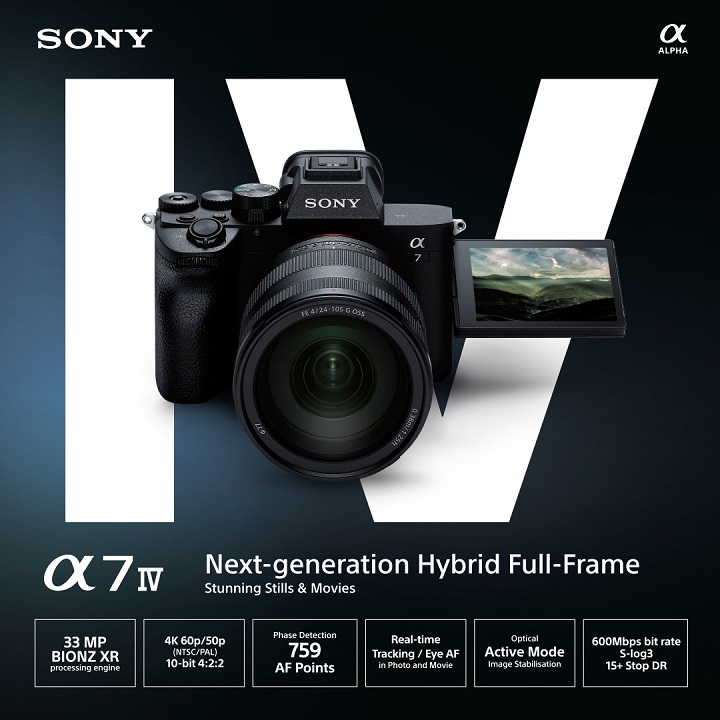 INTRODUCING THE NEW ALPHA 7 IV NEXT-GEN HYBRID FULL-FRAME CAMERA
The new Alpha 7 IV is a hybrid camera that delivers outstanding image quality and an enhanced video experience.
Users can expect to enjoy superior image quality as the camera sports a newly developed 33MP full-frame back-illuminated Exmor R CMOS image sensor. In addition, it has an impressive Wide ISO sensitivity range, which is expandable to ISO 50-204800.
It has a 15-stop dynamic range, allowing a wide expressive range, while its Creative Look settings create natural-looking outputs for both stills and video.
The new camera can also track subjects with its Real-Time Tracking and 759 phase-detection AF points.
ENHANCED WORKFLOW WITH ALPHA 7 IV
Sony packed the device with various connectivity features, such as Bluetooth and 5GHz/2.4GHz WiFi.
It also comes with a Shot Mark feature, allowing access to the marked scenes in a video clip, within the camera, and on Sony's Catalyst Browse/Prepare applications.
Other connectivity features include its UVC and UAC, turning the Alpha 7 IV into a high-performance live streaming camera when connected to a computer or smartphone.
SONY LAUNCHES NEW HVL-F60RM2 AND HVL-F46RM FLASHES
The brand also introduced wireless flashes that offer precise control, enhanced high-speed and intuitive operability.
Both flashes have upgraded continuous shooting flash performance, up to 200 times at 10 frames per second for the HVL-F60RM2 and 60 times for the HVL-F46RM.
Other system benefits of HVL-F60RM2 and HVL-F46RM with an Alpha camera include:
Flash parameters controlled directly from the menu of a compatible camera
Flash control linked to camera face detection
Automatic correction of white balance based on the color temperature information from the flash
AVAILABILITY
The price and pre-order details of Alpha 7 IV, HVL-F60RM2, and HVL-F46RM in the Philippines will be announced soon.
Meanwhile, you can visit this link to learn more about the products.