The new Sony WF-1000XM5 truly wireless earbuds officially launched in the Philippines, promising to take users' music experience to the next level.
"For The Music" – Sony's Brand Tagline for Audio Products
With the launch of the WF-1000XM5, Sony is affirming its position as the premier audio brand connecting creators and music lovers. Embracing the brand tagline "For The Music," Sony aims to create authentic music experiences and evoke genuine emotions for fans by prioritizing and supporting the vision of creators.
To emphasize its commitment to music, Sony has also partnered with global singer, actor, songwriter, and Sony Music Entertainment artist, Miguel. Miguel, a music lover and creator himself, talks about how the WF-1000XM5 earbuds epitomize the essence of "For The Music" by delivering an unparalleled music listening experience.
Unmatched Noise Canceling Performance
The WF-1000XM5 sets a new standard for distraction-free listening and crystal-clear audio. Powered by Sony's cutting-edge technology, users can trust that they're getting the ultimate music experience.
For instance, the earbuds feature real-time audio processors and high-performance microphones that drive the specially designed Dynamic Driver X unit. This combination also delivers wide frequency reproduction, deep bass, and clear vocals, immersing users in a sound that feels like being in the studio with their favorite artists.
In addition, Sony has made significant strides in noise canceling with the WF-1000XM5, equipped with three microphones on each earbud, including dual feedback mics for improved low-frequency cancellation. This advancement captures ambient sound more accurately, setting new standards in noise reduction performance.
Expertly Engineered for Astonishing Sound Quality
Sony's meticulous engineering ensures that every detail of the music shines through on the WF-1000XM5. The Dynamic Driver X, specifically designed for wide frequency reproduction, provides richer and more detailed vocals. The earbuds' diaphragm structure, with a combination of various materials for the dome and edge, also achieves clear highs and deep, rich bass sound with minimal distortion.
Integrating Sony's newly developed HD Noise Canceling Processor QN2e and Integrated Processor V2, the WF-1000XM5 incorporates precision 24-bit audio processing and high-performance analog amplification. The result is low distortion and crystal-clear audio reproduction. The earbuds also feature 360 Reality Audio, offering an immersive experience that transports users to the heart of the music.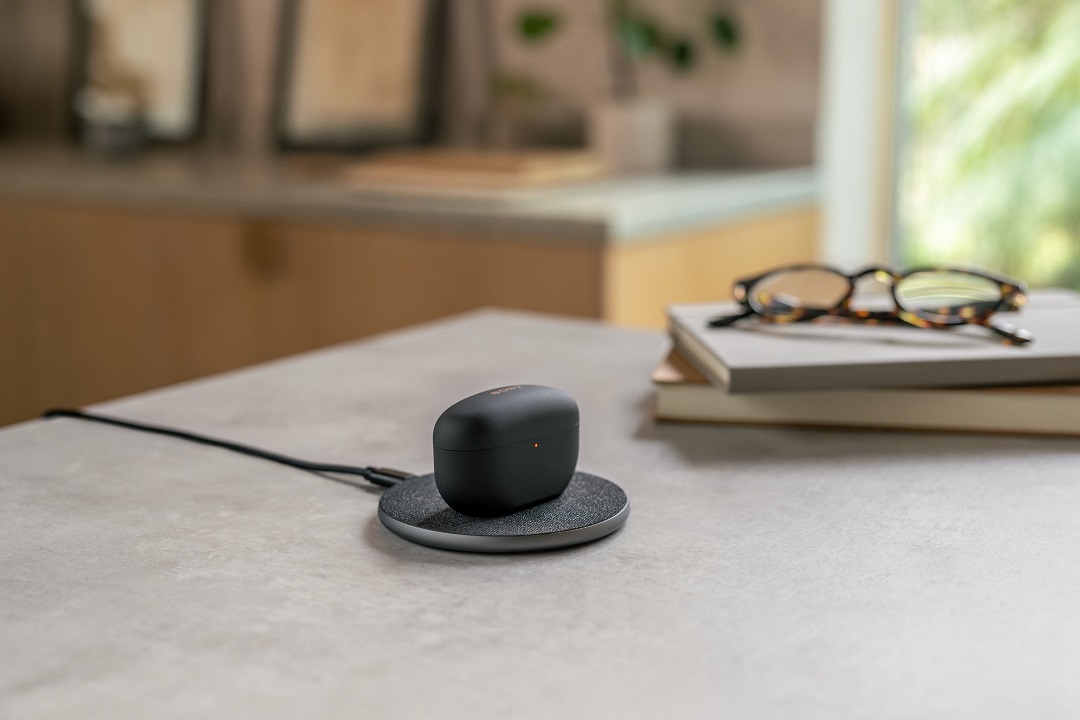 Sony's Best-Ever Call Quality
Delivering an unparalleled call quality, the WF-1000XM5 incorporates an AI-based noise reduction algorithm based on Deep Neural Network (DNN) processing and bone conduction sensors. This technology ensures crystal-clear and natural voice transmission even in noisy environments. Additionally, the wind noise reduction structure minimizes wind noise for clear calls outdoors.
Comfortable and Stylish Design
Designed with comfort in mind, the WF-1000XM5 features an improved, glossy texture with a luxurious feel. The earbuds' ergonomic design, modeled after the human ear, ensures a secure and stable fit. Compared to its predecessor, the WF-1000XM5 is approximately 25% smaller and 20% lighter, making it more comfortable for extended wear. The earbuds come in four sizes, including the ultra-small SS, allowing users to choose the perfect fit for their ears.
Seamless Listening Experience
The WF-1000XM5 provides an operation-free listening experience with Auto Play, customizing the timing of music to suit user preferences, and audio notifications that keep users on track with important events. The earbuds also enable a unique listening experience by linking with Spotify, Endel, and Apple Music to access favorite music and relaxing soundscapes.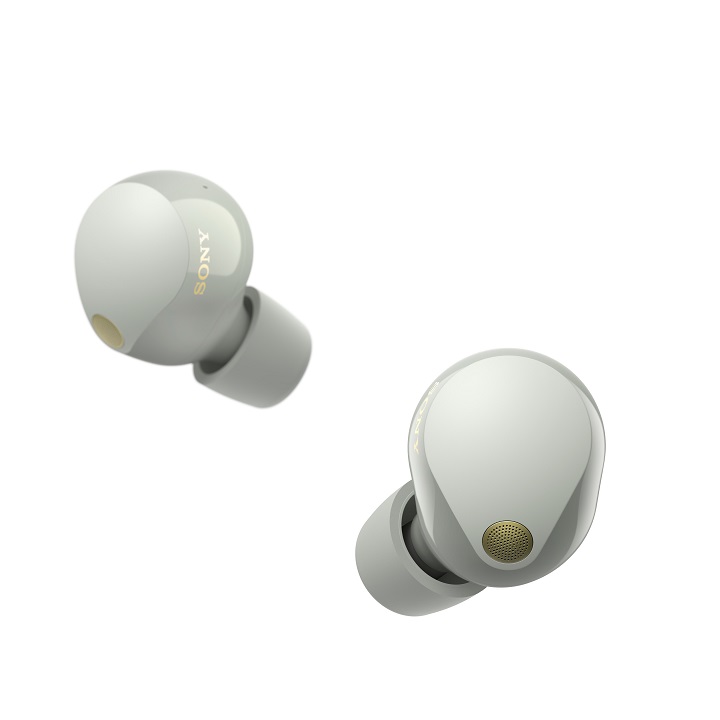 Using new sensors and spatial sound technology, the WF-1000XM5 delivers immersive sound for Augmented Reality games. With head tracking, sounds align perfectly with on-screen action, creating a captivating gaming experience.
The earbuds also feature Sony's Adaptive Sound Control, Speak-to-Chat, and Multipoint Connect, allowing simultaneous pairing with two Bluetooth devices. Users can control the WF-1000XM5 with their voice using their favorite voice assistant.
Long Battery Life and Water-Resistant Design
The WF-1000XM5 also offers up to 8 hours of battery life for uninterrupted listening, and a quick 3-minute charge provides up to 60 minutes of playtime. Wireless charging is also made available through Qi technology.
Meanwhile, water-resistant with an IPX4 rating, the earbuds are protected against splashes and sweat, enabling users to enjoy their music even in rainy weather.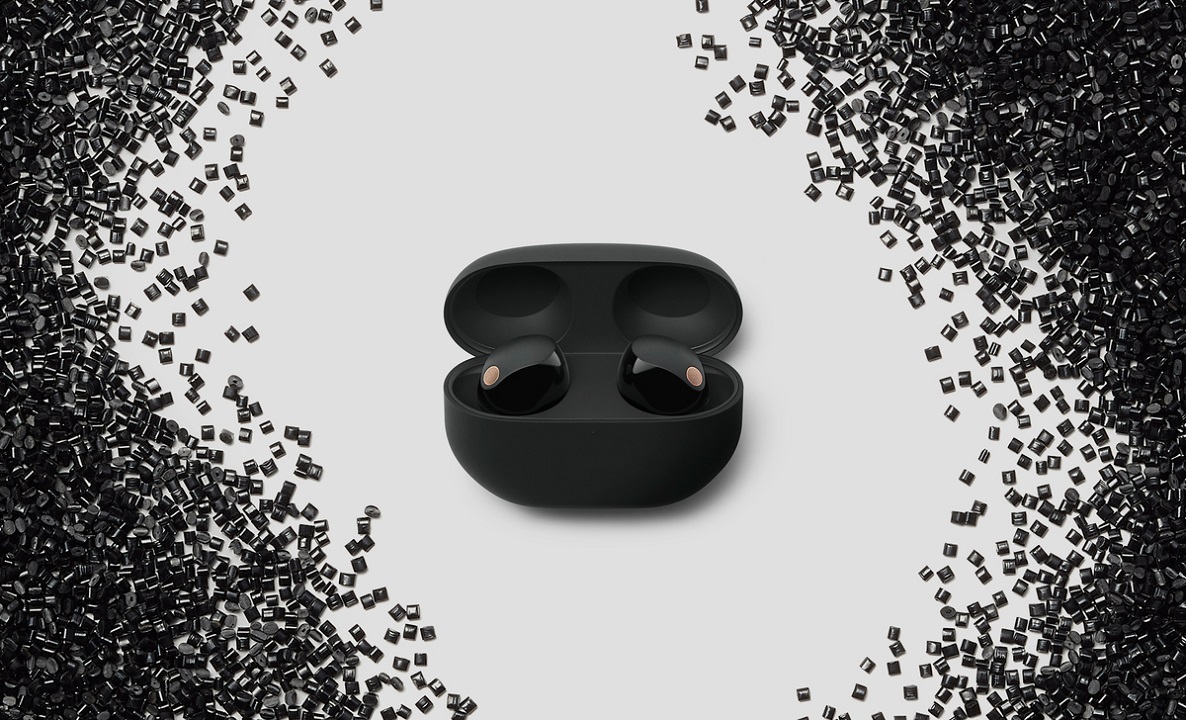 Environmentally Friendly
Sony demonstrates its commitment to sustainability with the WF-1000XM5, using recycled plastic materials and environmentally conscious Original Blended Material for packaging. This unique paper material combines bamboo, sugarcane fibers, and post-consumer recycled paper.
Availability and Early Bird Offer
The WF-1000XM5 is now available for pre-order at Php16,999 through select Sony Authorized Dealers nationwide and on Lazada and Shopee from July 26 to August 24, 2023. All pre-orders come with a complimentary wireless charger.