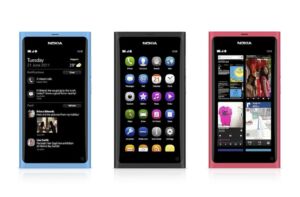 Nokia N9 in Three Different Colors
Nokia announced their newest Meego phone at Nokia Connections 2011 in Singapore, the Nokia N9 (sorry WP7 fans but don't worry Nokia CEO Stephen Elop said that a WP7 will be announced this year and will be available in 2012). This unibody phone will be using a A-8 Cortex 1 GHz processor and not the usual ARM11 processors which was used in Symbian Phones
Nokia N9 is the newest part of the family high end series of Nokia Phones equipped with Meego, the OS that Nokia CEO Stephen Elop scrapped for the sake of Windows Phone 7. Nokia N9 is a unibody and the first buttonless cellphone. It means that those home keys is replaced by a simple gesture: a swipe.
Nokia N9 features a 8 megapixel Carl Zeiss autofocus sensor
wide-angle lens, HD-quality video capture and large lens aperture enable great camera performance even in lowlighting conditions. I don't know why they didn't choose the 12 megapixel camera which was present in Nokia N8. It has a free turn by turn and walk navigation with voice guidance in Maps.
Fitted with the latest in wireless technology, Near Field Communication (NFC), the Nokia N9 allows you to easily share images and videos between devices by touching them together. Pair it with Bluetooth accessories like the new NFC-enabled Nokia Play 360° wireless music speaker only once, and you get a great surround sound music experience with just a tap.
The Nokia N9 will be available in three colors – black, cyan, and magenta with storage options to accommodate plenty of content: 16GB and 64GB. The Nokia N9 is scheduled to be in stores later this year, with availability and local pricing to be announced closer to the sales start
I'm really excited about this one since this will be Nokia's first Meego device. Let's see if Meego can really compete in the Mobile OS market