The Samsung Smart TV
Dads are the best hardworking person in every family. They work for us to get to money, Tie our shoes when we were young and Watch our favorite TV shows with them in our couch. Well, the best way to thank them and to show that you love them is by giving them a sweet letter. Thanks to Samsung Smart TV, I have a chance to thank them and tell them how much I love him
Samsung Smart TV invites us to join the Dear Dad Promo. Just write a letter for your Dad and you may get a chance to win a Samsung Smart TV. You can view my letter to my Dad here: Jam's Letter to Dad.
We just love to watch boxing in our TV but it would be better if that TV is a Smart TV ayt?.
You can write a letter to your Dad too by just visiting the Facebook App. You might just win a Samsung D6600 Smart TV 46-inch or Samsung D5500 Smart TV 40-inch by just writing a letter to your Dad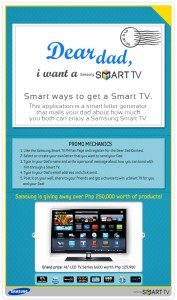 Here are 5 easy steps on how to join the promo, for a chance to win one (1) out of the three (3) Smart TVs that Samsung is giving away.
2. Select or create your own letter that you want to send your Dad.
3. Type in your Dad's name and write a personal message about how you can bond with him through a Smart TV.
4. Type in your Dad's email address and click send.
5. Post it on your wall, share to your friends and get a chance to win a Smart TV for you and your Dad!
Samsung Smart TV is one of the best TV out there in the market. The thing that I like in here is the 2D-3D feature. It'll let you convert those 2D videos into 3D. It is called Smart TV because there are a lot of apps available and expecting to have 1000 apps before the end of the year. Web browser, Facebook and Twitter are some of the cool apps that you can found here. You can even tweet or post while watching your favorite shows.
I hope my Dad and I win this Smart TV, we'll have more time to bond with this. Oh and watch Pacman fights in full HD glory.