XTREME Appliances is taking home comfort to a new level by introducing its two latest offerings: the Cordless Vacuum Cleaner and Microwave Oven.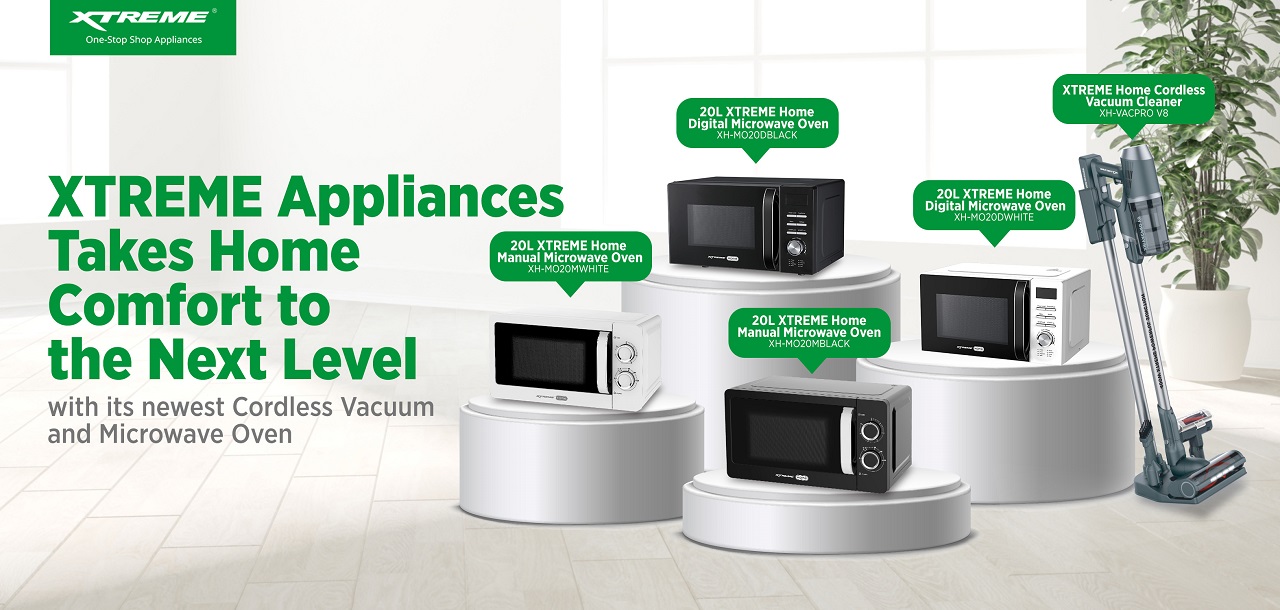 XTREME Cordless Vacuum Cleaner (XH-VACPRO V8)
The Cordless Vacuum Cleaner from XTREME, known as XH-VACPRO V8, is designed to make cleaning a breeze with its impressive features:
2-in-1 Vacuum: This versatile appliance serves as both a handheld and stick vacuum, granting users the flexibility to tackle various cleaning tasks effortlessly.
400W Powerful Suction: With its formidable suction power, the Cordless Vacuum Cleaner ensures thorough cleaning and efficient debris removal from carpets, floors, and even hard-to-reach corners.
60-minute Operating Time: Thanks to its quick-charging system, it requires just 4 hours to achieve a full charge and can operate for up to 60 minutes on a single charge, ensuring uninterrupted cleaning sessions. The battery indicator also keeps users informed about the device's charge status.
0.9L Dust Capacity: The substantial dust capacity reduces the need for frequent emptying, allowing users to clean more and empty less.
Metal and HEPA Filters: Equipped with premium filtration, they trap fine particles and allergens, promoting cleaner and healthier indoor air quality.
3-Speed Control: The 3-speed control (low, medium, high) provides customizable cleaning options, allowing users to adapt to different cleaning needs.
180-Degree Swivel Connector: The Swivel Connector also ensures easy navigation around furniture and obstacles, guaranteeing comprehensive cleaning coverage.
Bristle Brush with LED Light: Meanwhile, the integrated Bristle Brush featuring an LED light illuminates hidden dust and dirt, making them easy to spot and leaving no corner untouched.
In addition to this impressive cleaning device, XTREME Appliances has also revamped its Microwave Oven, offering an array of stylish and functional options to modern kitchens.
Manual Microwave
Colors: White/Black
Capacity: 20L
Control: Knob Control
Digital Display: No
Turntable Diameter: 10 inches
Power: 700W
Warranty: 1-year parts and labor
Price: Php 3,095
Digital Microwave
Colors: White/Black
Capacity: 20L
Control: Buttons + Knob Control
Digital Display: Yes
Turntable Diameter: 10 inches
Power: 700W
Warranty: 1-year parts and labor
Price: Php3,595
With this exciting lineup of home appliances, XTREME Appliances continues to redefine home comfort and convenience for consumers.
Meanwhile, for more details about XTREME Appliances and its latest offerings, visit their official channels on Facebook, Instagram, and the website at www.xtreme.com.ph.
So, are you getting one? Let us know what you think!