ASUS Philippines has just launched the ASUS ROG Zephyrus GX501 in the Philippines that packs a Max-Q Design from Nvidia. We first saw this notebook last Computex and we were really amazed by how thin the laptop is. With this technology from Nvidia, gaming notebooks will be able to have a powerful hardware inside but still be able to have a profile and design that is thin and light compared to other notebooks.
The ASUS ROG Zephyrus GX501 is powered by a 7th-generation Intel Core i7 processor along with the latest Nvidia GeForce GTX 1080 GPU. But again, despite having this hardware, the ASUS ROG Zephyrus GX501 still manages to have a thin profile at 17.9mm and down to 16.9mm at its thinnest point.
So how did ASUS managed the cooling system? Well, the ASUS ROG Zephyrus GX501 is cooled using the Active Aerodynamic System or AAS which can run cooler and quieter than before. When you open the notebook, you would see a portion of the bottom of the chassis that opens to have a better airflow and air circulation.
The ASUS ROG Zephyrus GX501 also has a different design from the previous ROG notebooks and in this notebook, we'll be able to see a half slice design with the ROG logo at the upper side of the notebook which is, by the way, looks cleaner and better than before. The notebook is almost complete when it comes to ports including USB Type-C however, the noticeable missing port in the ASUS ROG Zephyrus is the Display port but again, don't worry because this one has a USB 3.1 Type-C with Thunderbolt 3.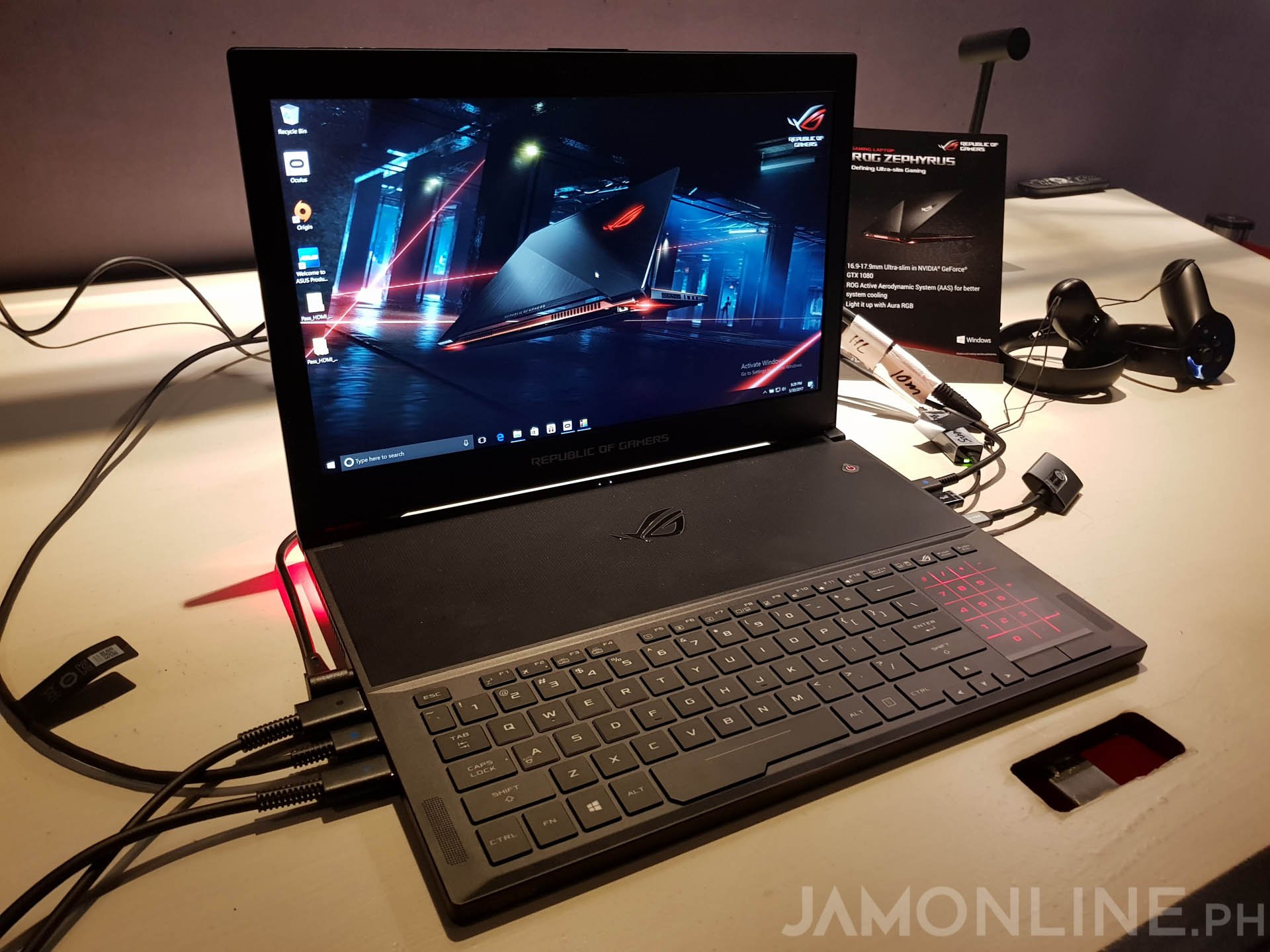 Another selling point of the ASUS ROG Zephyrus GX501 is the 15.6 Full HD display with support for 120Hz Refresh rate with Nvidia G-Sync so you'll have a smoother and more buttery smooth experience on its display.
ASUS ROG Zephyrus GX501 Specs
15.6-inch Full HD display with 120Hz refresh rate with Nvidia G-Sync
Intel Core i7-7700HQ Processor
24GB RAM DDR4 Memory
512GB PCIe x4 NVMe SSD
Nvidia GeForce GTX 1080 8GB DDR5 or GTX 1070 8GB DDR5
1x USB 3.1 Gen 2 Type-C with Thunderbolt 3
4x USB 3.1
1x HDMI 2.0
1x 3.5 headphone and mic combo jack
HD Camera
ASUS Aura RGB backlit chiclet keyboard with 30-key rollover
37.9 x 26.2 x 1.69cm
The ASUS ROG Zephyrus GX501 will come in two variants — a Nvidia GTX 1070 and a Nvidia GTX 1080 GPU which is priced at P149,995 and P179,995 respectively. It's actually not bad for a gaming notebook at this size and hardware.