Huawei has been making Android tablets for a while and one of their latest tablets is the Huawei Mediapad M5 Lite. The tablet has arrived in the Philippines late last year and it is for the people who want to have a more immersive experience when consuming media files. Do you want to know more about it? Check out our review of the tablet below.
Design and hardware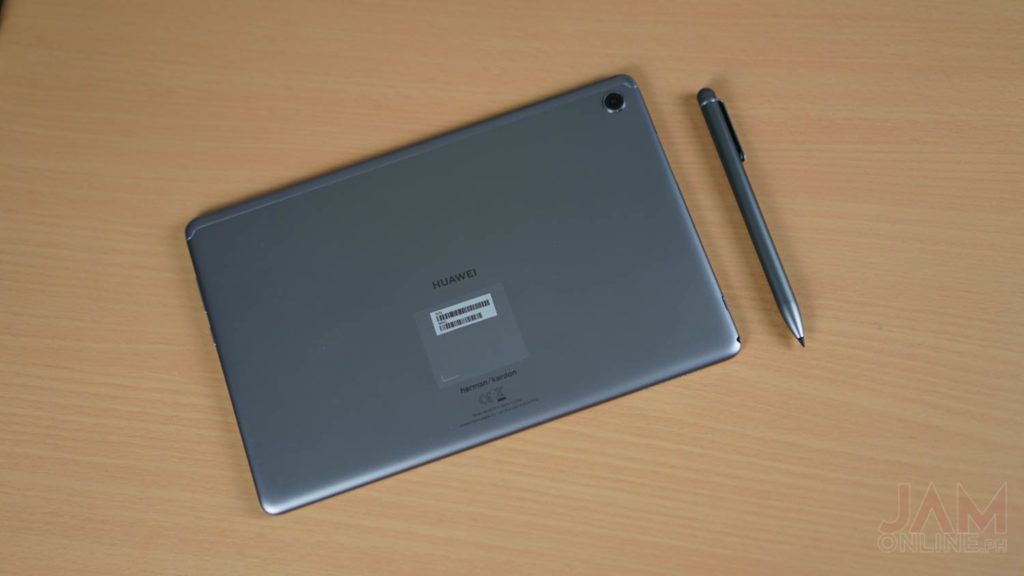 The design and construction of the tablet are one of the few things that you'll definitely in the Huawei Mediapad M5 Lite. It might have a 10.1-inch display but the tablet feels light and very portable. It also feels solid thanks to its metal unibody build which is also one of the main reasons why this one stands out against other tablets.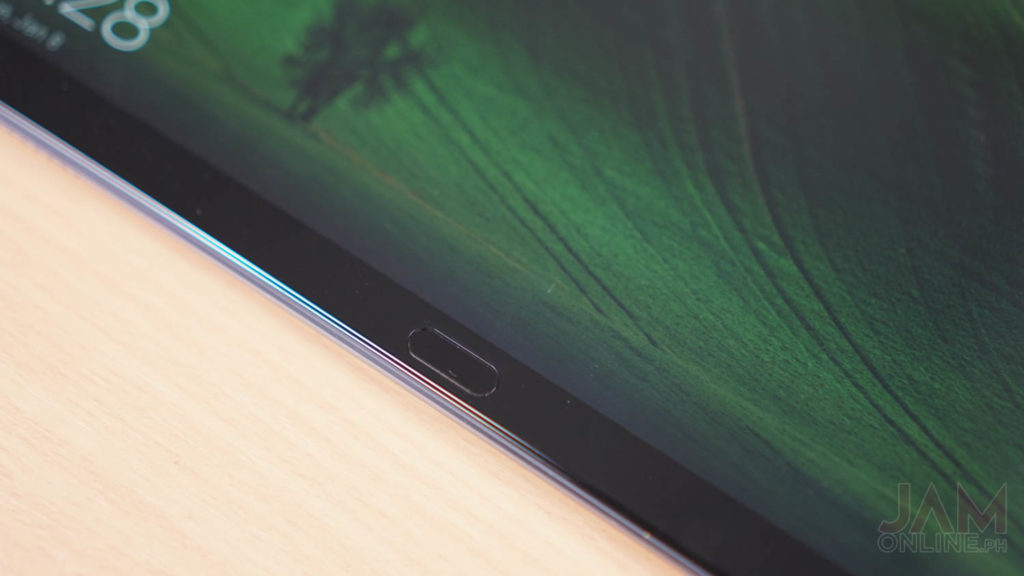 Like the P20 and P20 Pro, there's a home button on the front which also serves as the fingerprint scanner of the tablet and that is pretty fast and convenient for me despite the lack of face unlock on the tablet. There's a card tray too for the MicroSD unfortunately, there's no cellular here.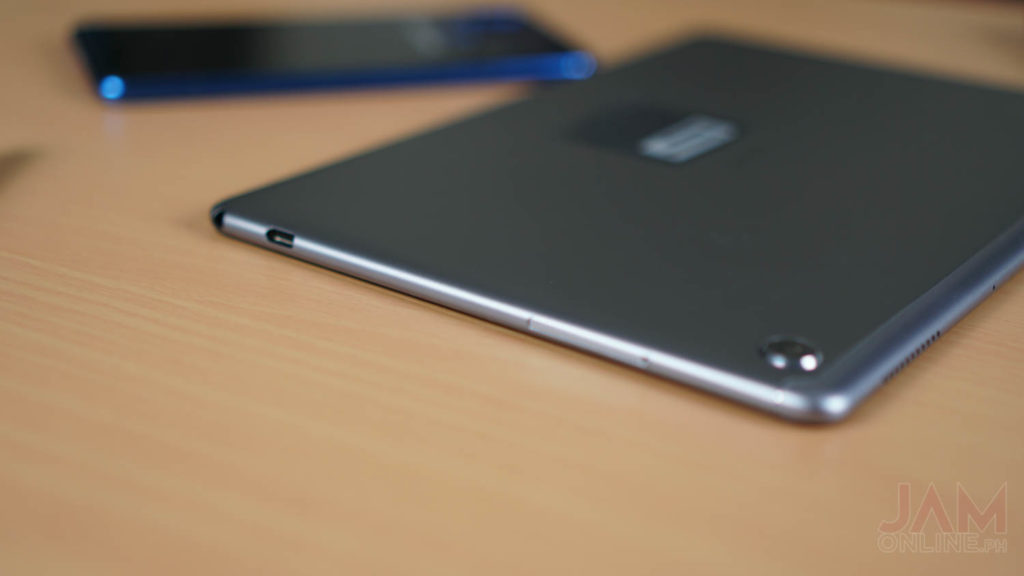 The Huawei Mediapad M5 Lite also features USB-C port which is capable of fast charging. There's an included 9V/2A charger in the box too and yes, I was pretty happy that the tablet charges really fast.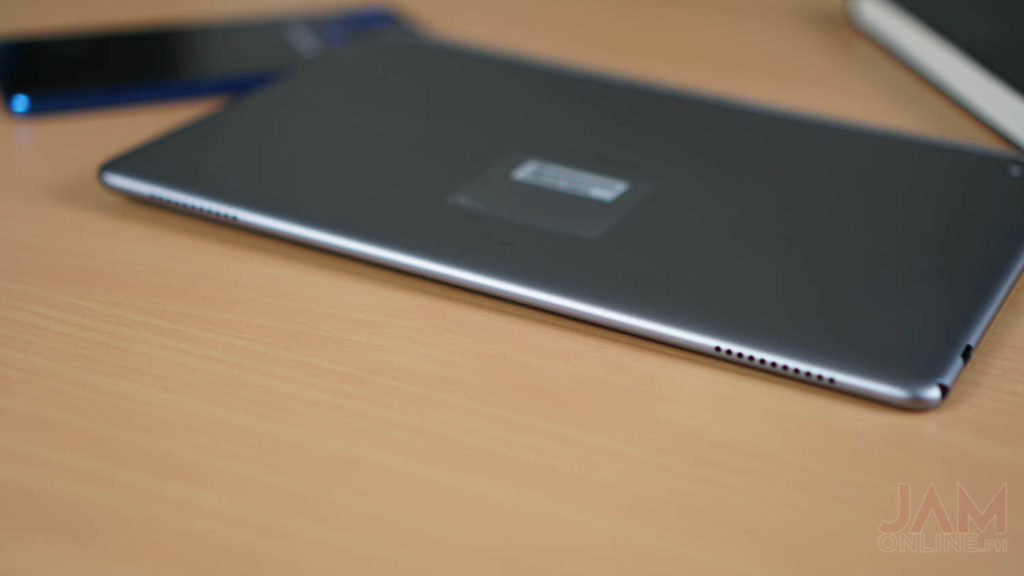 The biggest feature that I love on the Huawei Mediapad M5 Lite is the quad-speakers which are tuned by Harman/Kardon and damn, the sound quality of this thing is loud, clear, and insane. Actually, when I'm watching YouTube videos on this tablet, I wouldn't even use my BT speakers because this one is really loud.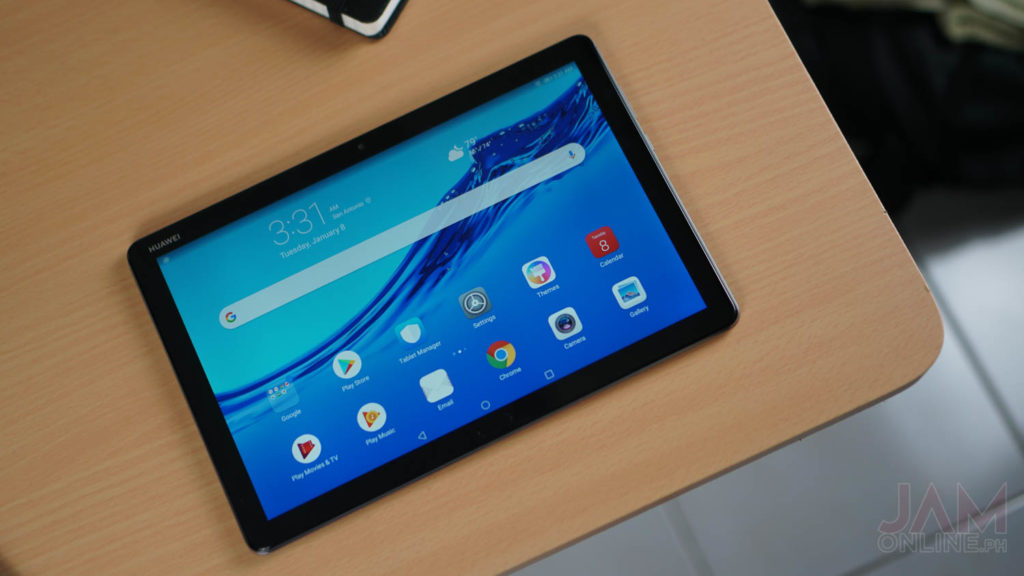 This is a tablet and my standards for the camera on devices are pretty low and I highly suggest that you use your smartphones instead of tablets. In our camera tests, most of the shots that we took are washed out and are soft but you would probably just use the camera of these tablets for video calls so it won't be really a problem. But in case you want to check it out, here are some sample shots using the tablet.
Huawei M-Pen lite Stylus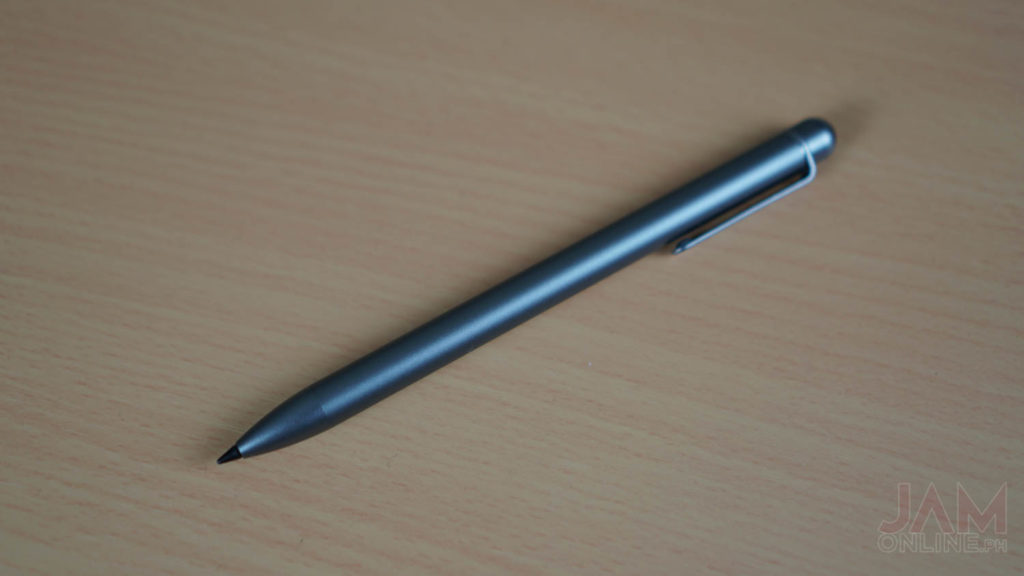 The Huawei MediaPad M5 Lite supports the M-Pen lite stylus which is an external stylus that you can buy separately. It supports 2048-layer pressure sensitivity and I find it fun to use. The build of the pen is actually ergonomic and I really had no problems using it to draw.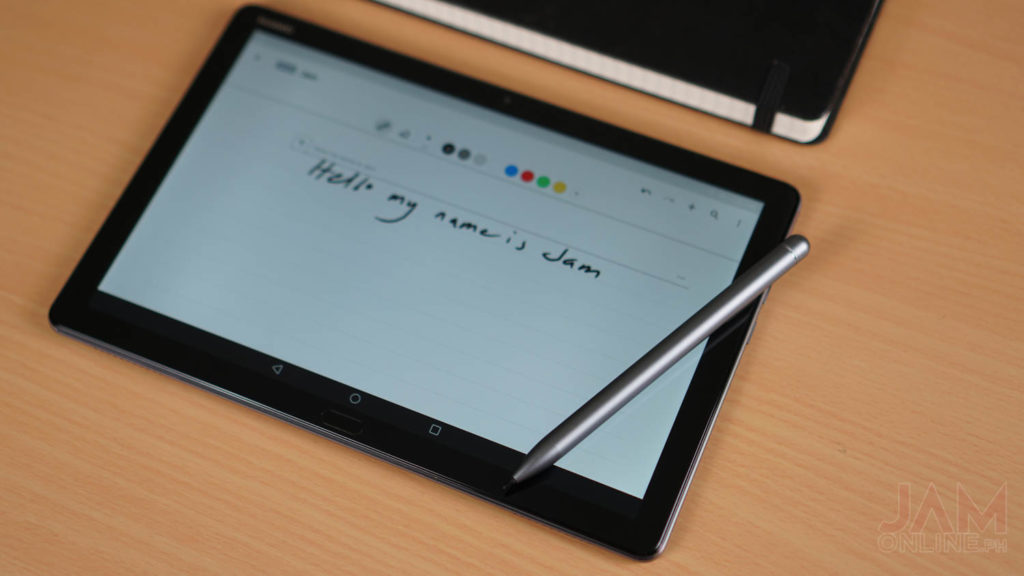 While there are some included apps that take advantage of the MediaPad M5 Lite, I still find the application of the stylus lacking support for more applications but again, if you are into drawing and notetaking then this one wouldn't be a problem to you guys. Another thing, the stylus is actually powered by AAAA battery which will be hard to find.
Display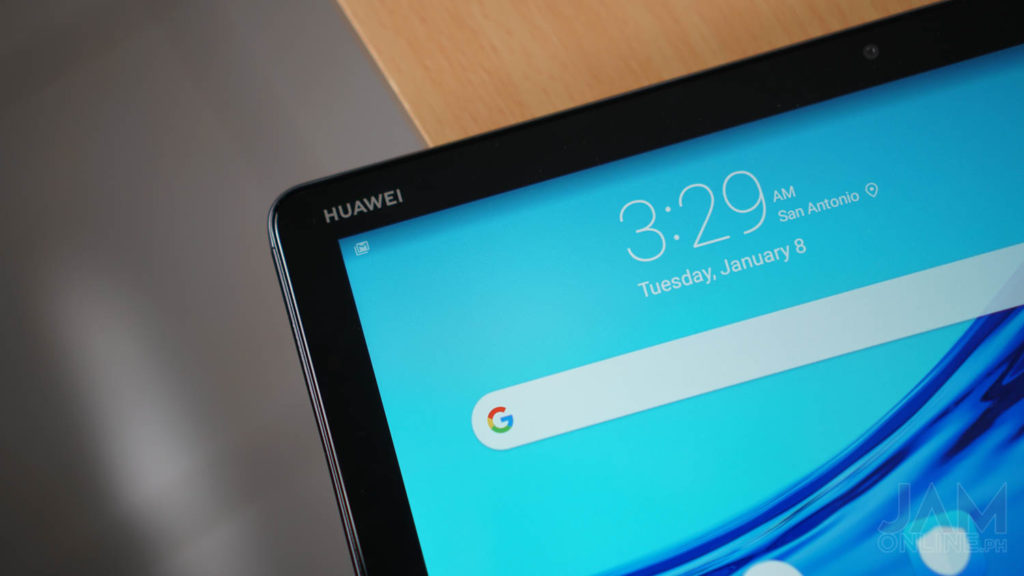 The Huawei Mediapad M5 Lite packs a 10.1-inch display with a resolution of 1920×1200 which means that it comes with a 16:10 display aspect ratio. The display is actually pretty fine though it doesn't have the best quality, I'm still satisfied watching videos YouTube on this tablet. The display was also responsive with the stylus so I really didn't have any problem using it.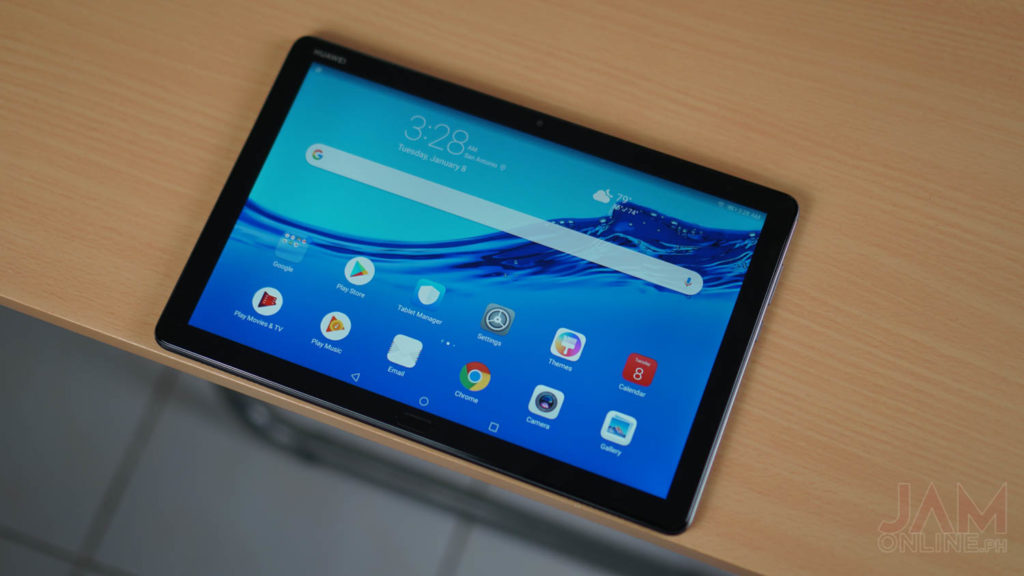 Another thing that I love about the tablet is the thin bezel. Well, it does have a bezel for better ergonomics but the tablet is nice to hold and that thin bezel on the tablet gives less footprint to the tablet which is really nice.
Battery Life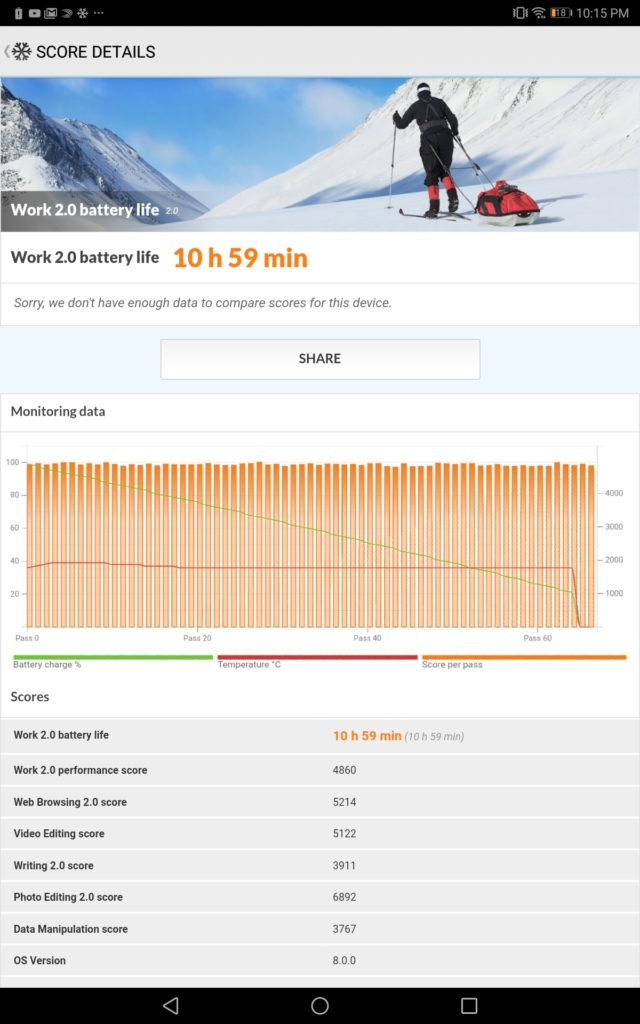 The Huawei Mediapad m5 Lite has a 7500mAh battery which lasts pretty long and probably a day of normal tablet usage. This tablet lets you watch a couple of movies in a single day without asking for the charger. In our test at PC Mark, we got a score of 10 hours and 59 minutes
Performance
The Huawei Mediapad M5 Lite doesn't come with the latest chipset, unfortunately. It's running on Kirin 659 chipset which is also used by Huawei Nova 2i which was released last 2017. It also comes with 4GB RAM and 64GB storage. Using this tablet for media consumption such as watching videos and browsing the web wouldn't be a problem however when it comes to gaming, don't expect too much from the tablet but it can definitely run light and casual games and some games like PUBG but again, don't expect high framerates on demanding games. Check out the benchmarks that we got using the tablet.
If you're into media consumption then you won't be disappointed with the tablet but if you want to play heavy games on this tablet with really good fps then don't expect too much from it but it can definitely run most games.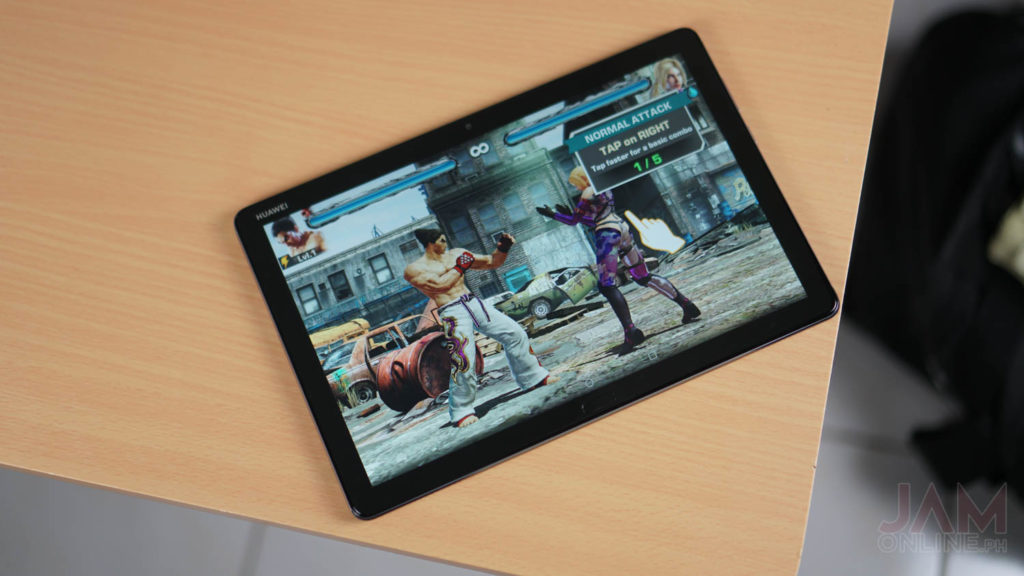 Software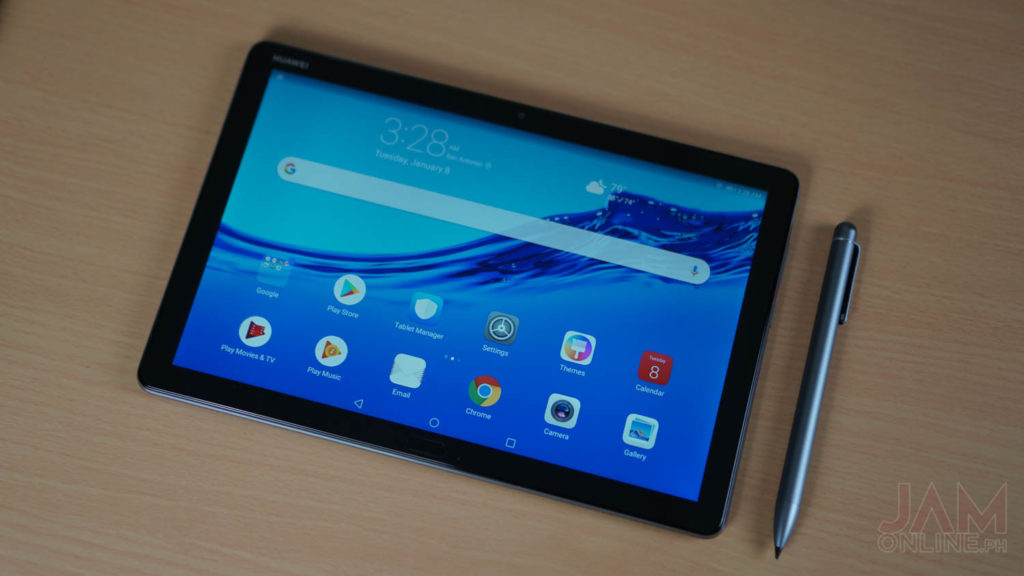 Huawei Mediapad M5 Lite is running on EMUI 8.0 with Android 8.0 Oreo. If you're a Huawei user then the interface isn't a surprise to you as the tablet will have a similar interface and the pre-installed applications are pretty much the same but you'll be getting apps that will utilize the M Pen Lite Stylus like the Nebo app which allows you to do note-taking and it has handwriting recognition which is pretty cool and also the MyScript Calculator which lets you write some equations that will automatically solve the equations which is pretty helpful for some people who wants their math assignments to be answered.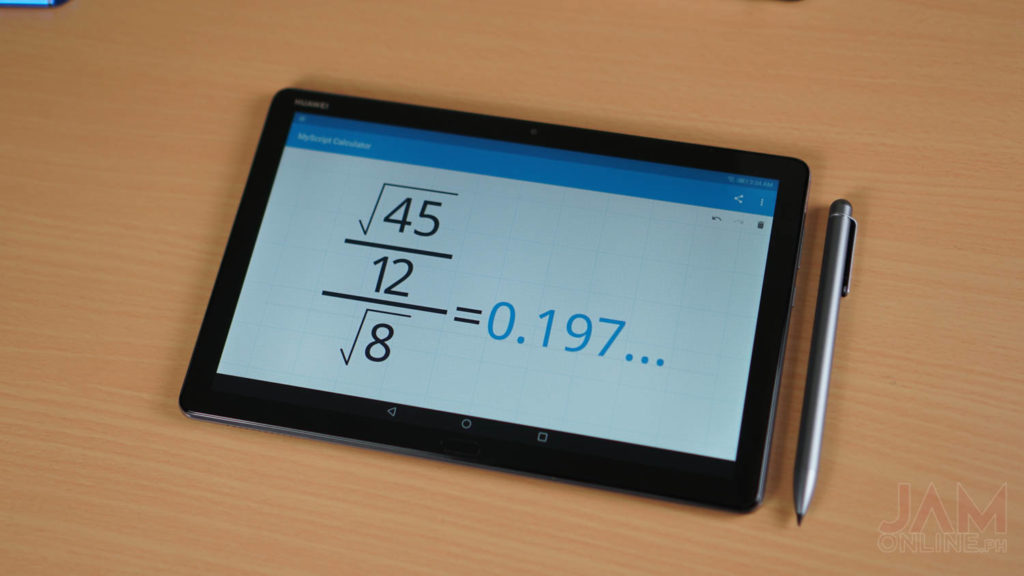 Verdict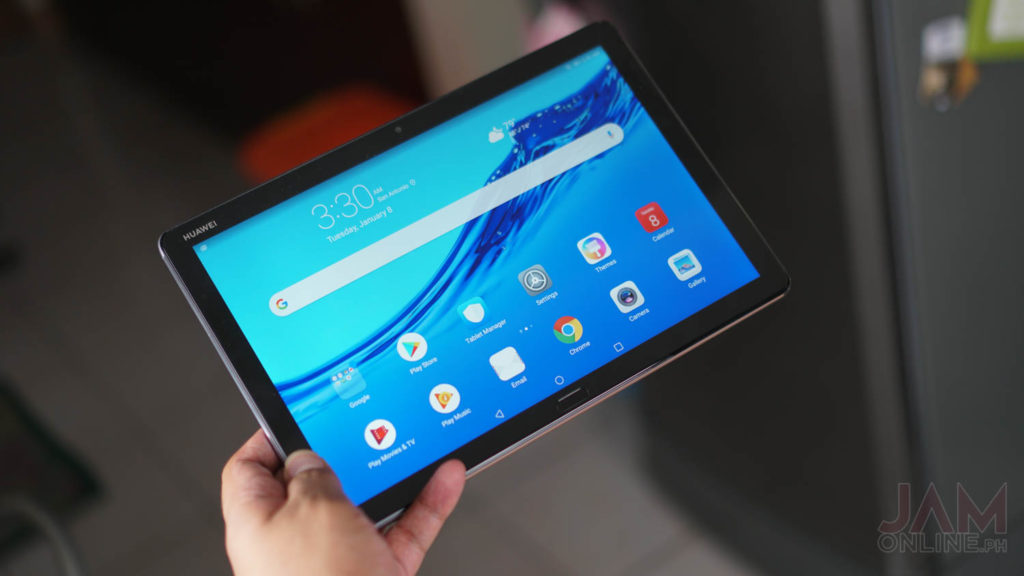 The Huawei Mediapad M5 Lite features a really loud and clear speaker thanks to Harman/Kardon and the display is something that I really appreciate plus the support for the M Pen Lite stylus. Another thing that I love on the tablet is the unibody metal build which makes the tablet really solid, however, the tablet is still running on Kirin 659 processor which is a little bit old.
So if you're just looking for a tablet that is made for media consumption such as watching Netflix and YouTube then this one is a great tablet for you thanks to its nice display and an amazing speaker. The addition of stylus support is pretty good too as you can take notes with this tablet. Again, the tablet can do some light and casual gaming but don't expect to run it at really high settings.
The Huawei Mediapad M5 Lite is available for Php18,990