It's past black friday here in the Philippines but Black Friday just started in the other side of the globe. Amazon has some of the best black friday deals in PC parts and peripherals. We've managed to list some of the best deals that even beat out sale prices here in the country. Even better, some products are not actually available in the Philippines.
NOTES
Discounted items are Brandnew
Price should be less than Php 10,000 – to avoid unnecessary PH customs tax
We do not hold the availability of the items. Strike fast if you really want to score a sweet deal
Items must ship directly to the Philippines
Warranty can be only availed through Amazon – Buy at your own risk
Amazon has a very aggressive exchange rate(Usually more than $1:Php55). Use your credit card provider's exchange rate which should be lower.
Amazon Prime exclusive deals are excluded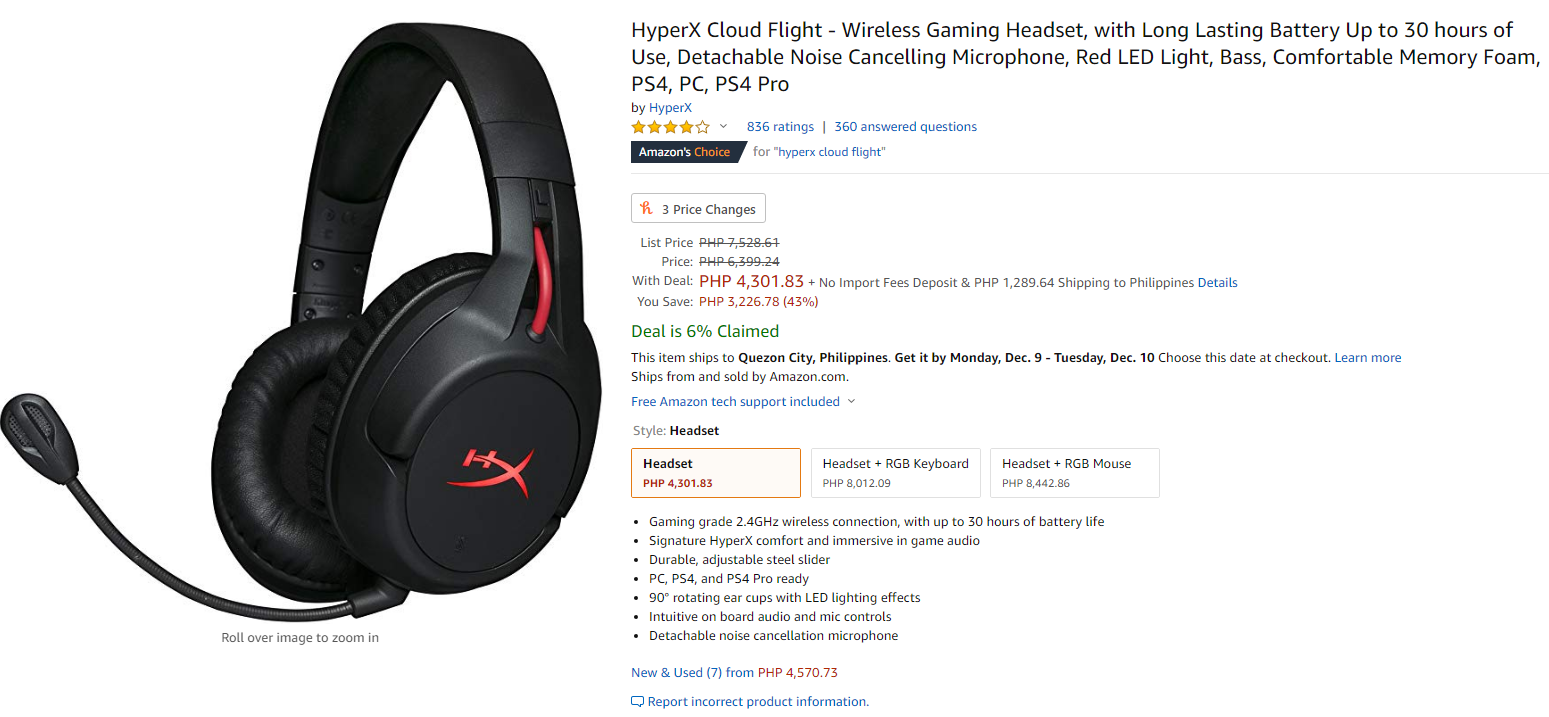 The HyperX Cloud Flight Wireless Gaming Headset is easily one of the BEST wireless gaming headsets there is. Unfortunately, It's not available outside North America. We have some resellers in the country but they all start at Php 8,000 and carry no official HyperX warranty. A total of Php 5,500 including shipping is still a killer deal since there are no other wireless headsets in the Philippines price around Php ~6,000.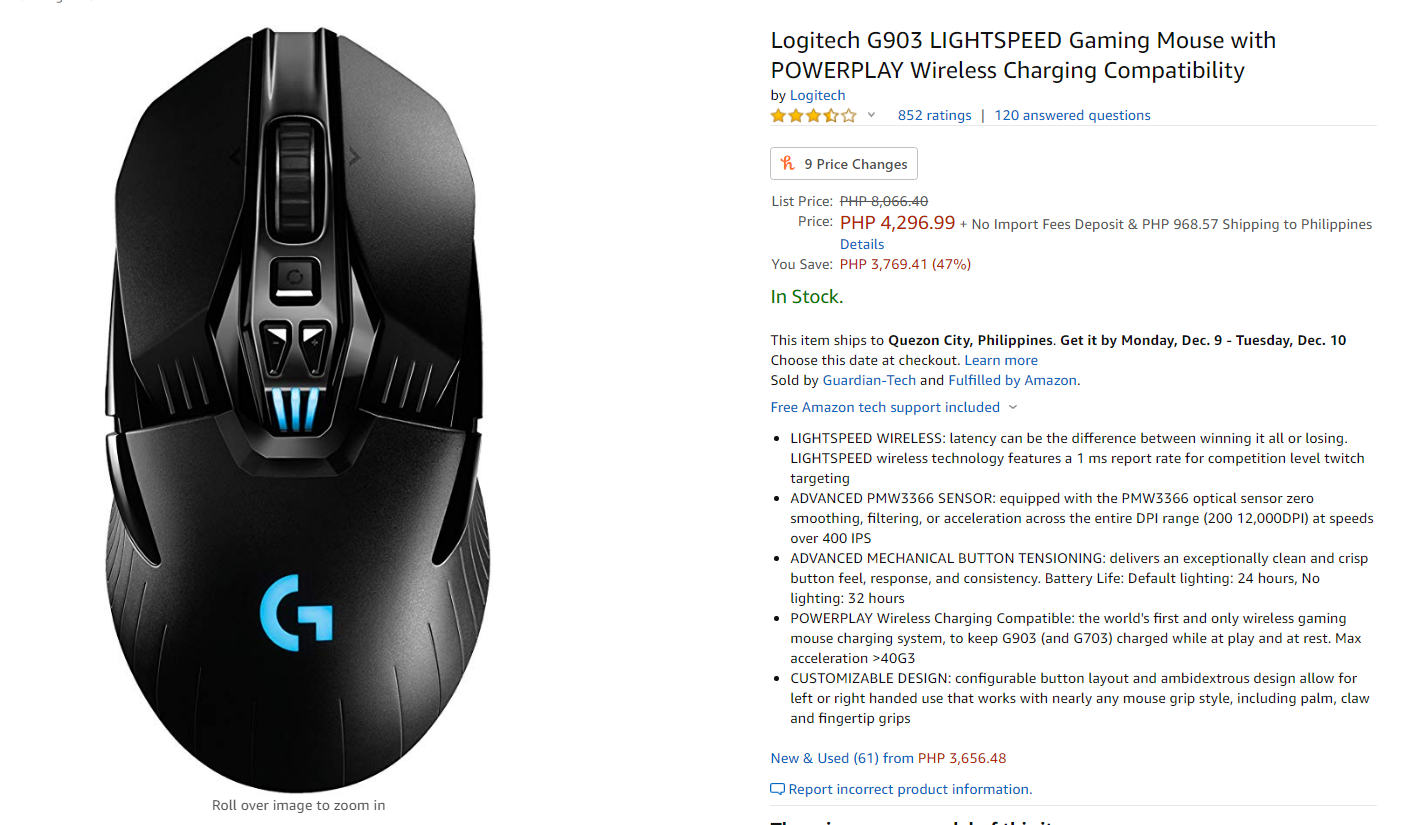 If you're a fan of Logitech then the G903 is a no brainer at the price of Php 4,296. The G903 Lightspeed gaming mouse sells in the Philippines for Php 8,500(Lazada LazMall). At almost half the price with shipping, the G903 is a nice choice for a wireless gaming mouse.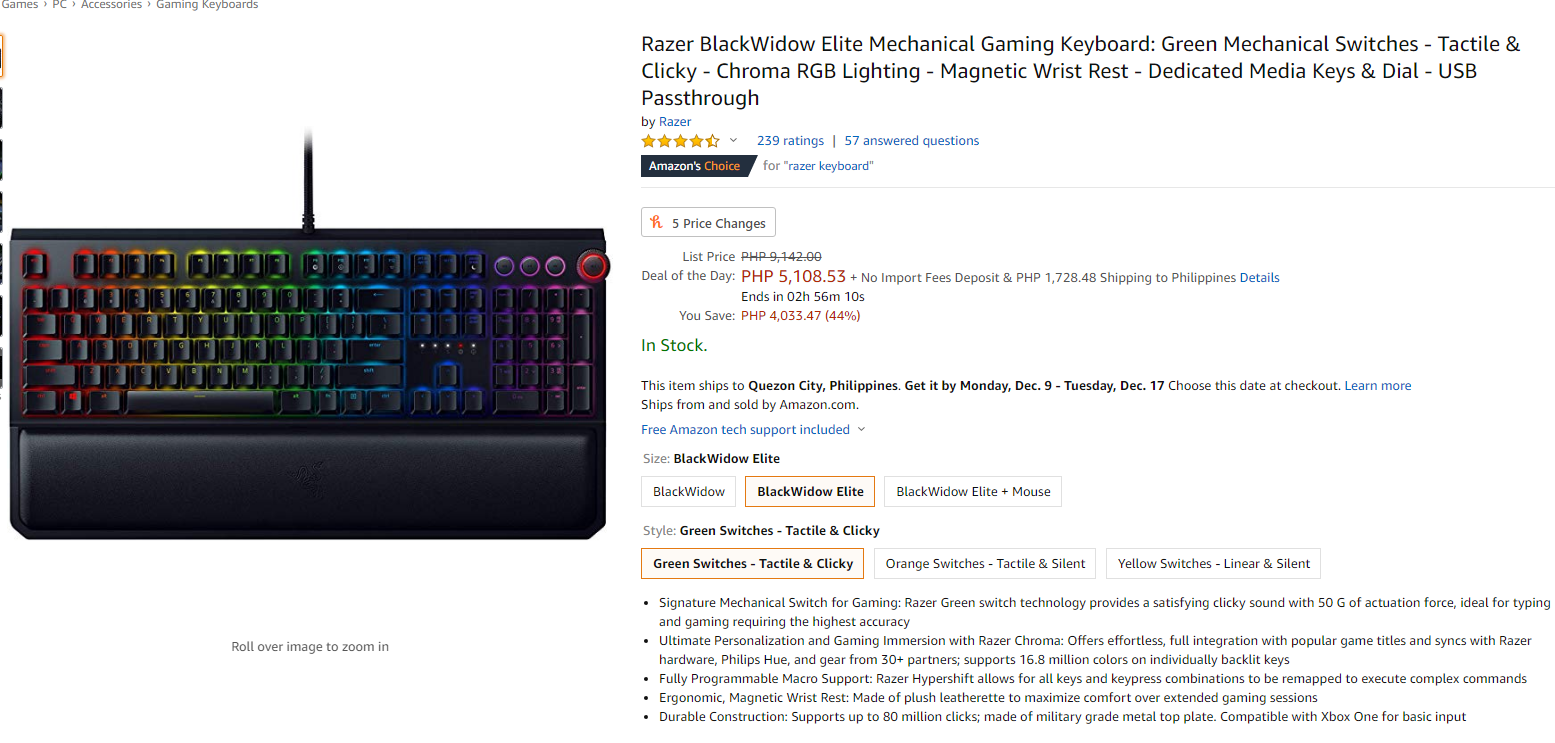 Razer is known and popularized as the "Apple of Gaming" due to its expensive price tag. But unlike Apple, Razer's Black Friday deal presents an enticing discount of only Php 5,108. Even with the +1,700 shipping fee, the BlackWidow Elite Chroma Mechanical keyboard from Amazon sits at less than Php 7,000 which is still lower than the Philippine SRP of Php 8,999(Lazada)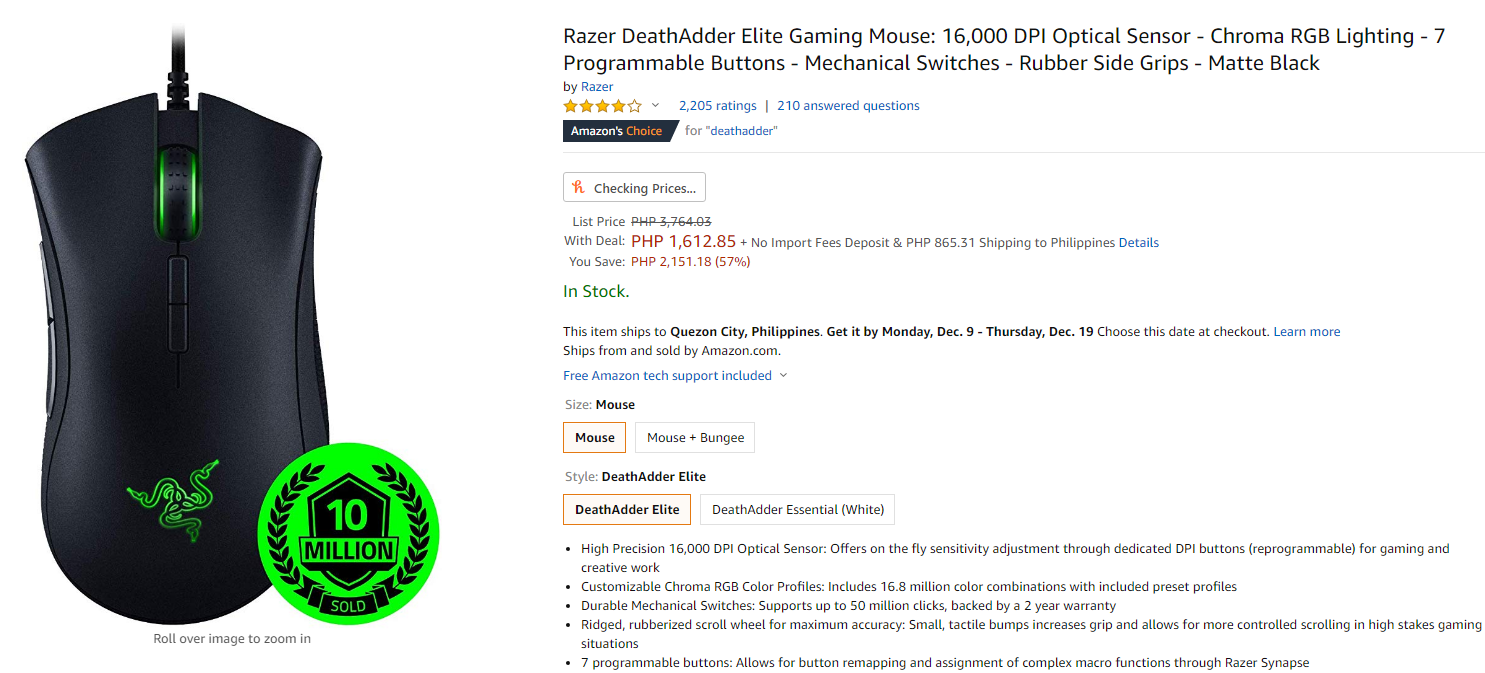 Pair your Razer BlackWidow Elite purchase with the ever-popular Razer DeathAdder Elite gaming mouse. The DeathAdder Elite is known for its ergonomic design. At Php 1,612 + Php 865 shipping, the total price of Php 2,477 still beats the PH price of 3,390.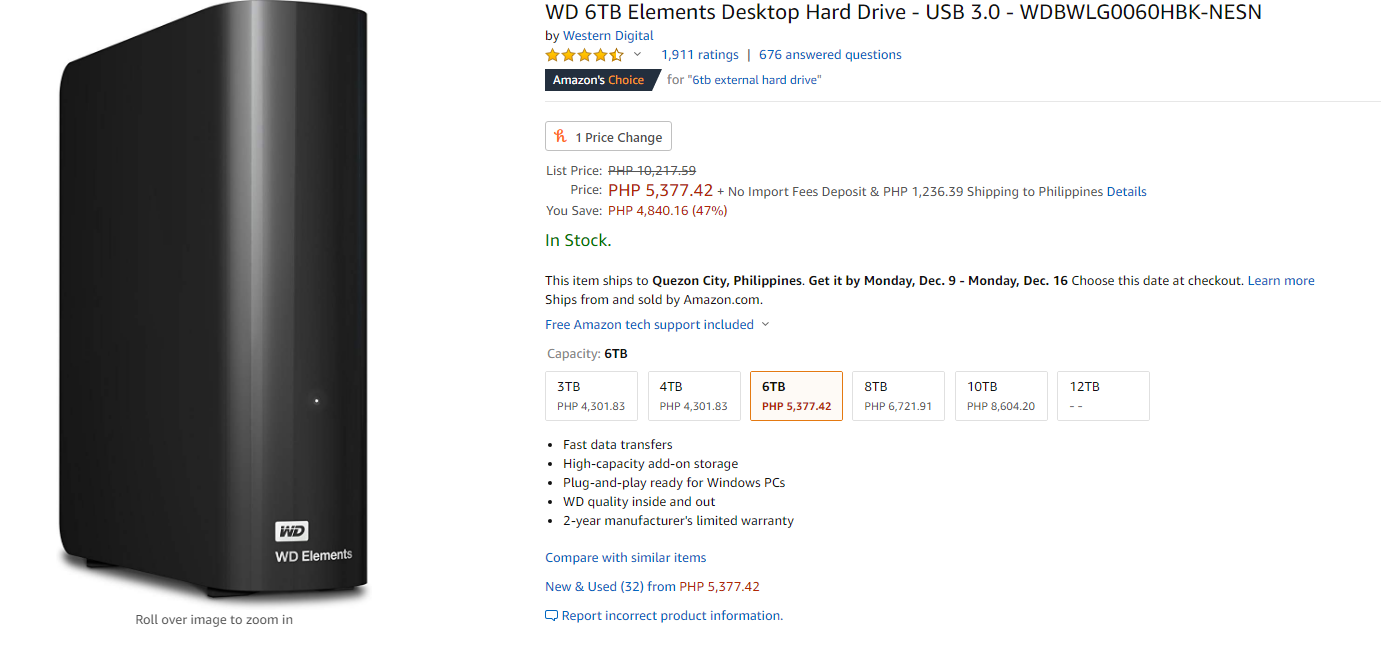 6 Terrabyte internal drives costs around Php 8,000 with external drives costing a bit more. The total price of Php 6,613 including shipping is a no-brainer when you're hungry and longing for storage to store all those stuff you have. You can even go for an 8TB model which is still cheaper than the average price of a 6TB external hard drive.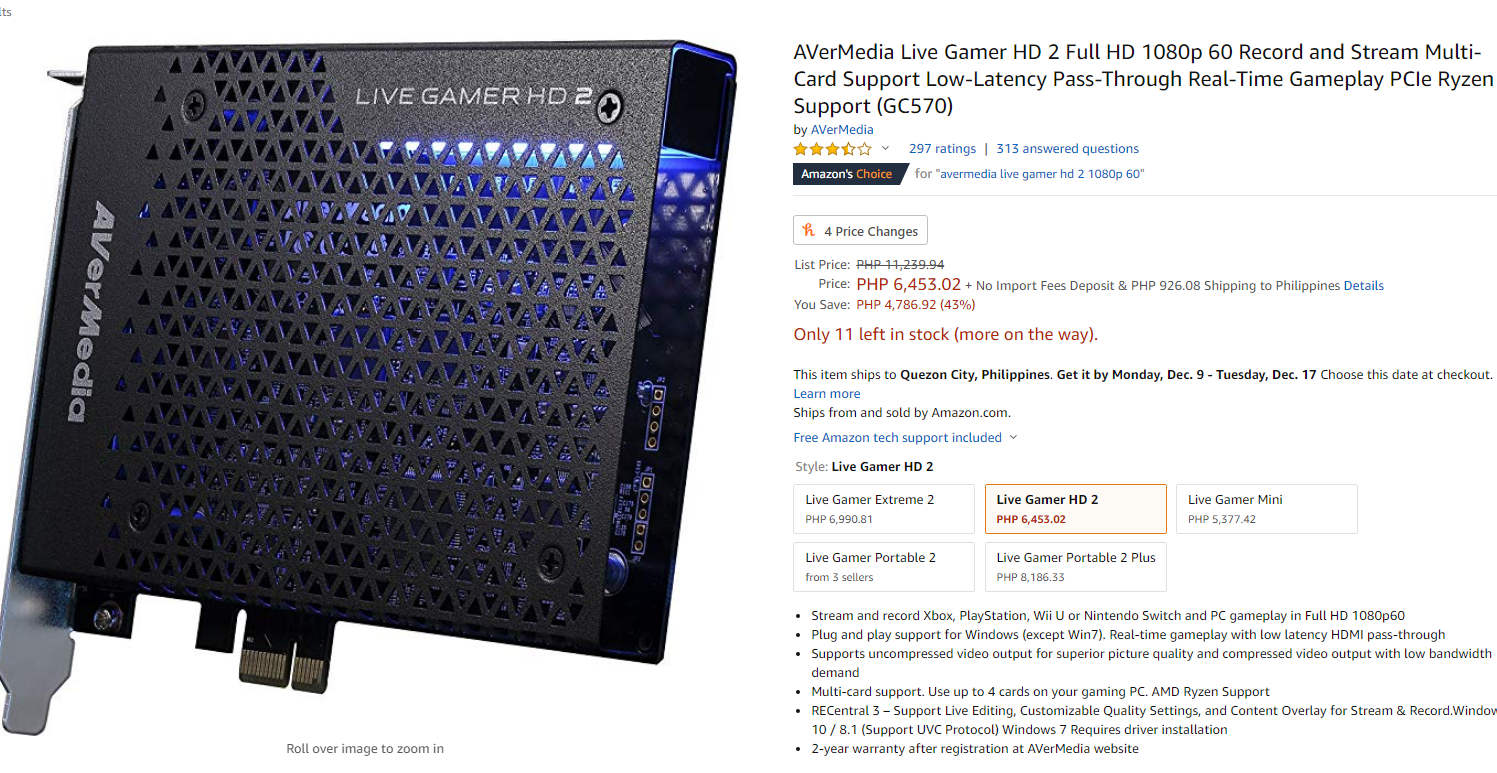 Capture cards in the Philippines go for an average price of Php 10,000. With the cheapest one being the Aver Media Live Gamer Portable 2 priced at Php 7,499 at PCHub. While our AverMedia Gamer HD 2 Amazon Deal barely beats PCHub's offering at Php 7,400, the Live Gamer 2 HD is still very cheap compared to PCIe-based capture cards.
TIPS AND TRICKS
Maximize the shipping fee by adding items that will amount to a total of less than Php 10,000. This way, you could get more deals without having to pay for customs tax since it's still under Php 10k while saving more on shipping since you're buying multiple items
Initiate a Groupbuy with your friends. This is the same concept with the first trick, but you'll be sharing the Php 10,000 max limit with your friends. it's way cheaper since you will all be dividing the shipping cost equally.
Buying Process
Don't be afraid, Amazon is a long-standing eCommerce platform that shaped the eCommerce industry to what it is today. Treat the checkout process like how you order Lazada. Be mindful of your correct and exact shipping address. There are no "surprise" charges from Amazon as long as you keep the <10,000 shopping basket to avoid customs duties. Happy Black Friday!
Shoutout to our friends from LasonArenaGaming for sharing some of the deals listed above!