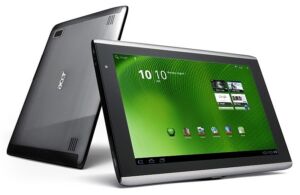 Acer Iconia Tab A500
Acer Iconia Tab A500 is one of the tablets that I played with during an Nvidia event. It is juiced with Tegra 2 processor and equipped with Google's tablet OS, Honeycomb. The performance is almost similar to Motorola Xoom. This one has a cheaper price tag but it has a specifications that can compete with the iPad 2.
Acer Iconia Tab A500 Specifications
10″ 1280 x 800 multi-touch display
Tegra 2 Processor
1 GB RAM
16 & 32 GB w/ 16 GB microSD card slot
HDMI Port
Wifi & Bluetooth
5 MP Rear w/ flash and 2 MP front
Android Honeycomb
Acer Iconia Tab A500 will start at Php21,900 for the 16 GB.
---
Enter your email address:
Delivered by FeedBurner