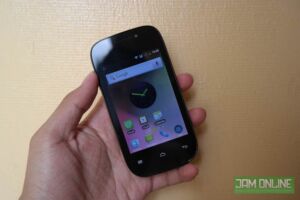 Entry-level Android phones doesn't mean that these Android phones doesn't pack a "wow" factor in their specs and Arc Mobile Prime 350 is a proof to that. The Arc Mobile Prime 350 belongs in the affordable Android smartphone range and it has a Dual Sim card slot inside. But not only that, the Arc Mobile Prime 350 has an Analog TV too and it packs a battery with large juices inside. Are you now interested on this budget minded smartphone from Arc Mobile? Check it out after the break.


The Arc Mobile Prime 350 is made up of plastic and it doesn't feel cheap. It's really solid and I really like its curves. The Arc Mobile Prime 350 is cute but it's a little chubby. Nonetheless, I still like its construction because it's nice to hold and curves were really a fit in my hand. This phone kinda reminds me of the Cherry Mobile Spark TV but this one has a more solid construction.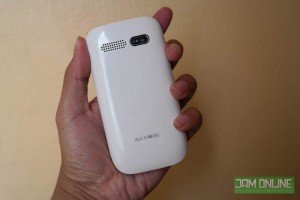 Unlike other smartphones at this price range, the Arc Mobile Prime 350 has a 3.5" HVGA display but it has a poor viewing angles and sunlight legibility but the colors were good. I feel annoyed when the touch display doesn't accurately point to what I touch. I hope a calibration or a software update would fix that.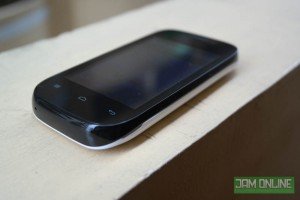 All of the connectivities that you want on a simple smartphone are here in the Arc Mobile Prime 350 except 3G and NFC. The lack of 3G is reasonable since most local branded smartphones doesn't have 3G too. Inside the Arc Mobile Prime 350 is a 512 MB of internal storage but of course, that would mean that there are only a few apps that you can install on the phone and it is really suggested to get a MicroSD card for this one. Like what I've said a while ago, there's a dual-sim slot for your primary sim and your other sim card for your mistress (hehe!).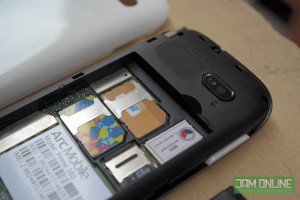 The audio quality of this phone feels just right. Not really the music phone that you're looking for but it's a decent audio quality for a smartphone in this price range. Earlier, I told you that the Arc Mobile Prime 350 runs on a 2000 mAh battery. At my test, it took me 2 days of average use before I manage to squeeze its juices.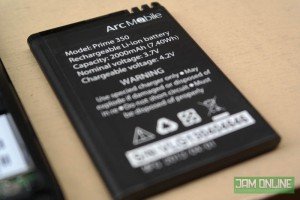 There's a 1.3 MP camera at the back and a VGA on the front for your uncontrollable selfie needs. You don't have to worry about Instagram, because it will just work fine in here. But when it comes to image quality, don't expect to much from it. You could also record videos on both cameras. It's not really a camera centric phone but at least, this one has a front VGA camera.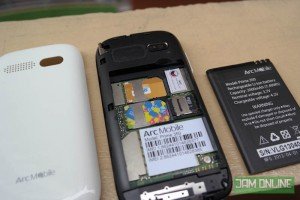 Just like the other local branded smartphones, the Arc Mobile Prime 350 is capable of showing your favorite local channels. It means that there's an antenna on your smartphone. Unfortunately, you can't flick your antenna. That's a straight antenna for you folks and you just can't watch your favorite telenovelas comfortably when you're on a narrow space.
The Arc Mobile Prime 350 is a bit old when it comes to the operating system because this smartphone still runs on Android 2.3.5. Yes people, it is still the on Gingerbread. Well, I still find it sensible since the pegged SRP is below P3,000. You shouldn't expect the latest operating system on a price range like that. The customization on its UI isn't that dramatic and the smartphone feels really smooth thanks to the 1 GHz processor. Multi-tasking on this smartphone isn't really recommended because of it only has a 256 MB of RAM and the Android 2.3.5 isn't really made for that.
There are only a few apps that are preinstalled but most of them are pretty useful like the MobileTV and FM Radio. There's the OTA system update too if there's a new update coming on your smartphone. When it comes to game and apps, most games low demanding games would work on the device but when I tried Minion Rush, it is stuck at the loading screen. I don't know why. But overall, this smartphone is not really for gaming but it can manage to run those games that doesn't really need a lot of horsepower.
Despite having some drawbacks on this smartphone, All in all I think the Arc Mobile Prime 350 is the best bang for its buck. One of the things that you'll love in this phone is the long battery life which is a plus on a smartphone on this price range and support for both TV and FM radio. The Arc Mobile Prime 350 is now available with a SRP of P2,199.