ASUS Business has unveiled its latest addition to the 2023 ExpertBook Series lineup: the ASUS ExpertBook B9 OLED (B9403).
This laptop is a shining example of sustainable excellence, powered by the cutting-edge 13th Generation Intel Core processors and equipped with a wide array of enterprise-grade security features. Constructed from premium magnesium-lithium alloy, the ExpertBook B9 OLED sets a new standard for portability, weighing a mere 990g, making it an ideal choice for elite business executives.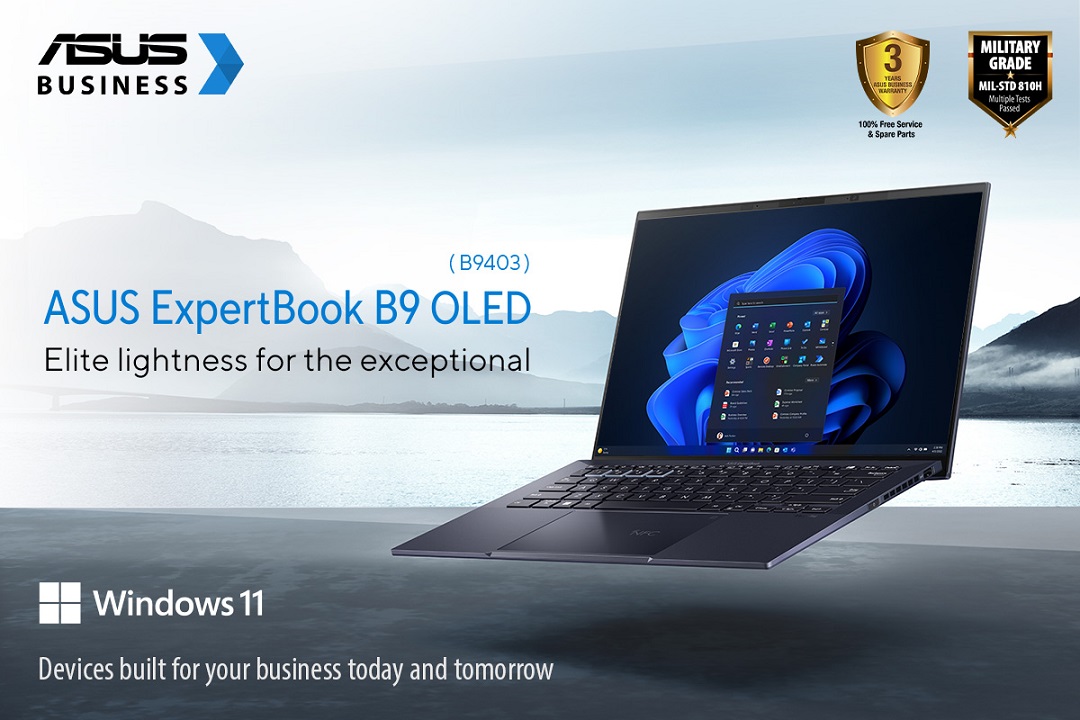 Exceptional Design and Features
The ExpertBook B9 OLED also boasts an environmentally friendly design and a brilliant 16:10 OLED display. In addition, it features an AI-powered camera and noise cancellation technology to enhance modern work experiences. The latest Intel Core 13th Generation processor, along with support for an optional Intel Core vPro configuration and multiple enterprise-grade security features, positions the ExpertBook B9 OLED as the perfect companion for executives and business travelers. This laptop not only elevates environmental consciousness but also sets a new benchmark for elite business laptops.
Support from ASUS Carbon Partner Services
ASUS ExpertBook B9 OLED is supported by ASUS Carbon Partner Services, ensuring end-to-end delivery, guaranteed quality, and flexible carbon offset options. This initiative is part of ASUS's commitment to business sustainability, with the program launching this year and extending to future ASUS products. These carbon offset options are designed to drive real, positive environmental impact.
Lightweight and Durable
The ExpertBook B9 OLED stands out not only for its sustainability but also for its exceptional lightweight design. Crafted from premium magnesium-lithium alloy, one of the lightest metal alloys globally, it weighs only 990g. Remarkably robust, it meets the rigorous US military-grade MIL-STD-810H standard and undergoes extensive ASUS durability tests.
Performance and Efficiency
This laptop is a verified Intel Evo laptop, featuring up to 13th Generation Intel Core i7 processors with support for Intel Core vPro processors and up to 64 GB of LPDDR5x memory. It offers exceptional performance, efficiency, and connectivity while providing up to 11 hours of usage on a single charge, ensuring busy executives can power through their workdays and beyond.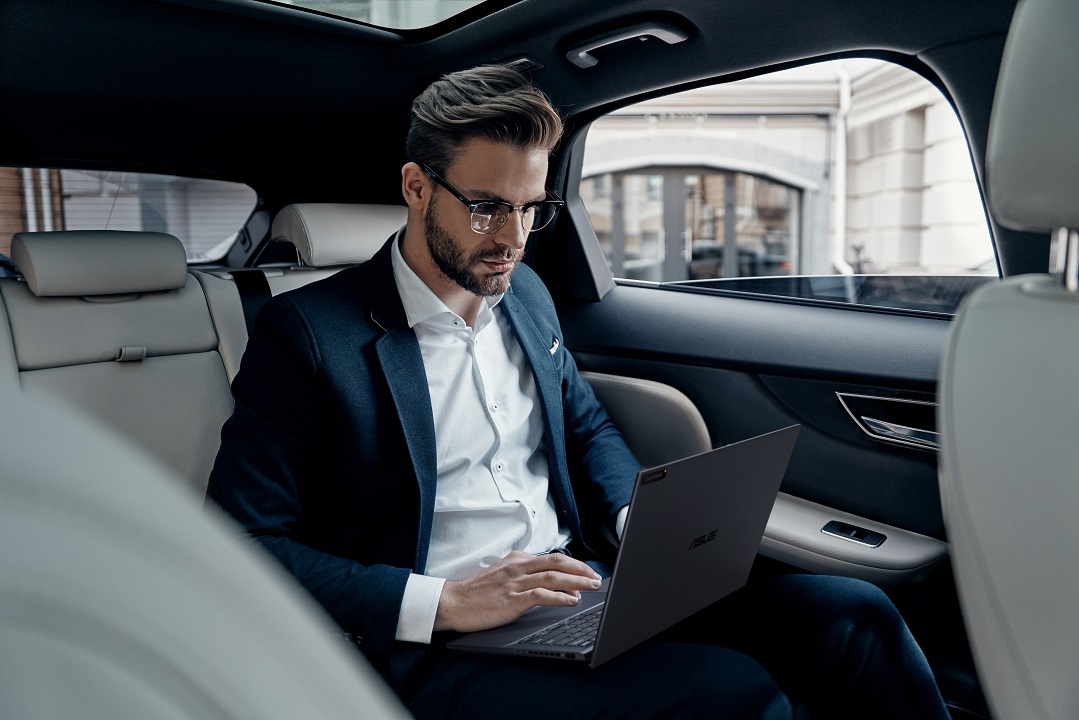 Immersive Visuals and Enhanced Productivity
The 16:10 OLED display delivers vivid colors and low blue-light emissions for improved eye care. With a 90% screen-to-body ratio, it offers immersive visual experiences and enhanced productivity. For professional video conferencing, the ExpertBook B9 OLED incorporates AI-powered two-way noise-canceling technology and an ASUS AiSense webcam for crystal-clear communication.
Windows 11 Pro and Enhanced Productivity
Embracing the power of Windows 11 Pro, the ExpertBook B9 OLED is equipped with active technologies and passive features to minimize distractions and interruptions. The laptop features a dual-fan, smart-cooling system that reduces operating temperatures by up to 27%, decreases noise by 32%, and lowers power consumption. Additionally, the touchpad has been enlarged by 26.8%, providing more comfortable navigation.
Robust Connectivity and Sustainability
Despite its ultrathin profile, the laptop offers robust connectivity with a range of I/O ports, including Thunderbolt 4 Type-C ports, USB Power Delivery 3.0 support, USB 3.2 Type-A port, HDMI 2.1 port, and a 3.5mm combo jack. The manufacturing process employs Thixomolding, reducing material waste by 29% and shortening production time by up to 75%. Packaging is environmentally friendly and users can repurpose it, further enhancing its ecological credentials.
Enterprise-Grade Security
The ExpertBook B9 OLED also comes with robust, multi-layered security features to safeguard confidential data. It supports the Intel vPro platform for superior business protection, offering remotely managed automated troubleshooting and advanced virtualization. It also features an integrated fingerprint sensor, infrared (IR) camera for face login, hardware-level malware protection via an optional TPM 2.0 chip, and a physical webcam shield for instant privacy. The laptop includes an NFC reader integrated into the NumberPad 2.0 for secure logins.
ASUS ExpertBook Advantage
Meanwhile, the new ExpertBook B9 OLED is part of ASUS Business's commitment to providing innovative business solutions for the modern workforce. It offers durability, reliability, and flexibility, making it suitable for various business needs and environments. With remote management tools, Intel processors, and the MyASUS app, businesses can efficiently manage and maintain the laptop for their workforce.
For inquiries and further information about ASUS Business solutions and the World's Lightest 14-inch OLED Business Laptop, you can visit the ASUS Official Online Store. You can also reach out to the ASUS for Business Facebook page for inquiries.