ASUS has introduced its latest TUF Gaming monitor lineup, featuring three distinct models tailored to cater to the diverse requirements of gamers, content creators, and professionals. With a remarkable 180Hz refresh rate, these monitors are poised to elevate the visual experience across various applications.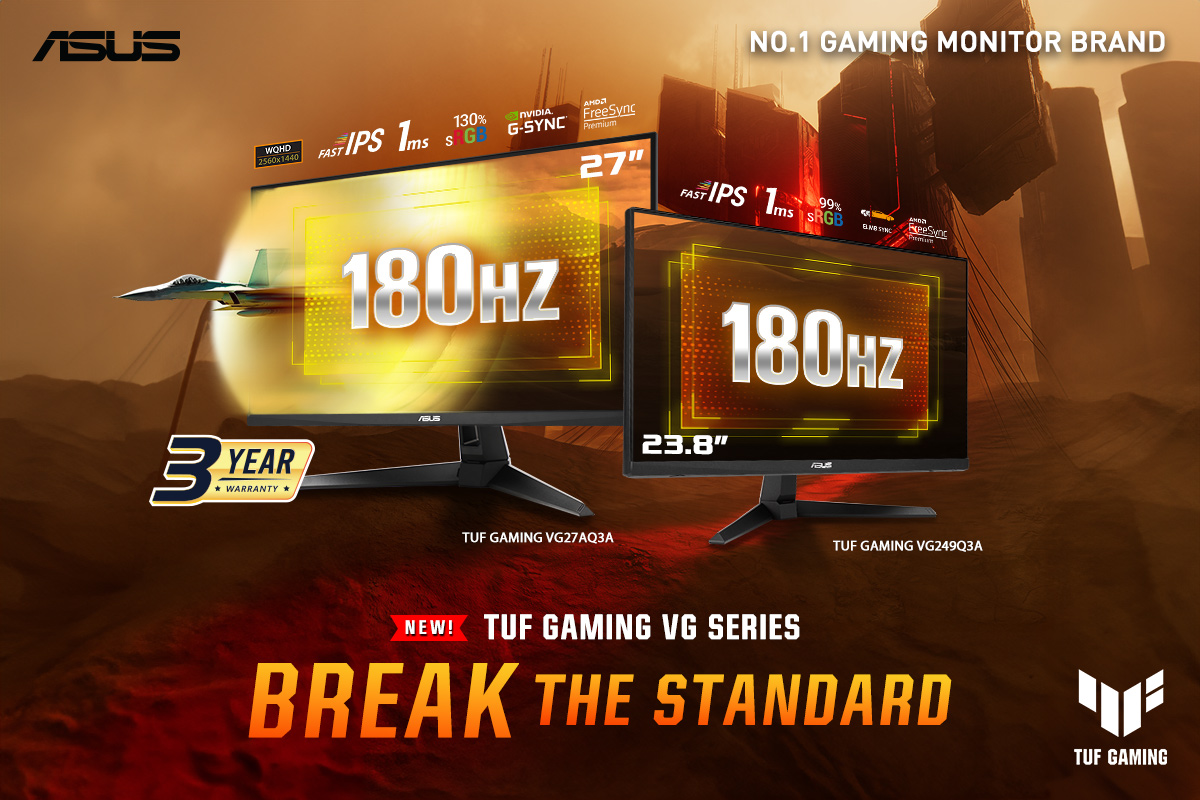 Elevating Gaming Standards
Geared towards PC gamers, these monitors provide seamless support for the latest graphics cards, ensuring stable 1440p gaming experiences with refresh rates surpassing 165 Hz. Through an innovative approach, they enable speeds of up to 180 Hz via a single DisplayPort 1.2 connection by efficiently compressing and decompressing each frame on-the-fly, preserving image quality without compromise.
Console gamers aren't left behind either, as they can harness the potential of the latest-generation consoles through HDMI 2.0, indulging in 2K gaming at an impressive 144 Hz.
Introducing the Lineup
The TUF Gaming VG27AQ3A, boasting a 27-inch 2K QHD (2560 x 1440) display, stands out with its 180 Hz refresh rate, delivering exceptionally smooth gaming visuals. With a 130% sRGB color coverage and HDR10 support, it guarantees remarkable contrast and color performance for an immersive experience.
Meanwhile, the TUF Gaming VG279Q3A, another 27-inch model, offers a Fast IPS panel, a rapid 180 Hz refresh rate, and an impressive 1 ms response time. With 99% sRGB coverage and the ASUS Variable Overdrive technology, it also ensures optimal results across various game genres by dynamically adjusting its overdrive settings in response to fluctuating frame rates.
For competitive gamers, the TUF Gaming VG249Q3A offers a 24-inch FHD display with a 180 Hz Fast IPS panel featuring a swift 1 ms (GTG) response time. Similar to its counterparts, it boasts 99% sRGB coverage and the ASUS Variable Overdrive technology.
Enhancing the Gaming Experience
All three monitors also come equipped with an array of features designed to enhance the gaming experience. ASUS-exclusive GamePlus and GameVisual software offer in-game advantages, while ASUS ELMB SYNC, Shadow Boost, Flicker-Free Technology, and the innovative ASUS Variable Overdrive contribute to sharper, more fluid visuals, resulting in heightened responsiveness during gameplay.
The TUF Gaming VG249Q3A also supports FreeSync Premium technology to eliminate screen tearing and erratic frame rates. On the other hand, the TUF Gaming VG27AQ3A and VG279Q3A support FreeSync Premium technology, NVIDIA G-Sync compatibility, and VESA AdaptiveSync technology, ensuring an unparalleled visual experience with minimal latency.
Availability and Pricing
Meanwhile, consumers in the Philippines can already access the entire range of TUF Gaming Monitors:
TUF VG27AQ3A: Php17,840
TUF VG279Q3A: Php13,870
TUF VG249Q3A: Php10,790
So, are you getting one? Let us know what you think in the comment section!