ASUS Republic of Gamers (ROG) Philippines has announced the launch of a special limited-edition ROG Phone 6D MLBB Special Edition, themed around the popular game Mobile Legends: Bang Bang (MLBB).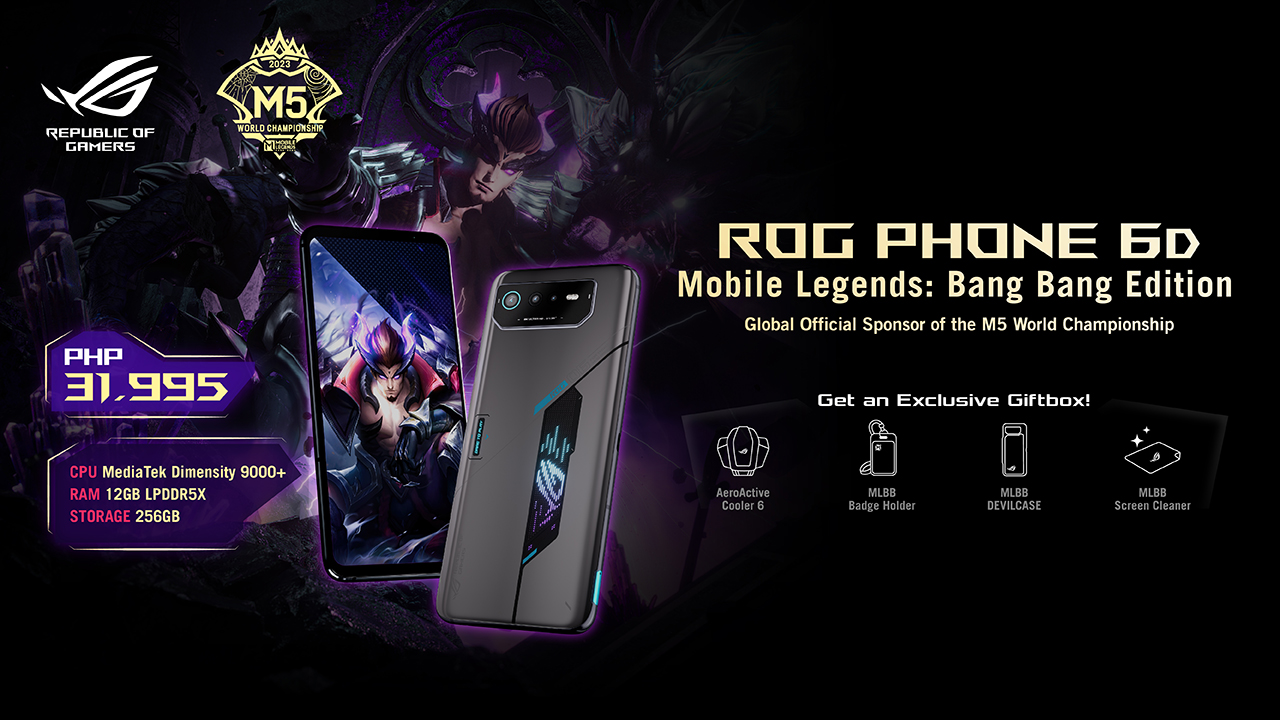 This special edition phone is introduced to commemorate the two-year partnership between ROG and MOONTON Games, the developer and publisher of MLBB. The ROG Phone 6D MLBB Special Edition is part of ROG's exciting collaboration with MOONTON Games, which includes sponsoring the upcoming Mobile Legends: Bang Bang M5 World Championship in 2023. The Grand Finals of this championship will be hosted in the Philippines.
Top-of-the-Line Gaming Performance
The ROG Phone 6D MLBB Special Edition is powered by the flagship MediaTek Dimensity 9000+ Mobile Platform, ensuring the best gaming experience. It comes with 12GB LPDDR5X RAM and 256GB UFS 3.1 storage, enabling seamless app switching and efficient multitasking. The gaming phone boasts a 6.78-inch 165Hz AMOLED display and features a 6000mAh dual battery system with a 65W HyperCharge adapter. This combination offers gamers incredible power without any compromise.
MLBB Hero-Inspired Design
This special edition of the ROG Phone 6D features MLBB hero Yu-Zhong, known as the Black Dragon reincarnate. Yu-Zhong's colorful backstory and rebellious attitude align well with the spirit of ROG. The limited-edition phone provides a gaming experience with the latest processors and a revolutionary 165Hz display, ensuring thrilling gameplay. The special edition comes in a bundled gift box that includes a premium Yu Zhong-themed DEVILCASE, an MLBB badge holder, an MLBB screen-cleaning cloth, and the multifunctional AeroActive Cooler 6 clip-on external cooler. These accessories enhance both functionality and style, and the special edition phone is priced at only PHP 31,995.
Exclusive ESGS Promotions
Meanwhile, ASUS ROG invites gaming enthusiasts to ESGS 2023, which takes place at the World Trade Center from November 3 to 5, 2023. Visitors to the ROG booth can experience the latest ROG products with exclusive game titles powered by publishers like SEGA, Capcom, Ubisoft, and more. There's also an opportunity to witness the ROG Phone 6D MLBB Special Edition in action. On the first day, special guests from Onic Philippines will engage in a mini MLBB tournament, offering a chance to win MLBB Diamonds or tickets to the M5 Grand Finals.
Additionally, ROG Heroes Kiyo and Alisson Shore will deliver a special performance exclusive to the ROG booth on the second day. On the third day, Peenoise Realm will also challenge booth-goers to a 1v1 game on Street Fighter 6, demonstrating the power and portability of ROG products.
ESGS visitors can also benefit from exclusive discounts and bundles on select ROG Phones and laptops. In addition, special promotion codes will be provided by unique ROG guests to avail exclusive offers. These codes can be used for purchases on the ASUS E-Store from November 3 to 8, 2023.
Availability and Pricing
The ROG Phone 6D Mobile Legends: Bang Bang Special Edition with 12GB RAM and 256GB Storage is available at ASUS/ROG Concept Stores and multi-brand dealer stores for Php31,995. Meanwhile, gamers looking for online purchases can visit the official ASUS E-store or the ROG Official Store on Shopee.
Additionally, flexible payment plans with a 12-month installment option are available through Home Credit.