Cherry shared stories of breast cancer survivors, helping spread awareness on breast cancer and the importance of early detection.
The month of October serves as a global platform for raising awareness about breast cancer, a disease that impacts millions of lives worldwide.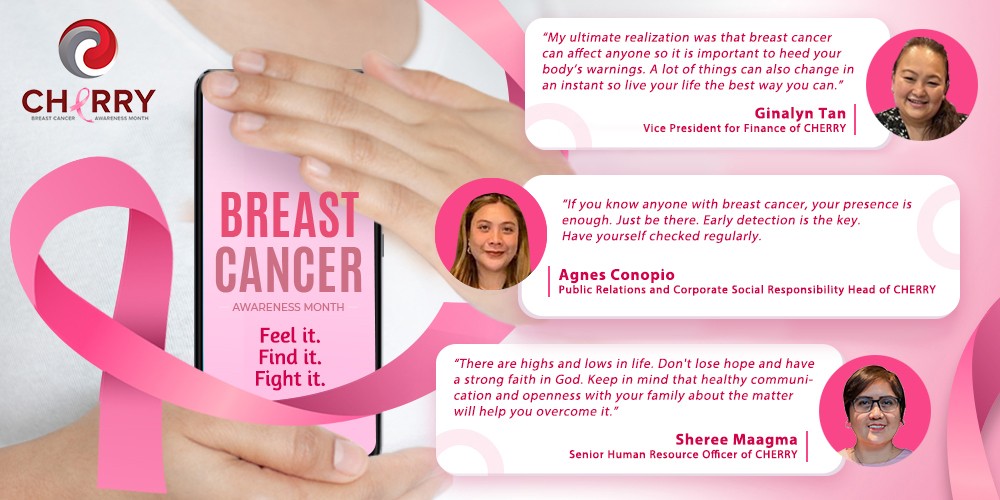 Breast Cancer in the Philippines
According to the Philippine Statistics Authority (PSA), breast cancer has been the leading type of cancer affecting the female population in the Philippines since the 1980s. Startlingly, statistics reveal that 16 out of every 100 women in the country are at risk of being diagnosed with the disease.
However, this disease is not just a concern in the Philippines; it's a worldwide health issue. The World Health Organization reported in 2023 that it is the most common form of cancer across the globe. In 2020, it led to a staggering 685,000 deaths worldwide.
CHERRY Joins the Fight
In recognition of Breast Cancer Awareness Month, CHERRY has joined the campaign to increase awareness about it and the critical importance of early detection. The company aims to inspire by sharing the stories of their very own Pink Warriors, who triumphed over the disease.
Meet the Pink Warriors
CHERRY joins in this campaign to help spread awareness of breast cancer and the importance of early detection. It also aims to share the inspiring message of the organization's very own Pink Warriors— Ginalyn Tan, VP for Finance; Agnes Conopio, PR and CSR Head; and Sheree Maagma, Senior HR Officer. They all won the battle against the disease. It was a fight they overcame with their families, close friends, church mate and co-workers' strong and reliable support.
During their challenging journeys, the Magna Carta of Women (MCW) played a significant role in their lives. This comprehensive law on women's human rights aims to end discrimination by recognizing, defending, upholding, and promoting the rights of Filipino women. It also includes the entitlement of women who have undergone gynecology-related surgeries to up to 60 days of paid leave.
Meanwhile, the inspiring stories of CHERRY's Pink Warriors underscore that it is a battle to be fought with courage and hope. CHERRY emphasizes the importance of regular check-ups, breast self-examinations, and annual mammograms, as early detection is the best protection against the disease.
CHERRY's Ongoing Advocacy
For years, CHERRY has also been a champion of breast cancer awareness. The company also believes that raising awareness about the disease should be a collective effort, extending beyond individuals to the broader society.
Learn more about CHERRY and its Corporate Social Responsibility (CSR) programs through the Cherry Cares by MSN Foundation Inc Facebook Page.