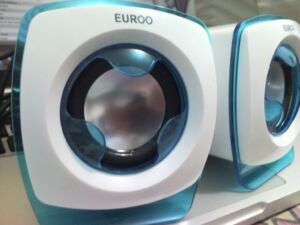 Aside from the Audio-Technica ATH-PRO700MK2 that I reviewed yesterday, I was able to review the two speakers from Euroo, which are the EMS-2000 and EMS-3000. Both speakers come in small size and they are dedicated for laptops, PCs and other MP3 Players. In this post, I'll give you the short review of the EMS-2000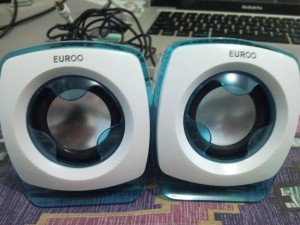 EMS-2000
Multi Media Speaker System
Crisp and Dynamic Sound
For Laptop, Netbook, PC, Mac and MP3 players
Type: 2.0 Multimedia Speaker
Color: White/Blue
Power: USB Powered
Watts: 1.5Watts x 2 (RMS)
PMPO: 30 Watts
Frequency Response: 60Hz – 18Khz
Built-In Volume Control
Terminal: USB and 3.5 Stereo Plug
Speaker Size: 2 Inch x 2
Dimension: 78x82x91mm
The EMS-2000 is made up of plastic and its design is quite identical to other speakers in the market. I like the design and I don't feel that the body of the speaker won't break up easily. The weight? Don't worry it's too light to carry. The EMS-2000 is great companion when you're traveling with your laptop
You can control the volume of the speaker at the back of the main speaker but I rarely use that because I always use my iPod's control volume or my Macbook Pro's keyboard shortcut. If you want to use just one of the speaker, you can remove the plug of second speaker from the main speaker but I don't think that you would do that.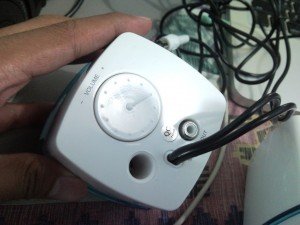 The volume knob and the audio out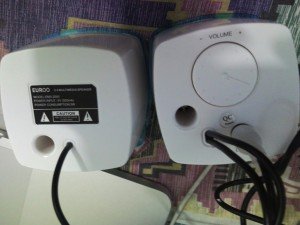 back of the 2 speakers
The problem that I have with these speakers are that the wires are always tangled but you can always fix that anyway. Another problem that I have with this is that it is only powered by USB, nope, you can't plug it in your sockets but I think you can use a adaptor just like the charger iPod. But that is not included. As for the audio quality, yes, they are good for its size. I did not expect that loud sound on a small speaker like that. Tried this when I watch the Transformers 3 in HD and it was good, the explosions and gunfights. All of it is awesome. These speakers just prove that big things come in small packages.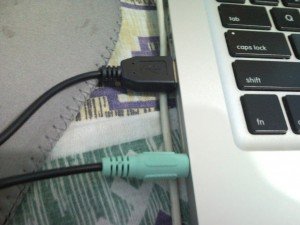 Yep, that's USB Powered and that's the 3.5mm audio jack
Pro: Loud and crisp sound, portable, light,
Cons: Common Design, USB powered
You can get this speaker for P669.00. Very affordable isn't it?. Oh and it comes in 2 colors! black and white!. Great for laptops and tablets, better than any other portable speakers.
Rating: 8.8/10
oh they have other products too, just check out their
Facebook page
Thanks Philippe Gadgets and Accessories for lending me a review unit
Stay tune for the review of EMS-3000, which I think is much better than this.
---
Enter your email address:
Delivered by FeedBurner
---