HUAWEI MatePad 11-inch 2023 tablet, which promises to be the perfect companion for young professionals and college students seeking enhanced productivity, is now official in the Philippines.
With its advanced hardware and software features, this latest addition to the MatePad series offers an impressive suite of PC-level apps and services, elevating the tablet experience to new heights.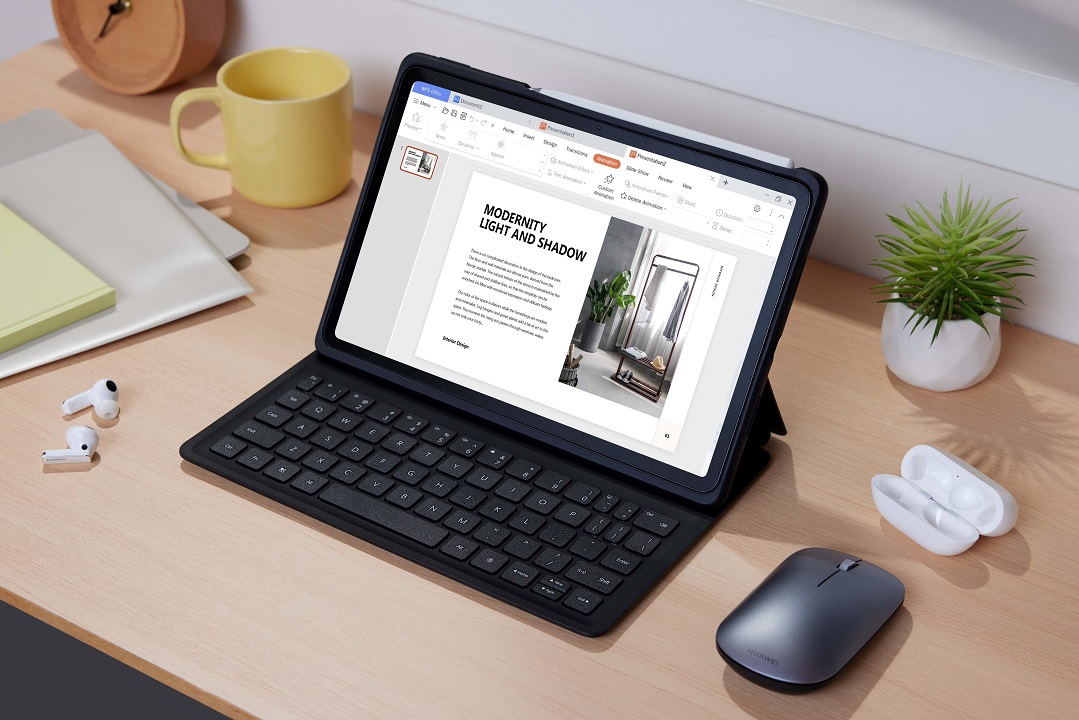 Taking Mobile Productivity to the Next Level with PC-level WPS
Recognizing the limitations of mobile devices in demanding office scenarios, Huawei introduced PC-level WPS Office on the HUAWEI MatePad 11-inch. This revolutionary feature replicates the same page layout and capabilities found on PCs, enabling users to open multiple windows, create pivot tables, and edit formulas seamlessly. So, whether you're on a laptop, desktop, or the MatePad 11-inch, the PC-level WPS Office ensures consistent functionality and efficiency.
Enabling Keyboard and Mouse Interactions
The HUAWEI MatePad 11-inch also supports keyboard and mouse interactions, further enhancing its productivity capabilities. With optimized mouse selection and drag-and-drop operations, users can navigate the tablet with a more responsive and accurate cursor. Moreover, the detachable keyboard, resembling a laptop, connects via Bluetooth and can be used independently, providing a familiar typing experience.
Seamless Cross-Device Content Editing
The SuperHub feature leverages HarmonyOS, Huawei's innovative operating system, to eliminate barriers between different devices. Users can also effortlessly transfer images, videos, and text across devices with a simple drag-and-drop operation. This streamlined process removes the need for cumbersome third-party apps and simplifies content editing, allowing users to focus on their work.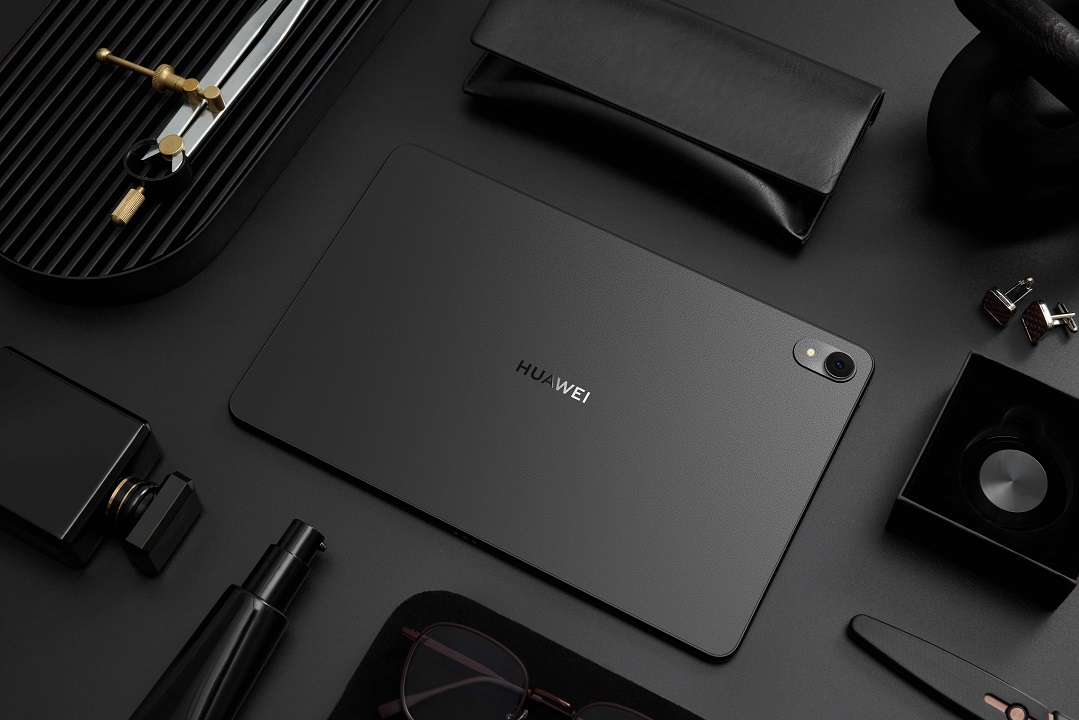 Professional Note-Taking and Meeting Management
The HUAWEI MatePad 11-inch also comes preinstalled with the HUAWEI Notes app, designed to help users create professional meeting notes. Equipped with handy note-taking templates and personalized covers, the app seamlessly integrates with the nimble HUAWEI M-Pencil stylus, offering a smooth writing experience. Importing materials such as PDFs and images is effortless, and users can switch brush effects, add photos to text-based notes, crop images, and convert handwriting into text. The app also supports multi-layer folders for efficient organization and offers keyword searches across devices, including handwritten notes.
Immersive Audiovisual Experience
The tablet features a stunning 120 Hz FullView Display with a 2.5K resolution, P3 color gamut, and color management, providing a visually immersive experience. Moreover, the HUAWEI MatePad 11-inch offers an exceptional audio experience with its quad-channel large-amplitude quad-speaker sound system and Huawei Histen 8.0 capabilities. The tablet's proprietary AI noise cancellation technology eliminates unwanted sounds during calls, ensuring crystal-clear communication.
Elegant Design
The MatePad 11-inch 2023 tablet showcases a symmetrical design, blending classic aesthetics with cutting-edge technologies. With its 120 Hz refresh rate, impressive screen-to-body ratio, and starlight sand design, the tablet stands out as a visually striking device.
Pricing and Availability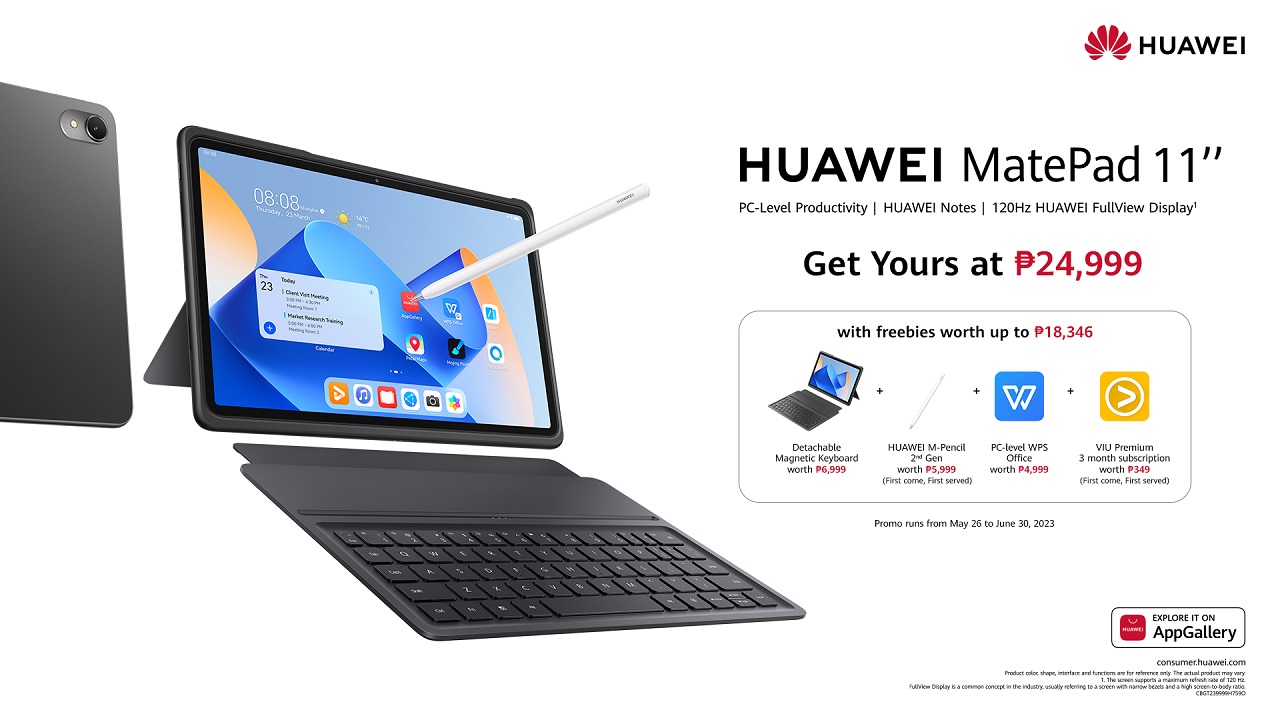 Huawei offers an exciting promotion for early birds from May 26 to June 30. Purchasers of the HUAWEI MatePad 11-inch 2023 for Php24,999 can enjoy freebies worth Php18,346, including the HUAWEI Detachable Magnetic Keyboard, M-Pencil (2nd gen), WPS PC-level, and a 3-month Premium Viu membership.
An exclusive early bird voucher worth Php1,000 is also available for the HUAWEI MatePad 11 2023 WiFi 6+128GB variant. Customers can avail of the voucher by using the code "HUAWEIPAD" on Shopee or by visiting the Huawei Online Store and Lazada.