Huawei has unveiled the HUAWEI MatePad 11″ PaperMatte Edition, setting a new standard in tablet technology and user experience, as it delivers a paper-like reading and writing experience.
A Paperless Learning Experience
The HUAWEI MatePad 11″ PaperMatte Edition promises to transform learning and productivity by replacing heavy textbooks, notebooks, and bulky laptops with a single, versatile device. This tablet also combines PC-level capabilities, high refresh rates, seamless processing speeds, and robust connectivity in a premium lightweight design, offering an all-in-one solution for various needs.
Moreover, the tablet boasts a distinctive PaperMatte Display that provides a comfortable viewing experience. Thanks to nano-level anti-glare etching technology, it minimizes glare and light interference, delivering a paper-like writing experience. With advanced patented screen optimization technology aligning nanoscale textures with pixel distribution, it offers a 40% higher Pen-on-Paper Writing experience compared to traditional tablets. It also prioritizes professional eye protection with certifications such as Low Blue Light (Hardware Solution) and Flicker-Free. Additionally, it has achieved TÜV Rheinland Reflection Free and SGS Low Visual Fatigue Premium Performance certifications.
By reducing ambient light reflections, maintaining excellent contrast and color consistency, and minimizing eye strain from blue light and screen flickering, users experience a 20% decrease in their brain fatigue index and a 41% reduction in their eye fatigue index.
HUAWEI Notes
The HUAWEI MatePad 11″ PaperMatte Edition pairs seamlessly with HUAWEI Notes, a professional notetaking app developed by Huawei. It provides smooth writing, efficient note management, and robust security features. With customizable stroke patterns, highlighter brush options, and 15x canvas zoom capabilities, users can effortlessly record, refine, and perfect their notes. AI algorithms optimize collaboration between the tablet and stylus for a seamless writing experience.
Productivity-enhancing features include split-screen notes, customized covers, PDF batch import, efficient folder management, an upgraded note search function, and the ability to capture and share text or images with ease using the take snippet function. Audible tactile feedback when using the pencil tool creates an engaging and interactive paper-like notetaking experience.
PC-level Productivity
The HUAWEI MatePad 11″ PaperMatte Edition also enhances productivity with HarmonyOS 3.1, a smart detachable keyboard for comfortable typing, Multi-Window capabilities for efficient multitasking, and dedicated PC-level WPS Office for complex office tasks. The tablet supports Multi-screen Collaboration with smartphones and PCs, AI noise cancellation, and stable Wi-Fi signals for uninterrupted work.
HarmonyOS 3.1 brings enhancements like App Multiplier, SuperHub for cross-device access, Mojing Paint for professional painting, customizable service widgets, and an improved landscape mode experience. With Wi-Fi 6 and a Multi-Channel Intelligent Scheduling Engine, the MatePad 11″ PaperMatte Edition offers a professional, convenient, and efficient working experience.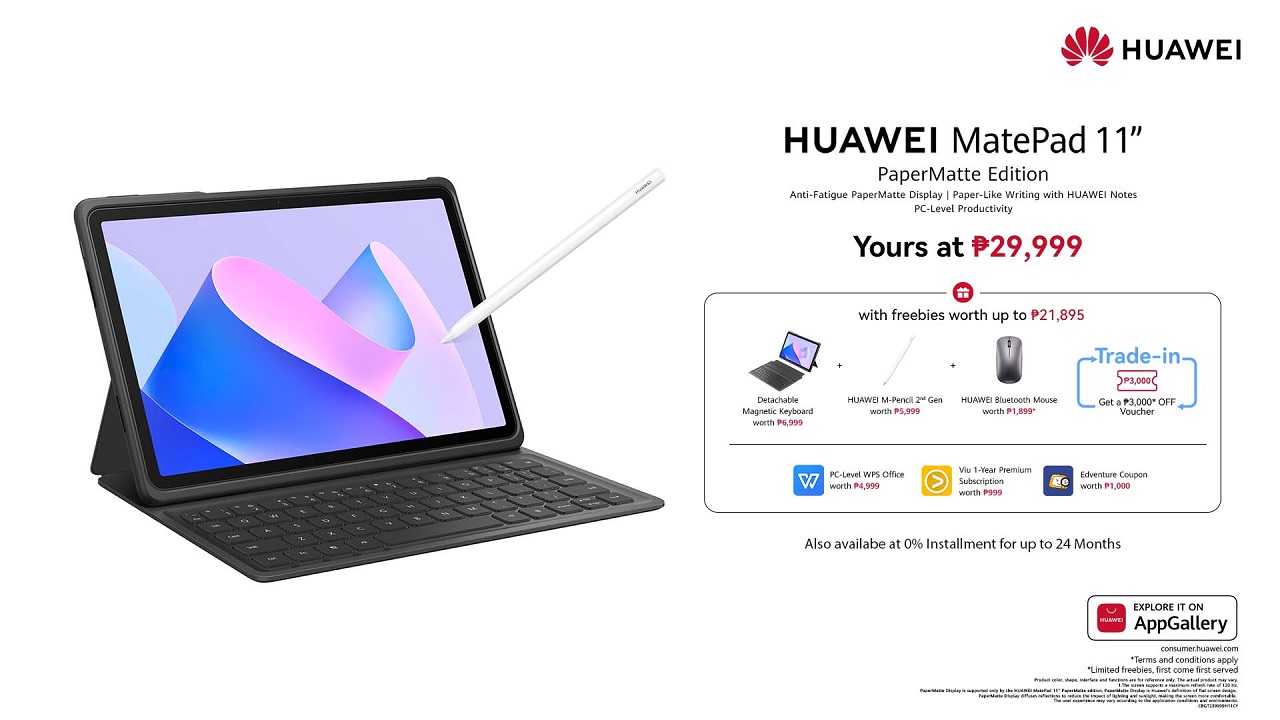 Perfect Partner for Entertainment
Meanwhile, for entertainment enthusiasts, the tablet offers a cinema-grade audiovisual experience with a quad-speaker sound system and Huawei Histen 8.0 technology. Histen 8.0 fine-tunes sound using Ultra-Bass and sound field extension algorithms, optimizing sound effects by frequency range. The tablet's 120 Hz refresh rate ensures smooth browsing and movie watching. The HUAWEI AI Life app allows multiple earbuds to connect simultaneously for an immersive movie experience.
With frame rate adaptation and HarmonyOS power-saving technologies, the tablet provides up to 12 hours of continuous 1080p local HD video playback, ensuring users stay powered throughout their daily activities.
PRICING AND AVAILABILITY
The HUAWEI MatePad 11″ PaperMatte Edition is available for just Php29,999 and comes with an array of freebies during the First Sale Period from today until October 31. Buyers will receive a detachable magnetic keyboard, a HUAWEI M-Pencil 2nd Gen, a HUAWEI Bluetooth Mouse, PC Level WPS Office, a Viu 1-year Premium Subscription, and an Edventure Coupon, collectively valued at Php21,895.
Additionally, select stores offer a Php3,000 trade-in token for old Huawei products.
It is now available at offline and online HUAWEI stores, authorized retailers, Shopee, and Lazada.
So, are you getting one? Let us know what you think in the comment section!