TCL recently launched the TCL UV Connect+ Air Conditioner in the Philippines, allowing Filipino consumers to enjoy a superior cooling experience combined with health-conscious features without breaking the bank.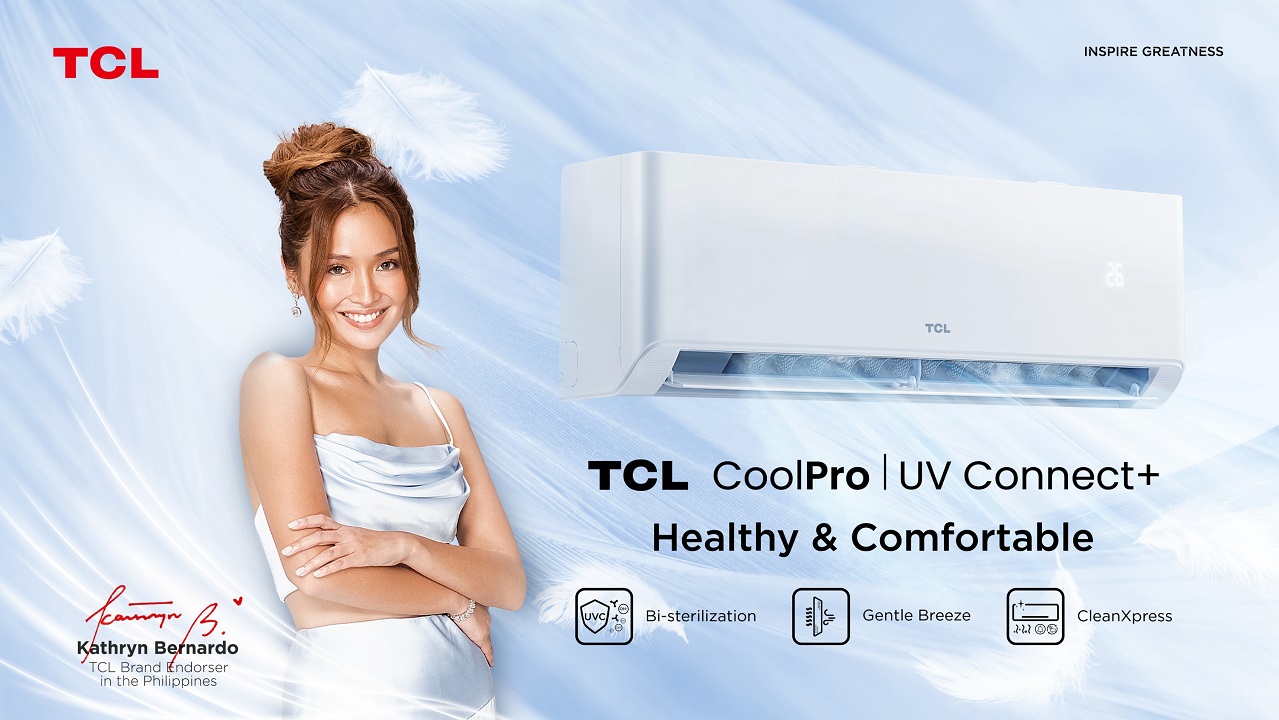 A New Standard in Cooling Comfort
It delivers advanced cooling and cleaning capabilities, including the Gentle Breeze, CleanXpress, and Extreme Cooling features.
Gentle Breeze: This feature boasts 18 S-shaped blades equipped with 1422 micro-holes, ensuring even and gentle airflow distribution. It creates a comfortable indoor environment while eliminating the discomfort of direct, harsh airflow.
CleanXpress: This offers a systematic and automatic cleaning solution. With a 3-step Auto Clean process, it handles frosting, defrosting, and drying. Additionally, it employs water molecules from the air to effectively remove dust, dirt, and impurities. The Filter cleaning reminder, accessible through the TCL home app and front panel, keeps maintenance hassle-free.
Extreme Cooling: This feature ensures effective cooling in any room temperature conditions. Whether facing scorching heat or milder climates, it maintains a cool environment. Its air-cooled E-box guarantees continuous cooling, even at temperatures as high as 60°C ambient, delivering 100% cooling capacity output at 50°C ambient.
Innovative Health and Convenience Features
Beyond exceptional cooling, the TCL UV Connect+ Air Conditioner offers a range of features to align with modern lifestyles.
Advanced Filtration: The air conditioner incorporates a comprehensive 6-in-1 filter system, including a silver ion filter, active carbon filter, catechin filter, photocatalyst filter, anti-dust filter, and vitamin C filter. This multifaceted system effectively eliminates bacteria, providing cleaner and healthier indoor air.
UVC Sterilization Pro: Employing ultraviolet light, this feature offers superior virus and bacteria defense. It destroys the DNA/RNA of pathogens, ensuring sterilized air without any adverse side effects.
IOT Connection: The TCL UV Connect+ Air Conditioner boasts IoT connectivity, allowing users to control the unit seamlessly through the TCL Home App. Adjust room temperature, set airflow angles, monitor self-diagnosis reports, and manage electricity consumption all from your mobile device.
Availability and Pricing
The TCL UV Connect+ Air Conditioner is available in capacities of 1.0HP and 1.5HP, with prices ranging from Php20,000 to Php30,000 at authorized dealer stores.
So, are you getting one?
Share your thoughts with us!