PayMaya may not be the top e-wallet service here in the Philippines right now, but with its superior features, the company believes they are "too good to be number two."
Here are the reasons why: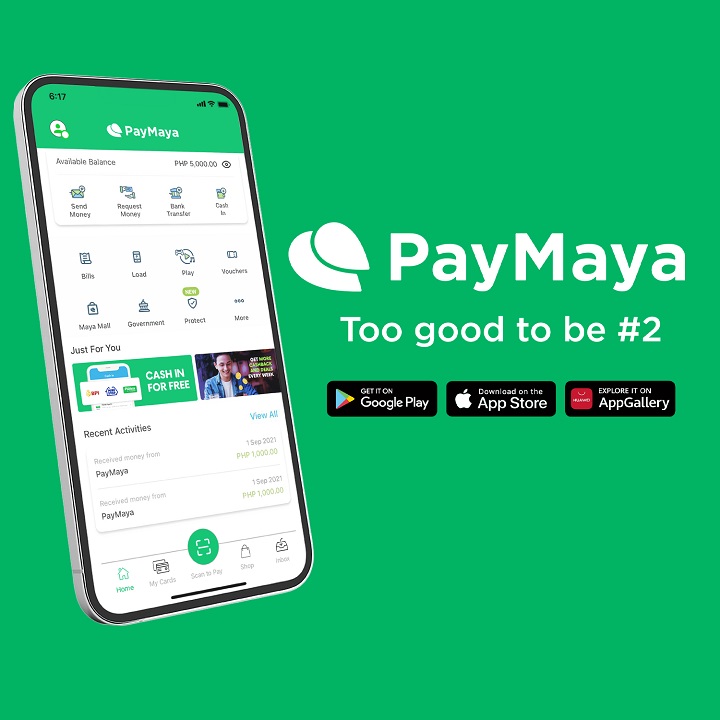 Most number of FREE cash in channels
Unlike other e-wallet apps, PayMaya provides users with FREE cash in at 90,000 of its over 110,000 cash in touchpoints nationwide. Cashing in for FREE is easy, too, as it supports Smart Padala, MiniStop, supermarkets, Instapay, or via linked bank accounts.
Moreover, sending money to other PayMaya account users is also FREE.
On the other hand, if you transfer funds from PayMaya to a bank account via Instapay, you can earn a cashback of Php15 to cover your fee.
Has over 1,500 billers and load items
PayMaya gives users access to over 1,500 billers and load items. So, whenever you need to pay bills, government dues, credit card dues, and more—PayMaya can accommodate your payment.
Also, the app offers prepaid load, gaming pins, digital subscription packages, and other digital vouchers.
Provides safer online shopping
PayMaya also ensures that users are buying from legit sellers. In fact, it has an in-app Maya Mall where users can access over 360 brands with a PayMaya verified casual seller.
Delivers real-time transaction history and notifications
Another great thing about PayMaya is its real-time transaction history and notifications. Unlike other apps, users don't have to wait 24 hours, as the app allows them to track their transactions in real-time right on the app.
Offers 99.9% uptime rate
Moreover, PayMaya has an outstanding 99.9% uptime rate. This ensures that your transactions will go through whenever you need them.
WANT TO HAVE A PAYMAYA ACCOUNT?
Registering a PayMaya account is easy. All you need is your smartphone and mobile number to sign up.
You can also upgrade your account to enjoy more features and benefits, such as sending money to other users and withdrawing your funds from an ATM. To upgrade, you need a primary ID and have a quick video selfie with one of PayMaya's customer representatives.
Those who will create a PayMaya account today can get up to Php200 cashback if they upgrade their account.
For more details, visit www.paymaya.com.