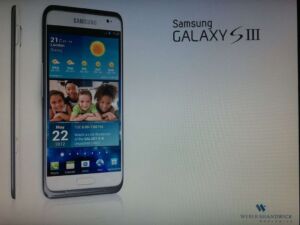 Is this the SGS III that we're waiting for?
We're not pretty sure if this photo is just a mock-up or it was photoshopped by someone else but I can assure you that the next Samsung Galaxy flagship will be announce this year. There are a lot of rumored features these past few months but some of them are not really solid. Some of the features that I think will hit the Galaxy S III are the larger and HD screen, bumped up camera and of course, the new Ice Cream Sandwich will be inside (not that ice cream sandwich that you can buy in restos and stores. It is Android 4.0 ICS that we're talking about). Anyway, I noticed some things on the picture and I wanna share it to you guys.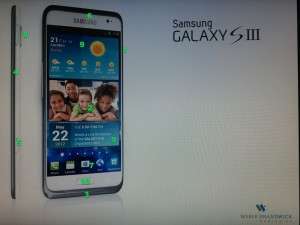 Look at that Bezel – It's an edge-to-edge screen! holy macaroni!. It means that the screen will be large
Same widgets – The widgets on the Samsung Galaxy S III is a bit similar to the widgets on the S II. There are only a few minor changes on it. But hey, they're still great
Speaker Grill – Yes that speaker grill on the bottom looks familiar because it can be found on the Galaxy Tab 10.1N too, the one that was redesign by Samsung because of the patent lawsuit made by Apple to them.
Good heavens, is that a phone? – You guys might wonder if that is a phone because it is SUUUUPER THIN.
Camera button – Hurray to that! not much to be said about that
Earpiece??? – I'm still wondering where the hell did they put the earpiece. This is just one of the reasons why I think it is photoshopped
5 apps – Yep, that's 5 shortcut apps on the bottom which means that the phone will be really large like the Galaxy Note. The last phone from Samsung that we saw with 5 shortcut is the Galaxy Note.
Is that a bulge? – Yes. Yes it is. Probably Samsung will have a high-powered camera inside the device
Save the date – May 22 2012 at London is the launching of the much awaited Samsung Galaxy S III?
That's a physical button – Sorry folks, no onscreen buttons.
Well if you ask me, I'm not quite sure if the device is real. The lack of earpiece at the top makes me wonder if the device pictured is real or photoshopped. Anyway, it is still nice that there are a lot of people leaks and rumors about the device. It makes the SGSIII more exciting.
---
Enter your email address:
Delivered by FeedBurner
---