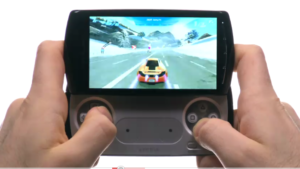 Back at CES last January, Sony Ericsson announced the sexy and slim Sony Ericsson Xperia Arc, which was highly received. Their latest smartphones are equipped with the Android Gingerbread. They decided to dump Symbian OS in favor of Android. I think that's a good move for Sony Ericsson since Android has been getting the popularity nowadays while Symbian is declining
After the announcement of those phones a few months later they announced the first Playstation-certified phone, the Sony Ericsson Xperia Play, A phone with a slide-out gamepad. It received a lot mixed reviews and Sony Ericsson Xperia Arc remains as their Flagship phone.
After those Android Phones, they released a new touchscreen Walkman phone along with 2 cheap phones aim for fast messaging. I think they want to target the youth with those phones. They also released the successor of the two mini Android Phones. The two successors are called Xperia Mini and Xperia Mini Pro. They didn't call the phone Xperia Mini 2 or Mini pro 2 but they just ditched the X10 name on it.
The two latest phones that they announced are Xperia Ray and Xperia Active. Xperia Ray fills the gap between the High-end Android phones and the mini ones while Xperia Active is rugged proof, dustproof and waterproof. Maria Sharapova just love that phone.
Xperia phones have flooded the Android phone industry, which means we have a lot of phones to choose from. But something hinders Sony Ericsson. The thing is, Sony Ericsson phones are too pricey. Xperia Arc lies on the same price range with the Samsung Galaxy S II that has a Dual Core processor, Super AMOLED and 1080p video recording. Sony Ericsson still needs to catch up with those hardware specs and they should lower the prices to attract more consumer.
Since Philippines is a Nokia/Symbian-loving country, Sony Ericsson Philippines should consider some promotion and some marketing strategy to promote their line of phones. And please, make it CHEAPER.
Oh and I've been thinking of saving up some money for Exmor-R loving Sony Ericsson Xperia Arc since I want a phone with cool camera w/ HD capabilities, an enormous screen and an Android OS (I want that Google+ and Blogger app so badly)
---
Enter your email address:
Delivered by FeedBurner