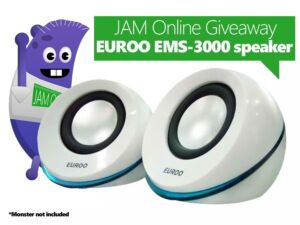 UPDATE: Giveaway is now extended up to January 3
As promised, We'll be giving away a Euroo EMS-3000 Speaker soon. If that sounds familiar to you, yes that's because I reviewed that speaker a few weeks ago. And today, We'll be raffling it away to you guys. You don't need to pay anything or climb a mountain just to join this contest. All you need is a Facebook or Twitter account
Mechanics:
Do any of the following to earn a raffle entry. Doing all the steps below will earn you a total of 3 raffle entries.
First Way (for Facebook Account. 3 easy steps):
Share the EUROO Contest Link and tag JAM Online, Euroo and one (1) of your friends in your Facebook status. Here is an example


Hey @friend!. Join @JAM Online in their giveaway and get a chance to win a @Euroo EMS-3000 speaker http://tiny.cc/JAMonlineGiveaway





After accomplishing the things above inform me in the comment box that you joined the contest (please post the FB post link) just like these guys:

Disqus comments

on Facebook comments
To get the link of the status, just click on the time on your post. And if you don't know how to get the link, just post a screenshot of your post. Upload it and then post the link of the image here
Second Way (for Twitter Account):
Tweet the phrase below:
"Like Euroo fanpage at http://tiny.cc/Euroo and RT this to get a chance to win a Euroo Speaker #JAMOnlineGiveaway – http://tiny.cc/JAMonlineGiveaway"

ohh just like this people 😀
How can I pick the winner?
Winner will be drawn using random.org
Promotion will run from November 15 to January 3, 2012.
Winner shall be announced on January 2012.
Everybody can join as long as you're a resident of the republic of the Philippines
How can I claim the prize?
To claim the speaker, you must get it at around LRT and MRT lines, around UST area or any landmark like SM Manila, Trinoma and other malls near to it. Batanguenos can also join the giveaway. I can give you this at SM Lipa.
FOR THOSE PEOPLE WHO JOINED VIA FACEBOOK. DON'T FORGET TO LIKE EUROO AND JAM ONLINE AND THEN INFORM ME AT THE FACEBOOK COMMENTS OR DISQUS COMMENTS BELOW TO JOIN.
---
Enter your email address:
Delivered by FeedBurner
---