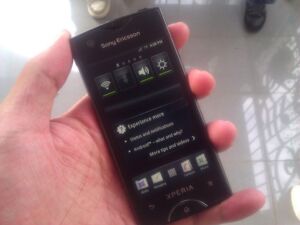 The Sony Ericsson Xperia Ray's Homescreen
I was able to have a hands-on of the Sony Ericsson Xperia Ray during the holiday. Well, it is not a long hands-on but it is just a first impression because I just played this cellphone for hours not days. Anyway, Sony Ericsson Xperia Ray is just like the smaller version of the Xperia Arc. The Xperia Ray's screen size is 3.3" which is a bit small if you think compared to smartphones these days. Most smartphones that we see in the market ranges from 3.5"-4.3" and even some of them reach 4.7" like the HTC Titan and there is a 5.3" like the Samsung Galaxy Note who is still confuse whether he is a phone or a tablet. Even though the 3.3" is a bit small for you, I think this one fits okay right for me.



If you notice, the Xperia 2011 phone lineup specifications is almost similar to each other. All of them use the Snapdragon chipset. Yep, the Sony Ericsson Xperia Ray also have the same specifications like the other Xperia phones. Anyway, having a single core on 3.3" phone with a sleek design is not an issue since most dual core phones ranges from 3.8"-4.3″. Oh and having a larger phone doesn't mean that you'll have a faster and more responsive phone. It is the specifications that powers the device is the one that matters.
SO WHAT'S INSIDE THIS PHONE
When you look at the screen size of the Sony Ericsson Xperia Ray, some of you may think that this phone is a bit small. Yep, when I haven't seen this phone personally, I think it was too small and not attractive for me. But when I saw this and lay my hands on it. My first impression was all wrong. The small screen size is just right for me.I can even type at the QWERTY keyboard at portrait mode swiftly. By the way, I'm not a large guy. I'm just a 5'6" 17 year old tech blogger (Yes, I'm a minor).
I really like the body too, it is not made up of metallic materials but the phone feels solid and stylish. Oh and I must admit that, I'm a fan of Xperia Arc before. I was drooling for the Xperia Arc before but I changed my mind (Thanks Alex of TheTechnoclast.com for enlightening me!). Anyway, I'm not bias with the Xperia ray but this phone's build was good. Yep, good not excellent (I told you, I'm not in favor of Sony Ericsson). I like how HTC made their cellphones solid compared to Sony Ericsson.
Another unique feature that this phone have is the Mobile Bravia engine. It allows the phone to have a clearer and have a better quality playback of videos and pictures in the phone's screen. We tested some videos and pictures and the phone's display was good. Too bad, I didn't have a screenshot of that but I can tell you that this is behind the Samsung Super AMOLED Plus display on the Samsung Galaxy S II.
One of the advantages and key features of some Xperia phones is the Exmor-R camera feature. Exmor-R allows more light to come inside the camera which allows the camera to have a brighter images at low-light conditions. I even tested it during UNDAS and yes, the camera was excellent and you can even show the difference between these 2 images.
You can see the difference between those 2 images. The Xperia Ray's image was brighter and even more colorful compared to the HTC 7 trophy. We also tested it on the Samsung Galaxy SII but I didn't have the sample image. I know this is a bit awkward to use a HTC 7 Trophy but that is the only phone we have during that time (yeah, a bit sad =( ). Anyway, the image quality of Xperia Ray surpasses the cameras of HTC 7 trophy and Samsung Galaxy S II.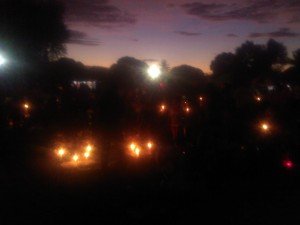 Image on HTC 7 Trophy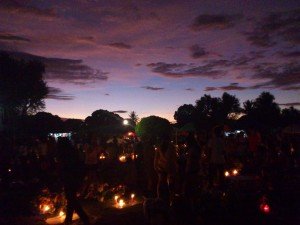 Image shot on the Exmor-R equipped Sony Ericsson Xperia Ray
This time I tried the video recording. I didn't have a video during the low-light condition (I told you that this is just a short review of the phone at the cemetery) but I have a video at daytime. Xperia Ray is capable of playback and recording of 720@30fps which is normal for phones with 1 ghz processor. All I notice is that it has a good quality but the camera took some time to focus on another object. See the video below:
Sony Ericsson Xperia Ray Hands-on
Oh and we also tried skype on Sony Ericsson Xperia Ray and it works flawlessly!. We tried to call on a Samsung Galaxy SII and on my Mac!. Look at this screen shot.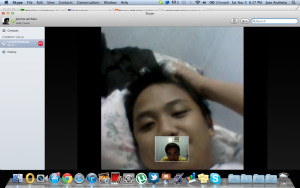 Well, I can't say much about the Sony Ericsson Xperia Ray since I just borrowed it for a while. These are just some of my first impressions so some of it might be wrong. Anyway, I love the device (not because I'm a Sony Ericsson Fanboy) but because it just exceeds my expectations. The 3.3" screen was good, the performance was excellent and the OS was great. Anyway Sony Ericsson Xperia Ray is expensive at mall stores, expect the price at P15,000-P20,000 but on Widget City you can buy it for as low as P13,100 (Well, that's the pink version)
Rating: 9.8/10
---
Enter your email address:
Delivered by FeedBurner
---