Metrobank is making online payment transactions more convenient for its accountholders by waiving InstaPay fees for transactions amounting to Php1,000 and below. This promotion is available exclusively on the new Metrobank App until September 30, 2023.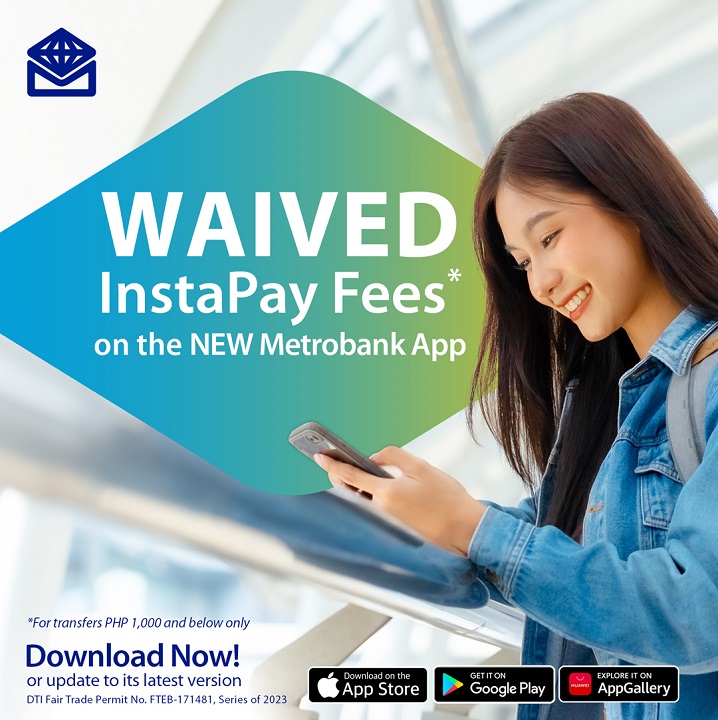 The initiative comes in support of the Bangko Sentral ng Pilipinas' (BSP) goal to encourage more Filipinos to embrace the ease and efficiency of online payment transactions. As part of the bank's commitment to providing smart, simple, and secure banking services, Metrobank aims to empower its clients through the new Metrobank App.
Accountholders can now experience hassle-free InstaPay transfers without incurring any fees for transactions valued at PHP 1,000 and below. By downloading the latest version (ver 1.7.1) of the Metrobank App from the Apple App Store, Google Play, or the Huawei AppGallery, users can take advantage of this limited-time offer.
Easy Steps for Availing Free InstaPay Transfers
Sending money through InstaPay with waived fees is quick and straightforward. Follow these simple steps to complete your transaction:
Launch the Metrobank App: Open the app and tap on the "Send Money" icon in the bottom tab.
Enter Transaction Details: Input the necessary details such as the source account, transfer amount, and recipient. Note that only transactions of PHP 1,000 and below are eligible for the waived InstaPay fee.
Select 'Immediate' Transfer: Tap the "Immediate" button to proceed with the transaction.
Enter Purpose: Provide the purpose of the transfer.
Review and Confirm: Review all the details carefully, then tap "Confirm." An OTP (One-Time Password) will be sent to your registered number. Never share this OTP with anyone.
Input the OTP: Enter the OTP to authenticate the transaction, and you're all set! The transaction details page will show a waived InstaPay fee of PHP 0.00.
SMS Notification: Expect an SMS notification confirming your successful transaction.
Sending Money with Peace of Mind
With Metrobank's InstaPay Waived Fees on the new Metrobank App, accountholders can send money to anyone, worry-free. However, it's important to note that regular transfer fees will apply for scheduled transfers.