This is not a baller. This is not a Zaido nor a Power Ranger accessory. This thing doesn't came from the movie Total Recall or Minority Report. This is not a fake gadget. YES, this is a real watch. This gadget is called Mutewatch and it has a very unique and cool features. I must say that the Mutewatch is one of the best good looking watches out there. Well it's not that fashionable when it comes to formal attire but hey this thing looks cool because you won't notice that this thing is a watch. And like what I've said earlier, you might have mistaken it for a rubber baller band. Cool right?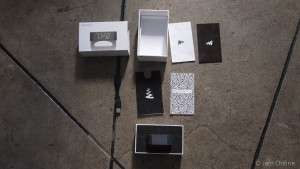 What's inside the box???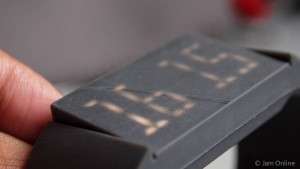 Mutewatch must be one of the gadgets that you haven't seen before and you might be very interested. When you are wearing the watch, the Mutewatch basically looks like a simple baller band and then suddenly it lights up when you flick it or when you touch it. Aside from checking the time, the Mutewatch can also function as a timer and alarm. Oh and this watch doesn't sound an alarm instead, the watch vibrates to notify you. The same thing happens when you set the timer. To turn it off, you'll have to press 3 blocks of squares.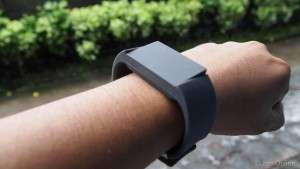 Like what I've said earlier, the Mutewatch's design is very unique. The Mutewatch is made up of rubber and it is not an ordinary rubber but the Mutewatch features a rubber that is strong and durable. Well it's not that great because you can get scratches on the Mutewatch and that's quite annoying.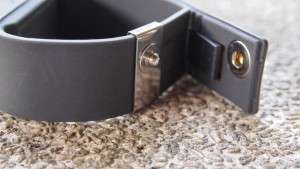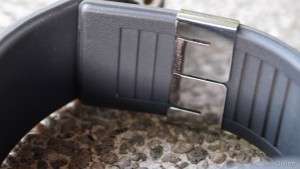 Yeah, you could adjust that
The Mutewatch locks in just a single button. Yes, just a button. Just like in some of your shirts. If you feel that you need to tighten up or loosen the wristband using the adjustable button. Hidden in the Mutewatch is the USB plug in where you will insert it to the USB port then plug it to the PC. Oh and I almost forgot, you can also update the firmware of the Mutewatch when connected to your PC.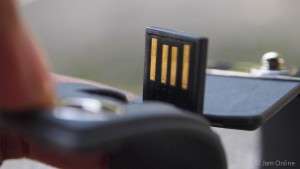 So that's the USB that we're talking about!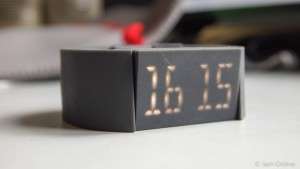 So there are gestures that you need to learn before using the Mutewatch such as changing the time and removing the alarm, which isn't difficult to get use to. Oh and check out my unboxing and hands-on of the mutewatch here first:

Yeah, the multi-touch screen display is somewhat elevated. But I think that's a great idea so I can easily know which side I should wear it on. If you are used to wearing watches that is worn over the wrist then you might have a slight problem because eventhough the Mutewatch has a motion sensor, sometimes the Mutewatch doesn't detect that you flicked it so the Mutewatch is best worn underhand.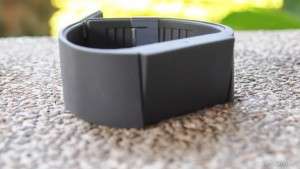 Like what I've said earlier (again!), the Mutewatch is made up of rubber. Even on the display, you'll be surprised that it's a watch because LED bulbs are hidden in that display. I also notice that the Mutewatch's display became smoother after a few weeks. Yeah, just like a laptop's touchpad. At first, you can feel its texture but after some time, you'll notice that the touchpad became smoother.
To set an alarm or a timer, just swipe left or right to navigate and then just tap the display in order to set the desired time then wait for the blink to stop then boom! There goes your alarm or timer. OH! And the alarm and timer doesn't sound a thing instead the watch will just vibrate. Yeah, that's why they called this thing a Mutewatch.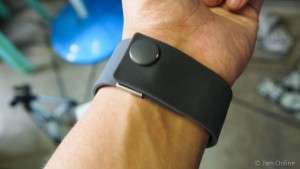 I feel that the Mutewatch needs more features such as adding a screen timeout time and LED light brightness. I'm very annoyed when the time suddenly goes off when I'm still looking at it. Well, I wish they could add that in their firmware update soon.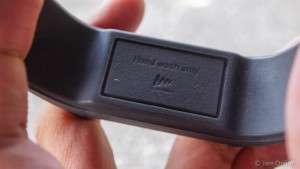 And in case you forgot, the Mutewatch has a USB port, which is use for charging and firmware updates. As for the charging, the Mutewatch takes about 1-2 hours to fully charge. When charging the Mutewatch logo in the middle will start to blink and it will stop when the Mutewatch is fully charge. Oh and the Mutewatch can last up to 4 days with normal use. I wish the next Mutewatch would have a longer battery life. But hey, I really like how cool they designed and implemented the Mutewatch. I also wish that they could add more features soon.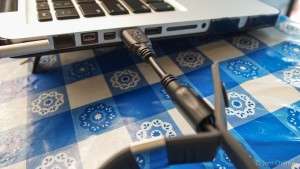 So this is what the Mutewatch looks like
So I asked a lot of people of what they think of Mutewatch and here are some of their reactions:
"Ang mutewatch ay yung watch na umiilaw"
"Holy **** ang cool nya"
"Best watch I've seen so far"
"I want to buy this watch seriously
"I want one!"
I don't think a lot of people would want to spend much for a watch. But hey, this watch is fashionable and it won't attract that much attention when you're on the streets unless you tap the display or flicked it.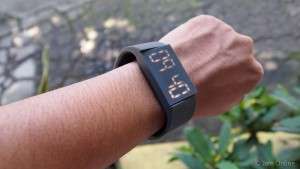 Mutewatch is a not so affordable accessory. The Mutewatch is available for Php12,950 at Digital Walker Trinoma, Eastwood, Virra Mall and Alabang Town Center. So yeah, that makes the Mutewatch premium. Oh and I almost forgot that the Mutewatch is available in 3 colors – Red, Black and White. Yeah let's hope that they could add some more colors especially Pink because surely, the girls would love to buy the Mutewatch with that color.
RATING: 8.5/10
---
Subscribe to JAM Online to get the latest news about tech and other stuffs
Enter your email address:
Delivered by FeedBurner
---