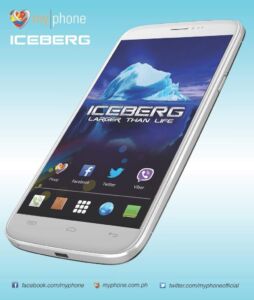 Local branded are really exciting! MyPhone has revealed to us of what seems to be their next flagship smartphone. Special thanks to Chuckie Dreyfus for sharing this on his blog (Be sure to check out his blog!). The next flagship of MyPhone would pack an amazing construction and specs. And yes, it doesn't just pack the amazing specs that you want from a smartphone but the MyPhone Iceberg also has the software features that you can find on other Android phones. I suggest that you click read more and check out what MyPhone Iceberg has to offer us.
Before we got down to this, I just want to tell you first that the MyPhone Iceberg came from the Blue Life View. But the MicroSD card slot is missing on the MyPhone Iceberg compared to the Blue Life View. For me, that's not really a deal breaker because there's a 16 GB internal storage on this phone.
MyPhone Iceberg Specifications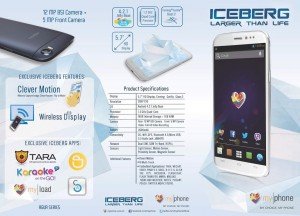 The MyPhone Iceberg is clad in Aluminum. Yes, it will give you the premium feel and look on the phone. And don't worry about the back cover of the phone because the Philippine map on the back is now gone. And on the front, you don't have to worry that much about scratches because it is protected by a Corning Gorilla Glass 2. Not bad right?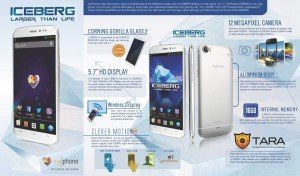 Aside from having a great hardware, the MyPhone Iceberg also pack some features that can "wow" us Pinoys. First, the phone has TARA "Theft Apprehension & Asset Recovery Application". Basically, it lets you secure your data in case of theft. And yes, that's exclusive for the MyPhone users. The MyPhone Iceberg also supports clever motion, that's the feature that allows you to use gestures to do a specific command. Here's my favorite feature of the MyPhone Iceberg, the Wireless display. I think I don't need an explanation for that. I'm just not sure which devices would support that feature.
If you're planning to get this smartphone then better mark your calendars and free up your schedule on July 26, 2013 from 4 PM – 12 AM for the MyPhone Iceberg Meltdown promo that'll happen at Eastwood City Walk. Yes, they'll be selling the MyPhone Iceberg on the event itself. They'll be also offering the MyPhone Iceberg to credit card holders for 0% interest. Oh and before I forgot, the SRP of the phone is P11,998. Awesome right?