OPPO announced its upcoming OPPO 6.6 Mega Sale, offering storewide discounts, exclusive vouchers, special freebies, and bundle deals on a wide range of smartphones.
Discounts on OPPO Smartphones
During the OPPO 6.6 Mega Sale, customers can enjoy up to 59% discount on selected OPPO smartphones. This includes popular models such as the A16 4GB, A17k, A17, A55, A76, A95, A78, Reno6 Z, Reno6 5G, and Reno8 T. By visiting OPPO's official Shopee and Lazada stores, shoppers can grab these amazing discounts and enhance their smartphone experience at an affordable price.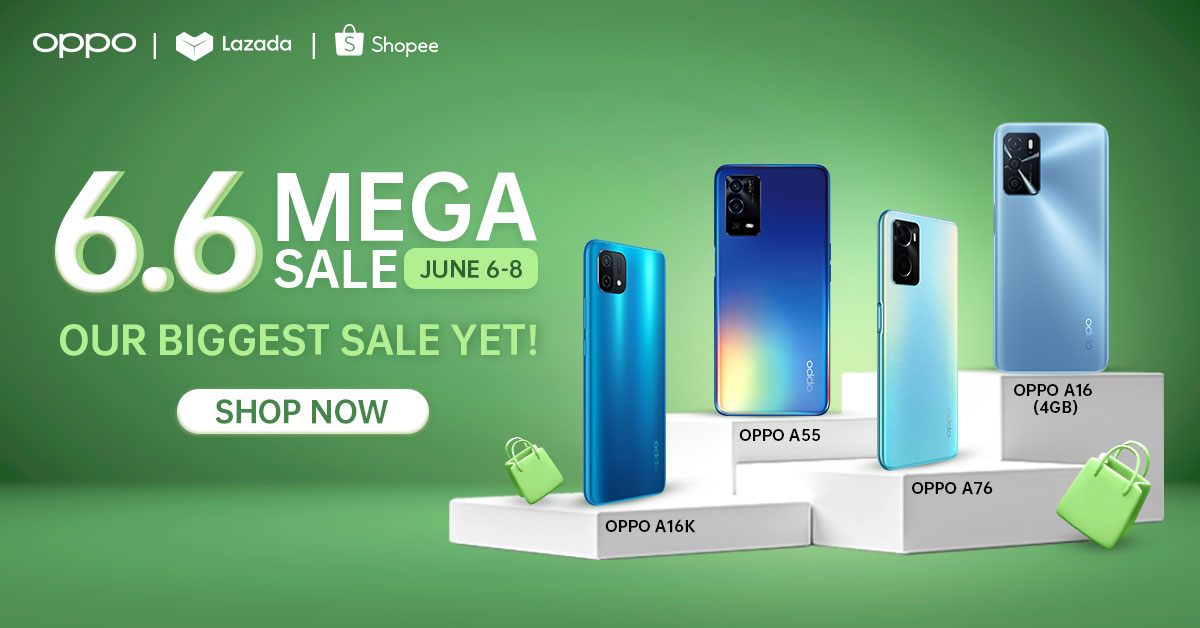 Exciting Freebies and Gifts
OPPO is also showering buyers with exclusive freebies and gifts on June 6. Each purchase comes with special rewards:
OPPO A16k: Receive a Bluetooth speaker to elevate your me-time experience.
OPPO A16 4GB and OPPO A55: Get a free memory card for additional storage space.
OPPO A76: Capture perfect group selfies with a free remote-controlled selfie stick.
Reno8 T Series: Enjoy a free Neon Island desk pad for added style.
Reno6 Series: Receive a Bluetooth speaker and a remote-controlled selfie stick for immersive entertainment and stunning selfies.
Additionally, lucky OPPO Find Flip N2 buyers on June 6 will be rewarded with a free OPPO Enco Air3 and OPPO Watch Free, giving them a chance to experience the latest foldable smartphone and exciting accessories.
Rainy Bundles and Voucher Choices
OPPO understands the value of budget-friendly options and offers Rainy Bundles during the sale. Customers can maximize their budget with stylish OPPO A series bundles. For example:
OPPO A16k/A16 4GB/A55: Purchase the bundle with an OPPO Band for Php6,099, Php7,599, or Php8,599 respectively.
OPPO A16k/A16 4GB/A55: Avail the bundle with Enco Buds2 for Php6,299, Php7,799, or Php8,799 respectively, perfect for music lovers.
In addition to the bundle deals, shoppers can enjoy various voucher choices for extra savings. With minimum spends, they can receive Livestream vouchers, free shipping vouchers, and discounts on Lazada. Using LazPayLater, customers can even take advantage of 0% interest installment plans for up to 45 days.
The OPPO 6.6 Mega Sale is the perfect opportunity for tech enthusiasts to upgrade their smartphones and enjoy attractive discounts, freebies, and bundle deals. From June 6 to 8, shoppers can visit OPPO's official Shopee and Lazada stores to explore the exciting offers.
Don't miss out on this chance to grab your favorite OPPO smartphone and experience enhanced features and functionality at an affordable price.
For more information, visit OPPO's official website or follow their social media pages for updates.