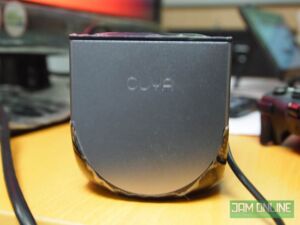 Aside from the MoGa Gamepad, I also got a chance to play with the OUYA. It started as a project in Kickstarter and it was overwhelmingly supported by a lot of gamers. OUYA is running on a modified version of Android 4.1 and it doesn't have a Play store. Only OUYA optimized games are available in its built-in store. But of course, you can sideload apps on the OUYA since this is based on Android 4.1. They said that this gaming console is very friendly to consumers and to the developers because the retail unit of the OUYA is also the developer kit for the developers. Interested? Check out what I think after the break.
The OUYA is really a small console compared to the current gen consoles that we have in the market right now but the power and performance of the OUYA is almost on par with our smartphones and tablets. Why? Because the OUYA uses Tegra 3 which is also use on our smartphones and tablets. Tegra 3 is a bit old since Tegra 4 is already in the corner.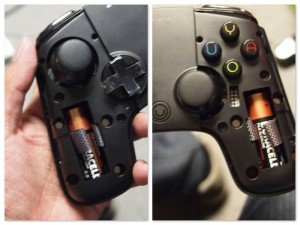 The package comes with one OUYA controller. It's a wireless controller that is powered by 2 AA batteries. The battery are easily interchangeable thanks to the removable plates that doesn't need a screwdriver. Compared to other reviews, I didn't had a problem with the plates on the controller. There's also a touchpad on the controller but I find it hard to navigate using it. The trigger buttons weren't also as great as I expected. I like the aluminum design of the controller but after I played the OUYA for some time, I strained my thumb. Maybe it's because of the built of the controller. I believe that OUYA needs more improvement on their controller.
I like the interface of OUYA. It's clean and neat but I think it needs more transitions. The OUYA was responsive and fast too. I've only tried a few games and it's really great to see Android games on the large screen. The gameplay and the experience was almost the same except that it was optimized for the OUYA controller.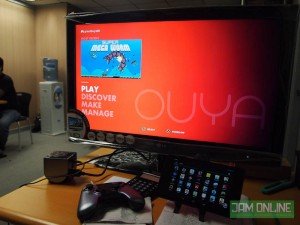 The OUYA has only a few selection of games and there's no Play Store so you're stuck with the games on the Discover store. There are some of the popular games like Shadow Gun and Final Fantasy IV but you would still feel that there are a lot of games that are still missing on the discover store. But hey, at least you could sideload and hook up some games and apps on the OUYA, especially the emulators.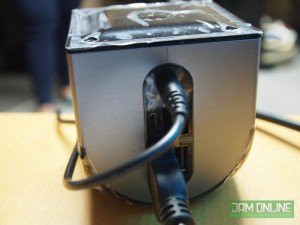 The OUYA is now available for P6,490 at Widget City. It comes with a controller and of course the OUYA. Why don't you check out these cool Android console ;).