realme Philippines gears up for its annual Fan Festival, marking its fifth year anniversary in style. The month-long celebration promises a lineup of back-to-back events and engaging activities, bringing realme closer to its community across the country. This year, realme is breaking new ground by initiating festivities in all three major islands: Luzon, Mindanao, and Visayas, at SM City Clark Pampanga (Sep 9), SM Lanang Premier Davao (Sep 16), and SM City Seaside Cebu (Sep 23).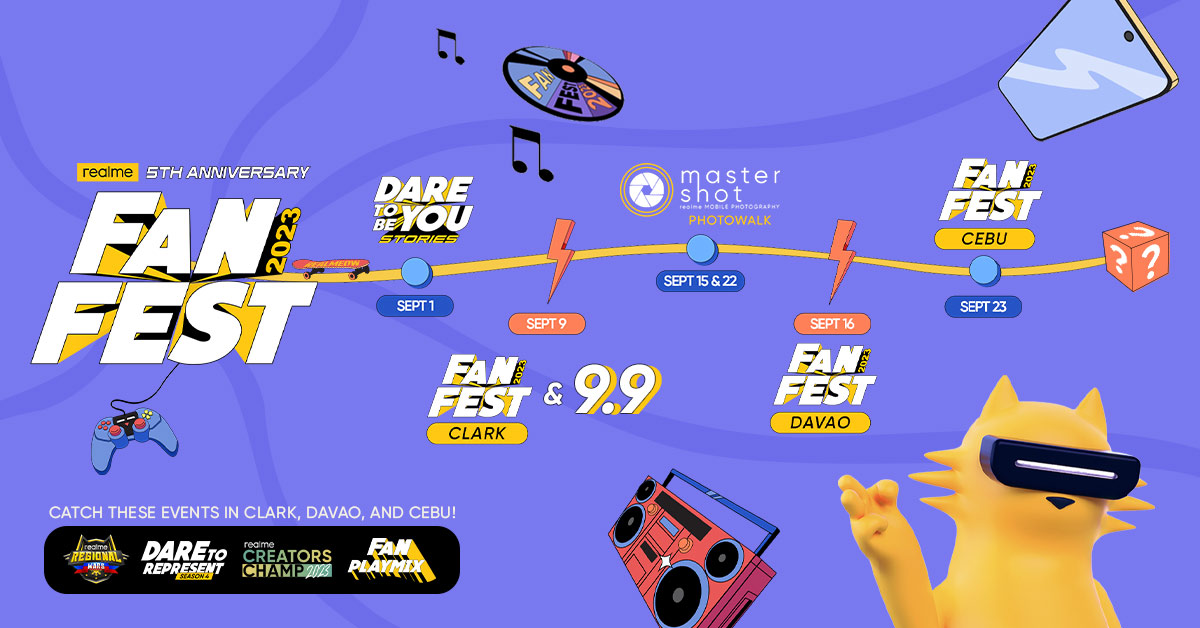 A Festival for the Fans
The realme FanFest continues to strengthen the bond between the brand and its loyal fans while giving back to the community through a vibrant celebration. The Squad can look forward to interactive programs and segments, including a talent recognition platform for local artists.
The popular "realme Dare To Represent" campaign returns for its fourth season. This campaign seeks aspiring influencers who are confident in showcasing their talents and unique identities. Contestants will compete face-to-face on stage through activities like Q&A sessions and fashion showcases reflecting their personalities.
The "realme Creator's Champ" also makes a comeback, aiming to inspire young minds in fields such as content creation, mobile photography, and entrepreneurship. Renowned personalities from these domains will share their insights. Creative entrepreneur Vern Enciso will share her experiences as an entrepreneur in the Cebu leg, and in Davao, local mentor and street photographer Miguel Lisbona and others will impart their knowledge.
Realme Regional Wars – Call of Duty: Mobile
realme takes esports to new heights with its first-ever "realme Regional Wars – Call of Duty: Mobile" competition at this year's FanFest. The elimination rounds will take place remotely before the event, with the semi-finals happening on-stage during FanFest. The top two teams from each region will battle it out on a national level on September 27.
Jamming to the Fan Playmix
Music enthusiasts are in for a treat with the "Fan Playmix," a music-filled night to conclude each FanFest leg. SM City Clark Pampanga will see live performances by P-Pop group VXON and singer-songwriter Ace Banzuelo. Meanwhile, Tatot Music and The Juans will serenade the crowd at SM Lanang Premier in Davao, and fans at SM City Seaside Cebu can enjoy the hits of Sepia Times and December Avenue.
MasterShot Photowalk
Following the successful unveiling of the realme 11 Pro Series 5G, the brand launches the "MasterShot Photowalk" powered by realme 11 Pro Series 5G. These events in Davao and Cebu aim to explore more of #TheWorldUpClose. Lifestyle and celebrity photographer Stephen Capuchino will teach guests how to elevate mobile photography using the powerful 200MP OIS rear camera of the realme 11 Pro+ 5G.
9.9 Mega Sale
To celebrate its fifth anniversary, realme is offering massive discounts on all online platforms during the 9.9 Mega Sale. The Squad can enjoy discounts of up to Php7,000 along with freebies and vouchers on Shopee 9.9 Super Shopping Day (Sep 9-10). The realme C33 (4GB+64GB) will be available for only Php4,294 (from Php6,499).
Lazada's 9.9 Mega Brands Sale (Sep 9-13) offers savings of up to 63%. The narzo 50 Pro 5G (8GB+128GB) will be available for only Php8,499 (from Php15,999).
For those who prefer the official realme e-store, discounts of up to Php6,000 will be available from September 9-12. The realme C55 (6GB+128GB) can be purchased for only Php7,399 (from Php8,999) and comes with a free realme Cobble Bluetooth Speaker.
The limited-edition realme 10 Pro 5G Coca-Cola Edition will be available on TikTok 9.9 Mega Sale with Php5,000 OFF. Grab it for only Php13,999 (from Php18,999). The TikTok 9.9 Mega Sale runs from September 8-10, offering up to 50% OFF along with freebies and vouchers.
For more information on realme FanFest 2023 and the realme 9.9 Mega Sale, visit the official realme Facebook page or the official realme website.