Whether this year has been challenging or delightful for you, it's time to treat yourself to a brand-new Samsung Galaxy device at The Great Samsung Sale. From June 1 to 25, this exciting event brings you incredible freebies, tempting discounts of up to 25%, and amazing trade-in deals worth up to Php15,000 off.
Unbeatable Freebies and Trade-In Deals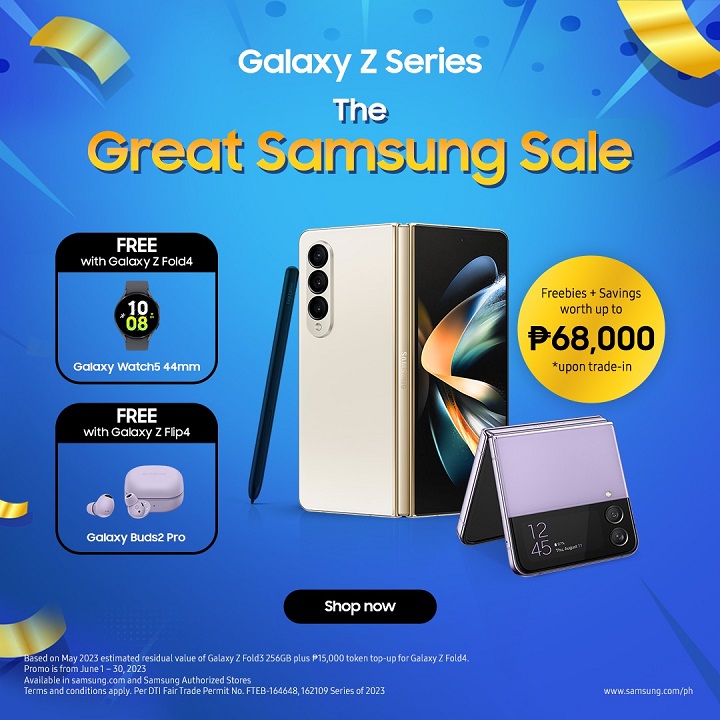 If you've always dreamed of owning a foldable phone, now is the perfect opportunity to make it a reality. Purchase a Galaxy Z Fold4 and receive a complimentary Galaxy Watch5 44mm valued at Php18,990. The Galaxy Z Fold4 boasts a massive 7.6-inch main screen, ideal for immersive video watching, gaming, and multitasking on the go. With Samsung's innovative Multi-Active Window, you can effortlessly run multiple applications simultaneously. Plus, its dual batteries totaling 4400mAh ensure you stay powered up throughout the busiest of days.
For those with a penchant for fashion-forward and pocket-friendly phones, the Galaxy Z Flip4 is the perfect choice. With the purchase of a Galaxy Z Flip4, you'll receive a free pair of Buds2 Pro worth Php12,990. Available in elegant colorways like Bora Purple, Graphite, Pink Gold, and Blue, the Galaxy Z Flip4 adds a touch of chic to your accessory collection. It features the FlexCam, a unique camera system that utilizes the Galaxy Z Flip4's hinge, allowing you to capture hands-free photos and selfies. Built with Corning Gorilla Glass Victus+ and Samsung's toughest aluminum frame, the Armor Aluminum hinge frame, this phone is splash-resistant and exceptionally durable. You can even enjoy additional savings of up to Php15,000 when you trade in your old device!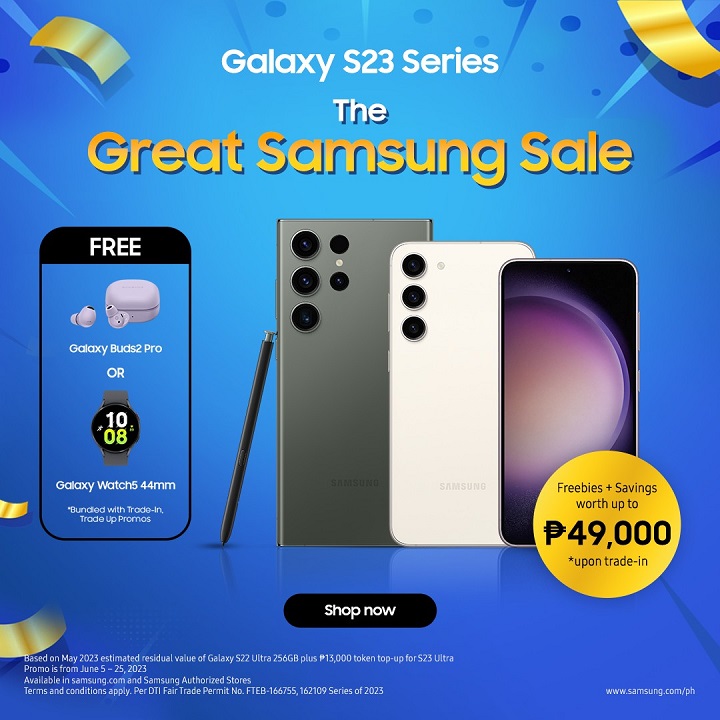 For an epic mobile phone experience, explore the Samsung Galaxy S23 series, which also comes with a free pair of Galaxy Buds2 Pro with every purchase. The Samsung Galaxy S23 series introduces a new era of the ultimate premium phone experience, featuring an epic camera that lets you capture truly cinematic Nightography videos. It excels in gaming and video streaming, thanks to the revolutionary Snapdragon 8 Gen 2 Mobile Platform for Galaxy, the fastest and most powerful Snapdragon available in a Samsung Galaxy smartphone. The Galaxy S23 Ultra even comes with an embedded S Pen, offering new possibilities for productivity, notetaking, and hobbies. Embracing sustainability, the Galaxy S23 series incorporates more recycled materials than any other Samsung Galaxy smartphone. Trade in your old device and enjoy freebies and savings worth up to Php49,000.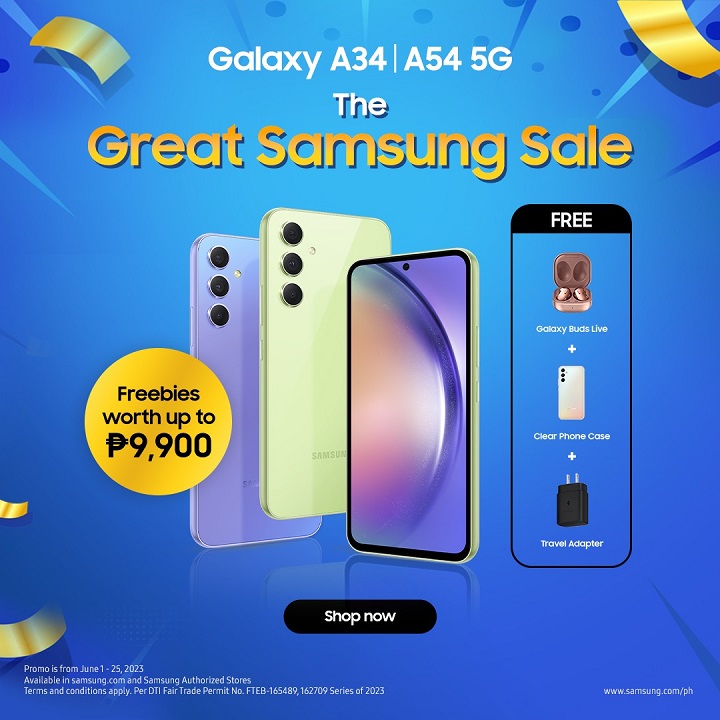 Budget-Friendly Options and Awesome Freebies
If you're seeking an affordable yet awesome mobile phone, consider the newly launched Galaxy A54 or A34 5G. With every purchase, you'll receive a free pair of Galaxy Buds Live worth Php7,990. It comes with a clear phone case and a travel adapter.
Additionally, the Samsung Galaxy A54 5G and A34 5G offer self-expression and entertainment in a sleek design, available in Lime, Violet, and Graphite. These devices also deliver stunning images with clear quality. In addition, it has a variety of creative editing tools for amazing photos and videos. With their Super AMOLED displays and FHD+ resolution, you'll enjoy realistic colors and immersive visuals. Both devices feature fast 5G connectivity, super-fast charging, up to four OS upgrades and five years of security updates.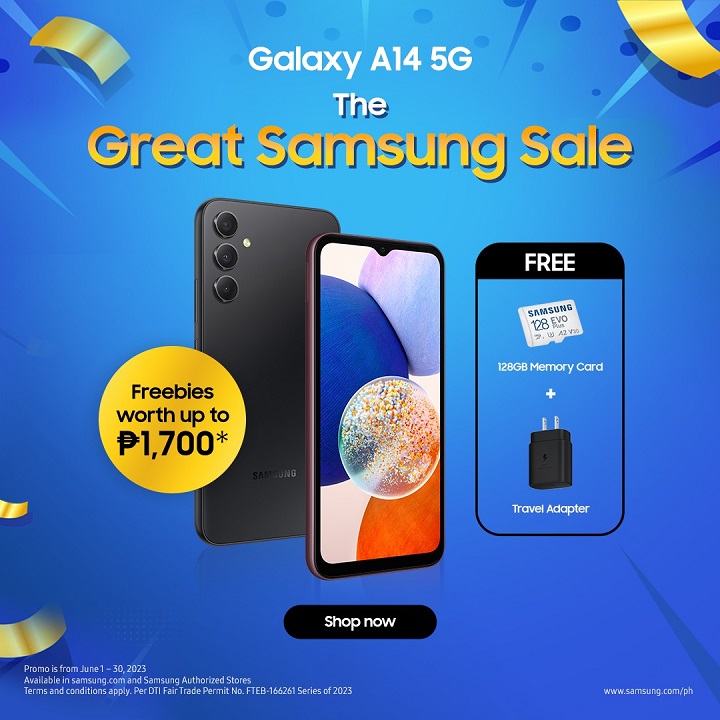 For those starting their mobile phone journey, the Galaxy A14 5G is a fantastic option. Now available with a free travel adapter and a 128GB memory card, the Galaxy A14 5G is priced as low as Php12,990. This stylish phone comes in fresh and funky colors. It also has a 50MP Main Camera and a 2-day battery life, ensuring non-stop fun and functionality.
Unbeatable Discounts
The Great Samsung Sale offers fantastic discounts of up to 25% on select Galaxy devices. Don't miss out on the Galaxy S22 Ultra 256GB, now priced at only Php58,990 from its original price of Php72,900. The Galaxy S22 128GB is available for just Php35,990, down from Php45,900. Meanwhile, the Galaxy S21 128GB can be yours for only Php28,990, a significant reduction from its original price of Php38,900. By trading in your old device, you can save up to Php39,000 on your purchase!
Don't Miss The Great Samsung Sale
Mark your calendars for The Great Samsung Sale from June 1 to 25. Bring home an amazing Galaxy device of your choice while enjoying exciting freebies, irresistible discounts, and unbeatable trade-in deals. Treat yourself to the latest Samsung technology and elevate your mobile experience.
For more information about The Great Samsung Sale, follow @SamsungPH on Facebook, Twitter, and Instagram, or visit the official website.