XTREME Appliances joined the 9.9 party as it announced up to 44% discount on Shopee 9.9 Super Shopping Day and Lazada 9.9 Mega Brands Sale.
As we all know, September marks the start of the longest holiday season in the Philippines and the world. With Filipinos now looking forward to celebrating the Christmas season, XTREME shared how consumers can spot great deals this coming 9.9.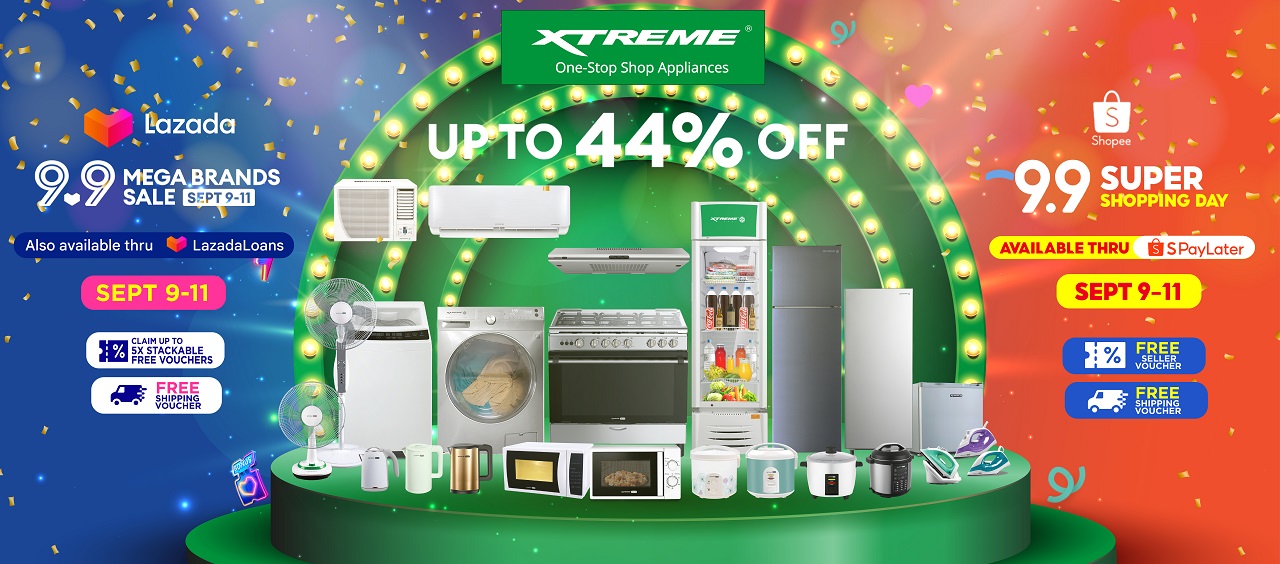 Here are the tips from the appliances brand:
SHOP FOR THE FIRST TWO HOURS ON SEPTEMBER 9 (12MN to 2AM)
SHOPEE
X-SERIES 600ML Personal Blender with a FREE tumbler
SRP: Php995
Discounted Price: Php735
Midnight Sale Price: Php720
X-SERIES 2-Burner Tempered Glass Gas Stove
SRP: Php2,595
Discounted Price: Php1,802
Midnight Sale Price: Php1,767
50cm X-SERIES Gas Range PRO
SRP: Php10,990
Discounted Price: Php8,706
Midnight Sale Price: Php8,535
COOL Front Load Combo Washer and Dryer
SRP: Php48,195
Discounted Price: Php30,198
Midnight Sale Price: Php29,606
20L HOME Digital Microwave Oven
SRP: Php4,045
Discounted Price: Php2,872
Midnight Sale Price: Php2,816
1.8 CU FT COOL Single Door Refrigerator
SRP: Php6,245
Discounted Price: Php4,593
Midnight Sale Price: Php4,503
0.5HP COOL Window Type Aircon Manual
SRP: Php9,895
Discounted Price: Php6,850
Midnight Sale Price: Php6,716
LAZADA
32-inch LED TV
SRP: Php10,995
Discounted Price: Php7,196
Brand Mega Offer: Php6,795
43-inch V Series Smart TV
SRP: Php17,995
Discounted Price: Php12,746
Brand Mega Offer: Php11,985
50-inch V Series Smart TV
SRP: Php26,995
Discounted Price: Php20,796
Brand Mega Offer: Php19,450
55-inch V Series Smart TV
SRP: Php29,995
Discounted Price: Php23,196
Brand Mega Offer: Php21,050
32-inch ANDROID TV
SRP: Php13,995
Discounted Price: Php11,196
Brand Mega Offer: Php9,995
43-inch ANDROID TV
SRP: Php20,495
Discounted Price: Php16,396
Brand Mega Offer: Php14,999
50-inch ANDROID TV
SRP: Php7,795
Discounted Price: Php22,236
Brand Mega Offer: Php20,450
55-inch ANDROID TV
SRP: Php30,995
Discounted Mega Offer: Php24,796
Brand Mega Offer: Php22,099
CATCH LIMITED-TIME DEALS
Lazada and Shopee will also have a limited-time offer on these slots:
Lazada Crazy Brand Mega Offers
September 9, 2022 (9AM-1PM) (5PM-7PM) ( 9PM-1:AM)
September 10, 2022 (9AM-1PM) (4PM-6PM) ( 8PM-1AM)
Shopee Flash Sale
September 9, 2022 (7AM-9AM) (1PM-3PM) (8PM-9PM) (11PM-12AM)
TAKE ADVANTAGE OF FLEXIBLE PAYMENT TERMS
Lazada Loan allows shoppers to buy now and pay later with easy installment plans without having a credit card. You can apply for a loan directly through the Lazada website or app and have your application approved within the same day. Lazada offers flexible installment options from Home credit, JuanHand, TendoPay, Billease, Digodo, FlexiFinance, InvestEd, Lendpinoy, Plentina, UnaPay, and Cashalo.
Meanwhile, SPayLater is a feature wherein qualified buyers have the option to buy now and pay later or apply for an installment loan of up to 12 months for their Shopee purchases.
So, add to cart your must-have XTREME items this coming Christmas season now!