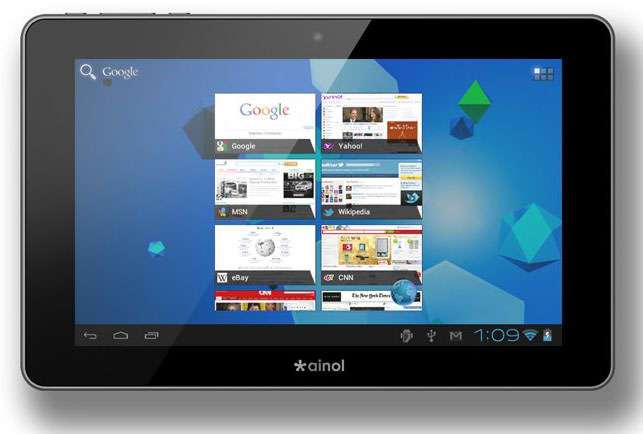 Ainol 7 Paladin has been known as one of the cheapest ICS tablet at Widget City. But if you feel that the specifications of the Ainol 7 Paladin is still lacking and needs some improvement then I think that the Ainol 7 Elf is the one for you. Why?, because this tablet has a better resolution and a faster processor compared to the Paladin. Luckily, Widget City is now offering the Ainol 7 Elf. So what's inside the tablet?. Inside this is a Allwinner A10 1.2GHz Cortex A8 Processor and a Mali-400 GPU, a jump from the 1.0 ghz of the Ainol 7 Paladin. The Mali-400 was also use in the Samsung Galaxy S II which is quite fast and can handle some graphic-heavy applications. (GPUs are used to have a smoother 3D games such as Asphalt 5 and many more)
It has the same 7″ screen but this one has a bigger resolution. The Ainol 7 Elf will have a resolution of 1024 x 600 (same with the original Samsung Galaxy Tab) compared to the 800 x 480 resolution of the Ainol 7 Paladin. 800 x 480 is kinda small for a tablet because most midrange and high end smartphones today use a 800 x 480 resolution and some of them, even bigger than that (1280×800 like the Galaxy Note and Galaxy Nexus). Multi-touch? don't worry because compared to other resistive tablets that you see in some stalls, this tablet uses a 7″ capacitive screen. So what's with the multi-touch?, when you have this, that screen can recognize more than 1 finger. For this tablet, it can recognize up to 5 fingers. And you know what? this tablet is using the latest Google Android OS, the Android 4.0 Ice cream sandwich.
Some of you are disappointed with the Ainol Novo 7 Paladin because that tablet doesn't have a camera for video calling services like Skype and Qik. But in Ainol Elf tablet, you'll have a 2.0 megapixel front camera. Too bad it doesn't have a rear camera but hey, at least for a tablet below
P10,000
you'll have a tablet like this!. Some other features that you might want are HDMI, So what's the price?. According to
Widget City Hub
, their official facebook page. The Ainol Novo 7 Elf will start at
P7,850.
My opinion? For its specifications, I think this tablet is a bargain.
If you want a tablet that won't hurt your pocket then I recommend this one
. Oh and
The Technoclast said that the Ainol Novo 7 Paladin is quite solid
, I think this one is solid too.
Ainol Novo 7 Elf Specifications
190X120X12mm at 340g
Power, back and menu button
5-6hours with Wi-Fi on
3800mAH7″ Multi-touch capacitive touch screen with 1024×600 resolution
Allwinner A10 1.2GHz Cortex A8 Processor with Mali-400 GPU
Wi-Fi
Flash 11 & HTML5 Support
1GB RAM/ 8GB Nand Flash
Android 4.0 Ice cream Sandwich with support for Android Marketplace
(Sorry folks, no bluetooth here!)
Ainol Novo 7 Elf Hands-on and Review


Here's a video I found on the web
Ainol Novo 7 Elf Price in the Philippines
Widget City is selling the
Ainol Novo 7 Elf
for
P7,850
Get a pre-order with a downpayment of P1,000 and get a FREE 8GB memory card turning your tablet from 8GB to 16GB storage. Get it now!
---
Enter your email address:
Delivered by FeedBurner
---