Android users may soon have access to a battery health feature similar to iOS, thanks to the upcoming Android 14. While iOS devices have long benefited from the Battery Health feature, Android users have had to rely on third-party apps to monitor their device's battery capacity. However, with the release of Android 14's final version, this may change.
Mishaal Rahman, the former EIC of XDA-Developers, has recently shed light on some exciting developments in Android 14. Google has introduced new BatteryManager APIs in the Android 14 beta, which could potentially provide users with crucial information about their device's battery health. Among the APIs are two public ones that offer insights into cycle count and charging status, while the others are system APIs that provide data on manufacturing date, first use date, charging policy, and overall health status.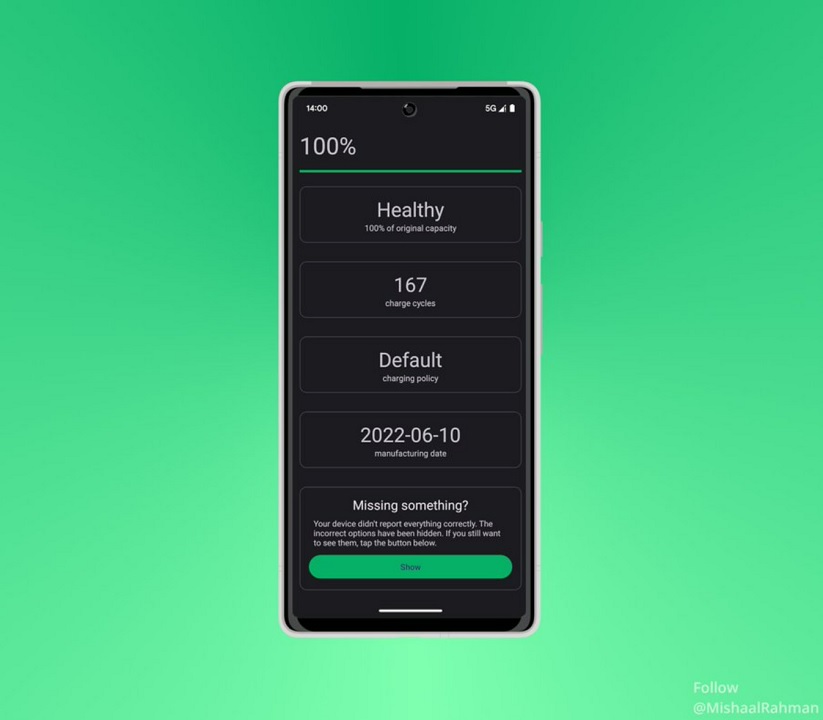 Accessing the BatteryManager APIs
Rahman has reported that any app with the BATTERY_STATS permission can utilize these system APIs. However, currently, they are only available on Pixel devices running Android 14 Beta 2 or later. One developer, named Narek, has already taken advantage of these APIs by creating an app called Batt. Using the new APIs, Batt can provide users with information regarding their smartphone's battery health and charge cycles. If you're running Android 14, you can download the app from GitLab and try it.
While introducing these new APIs is promising, it's important to note that the accuracy of the data provided by apps like Batt relies on the information returned by the APIs themselves. The data depends on what the charging IC (Integrated Circuit) tracks and whether the Hardware Abstraction Layer (HAL) supports this specific feature. As a result, users should exercise caution and understand that the reported data may not fully represent the actual battery health.
Android users have long desired a native battery health feature similar to iOS. The inclusion of BatteryManager APIs in Android 14 is a step in the right direction. However, many users hope that Google will implement a comprehensive battery health feature directly into the stable version of Android 14. With such a feature, Android users would no longer have to rely on third-party apps like Batt to monitor their device's battery health status.
Exciting Update for Android Users
The potential arrival of a battery health feature in Android 14 brings new possibilities for users. Having easy access to crucial information about their device's battery health can help users optimize their usage patterns, prolong battery life, and make informed decisions about battery replacements if necessary. As Android 14 progresses toward its stable release, users eagerly anticipate an official battery health feature that will simplify monitoring their device's battery health.
Stay tuned for official updates!
Source: Mishaal Rahman via GSMArena