Huawei has recently unveiled its latest tablets designed to revolutionize the modern workstation, HUAWEI MatePad 11.5" and MatePad Air.
Recognizing the diverse usage scenarios for tablets in both work and personal life, Huawei has worked to offer consumers a wide range of tablet products. The HUAWEI MatePad 11.5" and MatePad Air are a testament to the brand's commitment to delivering powerful and versatile devices to meet users' demands.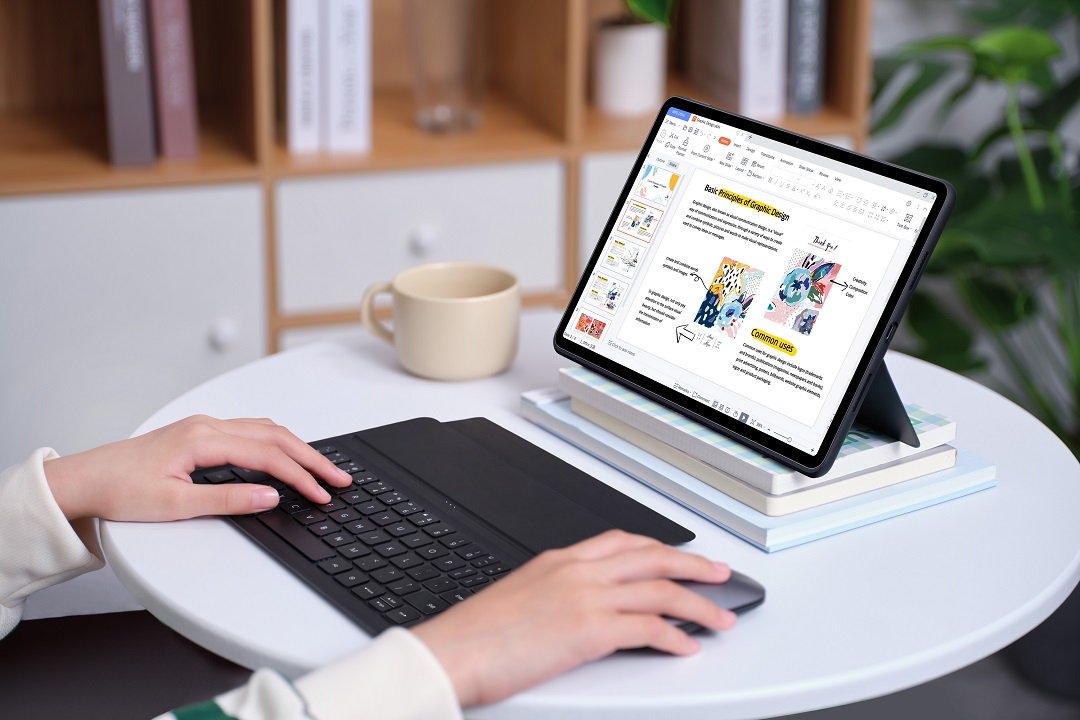 Larger Screens for Enhanced Productivity
In response to user feedback and needs, both HUAWEI MatePads boast an 11.5-inch HUAWEI FullView Display with a 3:2 productivity screen ratio. This unique aspect ratio provides additional vertical space, making tasks such as checking emails, browsing the web, and writing more efficient. The HUAWEI MatePad 11.5" offers a screen-to-body ratio of 86%, while the MatePad Air boasts an 87% screen-to-body ratio, ensuring users can enjoy stunning visuals across the entire surface.
Elevated Visual Experience
Huawei has not compromised on visual experience, offering high resolutions and refresh rates. The HUAWEI MatePad 11.5" impresses with a resolution of 2200 x 1440 and a 120 Hz refresh rate, while the HUAWEI MatePad Air takes it a notch higher with a resolution of 2800 x 1840 and a 144 Hz refresh rate. These features make the tablets ideal for gaming, design, and architectural work.
Seamless Connectivity to Accessories
Both HUAWEI MatePads seamlessly connect to accessories like the HUAWEI Smart Keyboard and HUAWEI M-Pencil, catering to keyboard and stylus users. The HUAWEI MatePad 11.5" comes with the detachable HUAWEI Smart Keyboard, while the HUAWEI M-Pencil offers reduced latency for a smooth notetaking experience. The MatePad Air, on the other hand, offers accessories like the Smart Magnetic Keyboard and HUAWEI M-Pencil (2nd Generation), delivering a PC-level typing experience with 1.5mm key travel and over 40 shortcut key combinations.
Compact and Stylish Design
Portability and convenience remain essential for tablets. Huawei has incorporated the Cavity Slot Magnetic Antenna design into both MatePads, ensuring seamless body design and uninterrupted wireless signals. The HUAWEI MatePad 11.5" showcases a metal unibody design in Space Grey, while the HUAWEI MatePad Air features a fingerprint-resistant finish achieved through a frosting process. Both devices are impressively slim, with the MatePad Air measuring only 6.4mm in thickness and weighing 508g, and the MatePad 11.5" measuring 6.85mm thick and weighing 499g.
Enhanced Productivity Features
The HUAWEI MatePad 11.5" and MatePad Air offer PC-level WPS Office capabilities, allowing users to edit documents, access spreadsheets, and create PowerPoint presentations with ease. With the SuperHub feature, sharing documents is effortless. Huawei Notes, a key feature, maximizes the tablet's handwriting experience, supporting nimble input and document handling across multiple formats. The tablets also support canvas zoom capability, enabling users to create intricate mind maps and illustrations.
Powerful Performance and Battery Life
Both tablets are equipped with advanced high-performance chipsets and high-capacity batteries. The HUAWEI MatePad 11.5" features a 7700mAh battery, while the MatePad Air houses an even larger 8300mAh battery, ensuring prolonged usage for students and professionals. The tablets utilize Huawei Histen audio algorithms, delivering quality sound outputs for an immersive listening experience.
The Ultimate Tablet Experience
The HUAWEI MatePad 11.5" and MatePad Air exemplify Huawei's dedication to continuous innovation, empowering users with powerful hardware and advanced processing capabilities to handle demanding tasks with ease. From office projects to virtual classes and online meetings, the MatePads deliver a comprehensive and productivity-oriented experience.
Availability and Launch in the Philippines
Huawei fans in the Philippines can look forward to the HUAWEI MatePad 11.5" and MatePad Air, set to arrive soon in the country. For more information on these exciting products, visit Huawei's official channels and explore the MatePad 11.5" and MatePad Air pages.