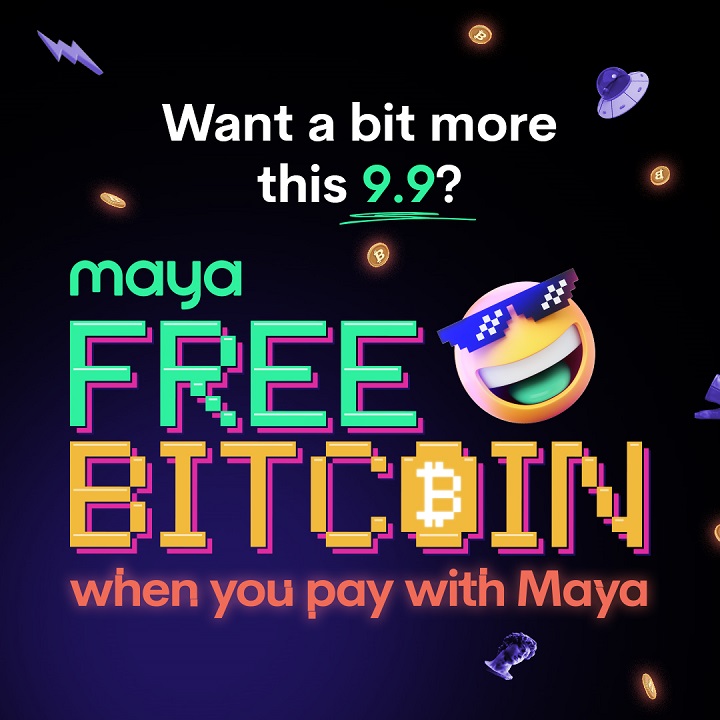 Maya has a special treat for those planning to shop this 9.9!
The all-in-one money app doubles the rewards for customers when shopping for the best discounts and 9.9 deals. In fact, you'll get a FREE Bitcoin when you pay with Maya at any partnered stores nationwide. In addition, you will also have the chance to win Php1M worth of Bitcoin on top of this fantastic promo.
Each eligible transaction can give you free Bitcoin worth 1%, 10%, or 100% of
your purchase (capped at Php500 monthly).
For example, a Php500 purchase can guarantee Php5, Php50, or Php500 worth of Bitcoin. You'll receive an SMS notification once Maya sends it to your crypto wallets.
On top of the free Bitcoin, each qualified and verified payment will be equivalent
to one raffle entry for a chance to win the coveted Php1M bitcoin prize. The promo runs until September 30, 2022.
"9.9 is a happy day for shoppers, and Maya's Bitcoin promo can make it even more
rewarding for them. With free Bitcoin on top of multiple 9.9 deals from various brands,
paying with Maya might just be the smartest way to spend this 9.9," said Pepe Torres,
Maya Chief Marketing Officer.
"We want more Filipinos to experience the best of crypto through our seamless all-in-
one money experience. On top of the rewards, it's also the easiest and most risk-free way to experience crypto – so pay with Maya now," he added.
In case you missed it, the Maya Crypto feature lets users buy, hold, and sell cryptocurrencies for as low as Php1. This makes it ideal for crypto novices and enthusiasts. In addition, consumers can use their crypto as their additional funds to pay bills, buy load, shop for groceries, or even save on their Maya Savings feature, which can grow even further by up to 6%.